My word, at the beautiful home décor bloggers out there these days! Just when I think I must have seen all the beautiful blogs there are, another one comes into my radar and I'm blown away once again with the creativity.  Kristine, from The Painted Hive is a blogger from near Melbourne, Australia and her style is just amazing, along with her photography.  I know I say it a lot, but you're in for another treat.
Settle in for this one.
Kristine has a casual, but elegant sort of coastal feel to her spaces. I just love what she's done.
She's got lots of tutorials on painting things, like this pretty coffee table.
Her pics are amazing, with detailed vignette shots like this. Just beautiful!
The dining room, with white chairs and a rustic wood table, is a wonderful mix of textures.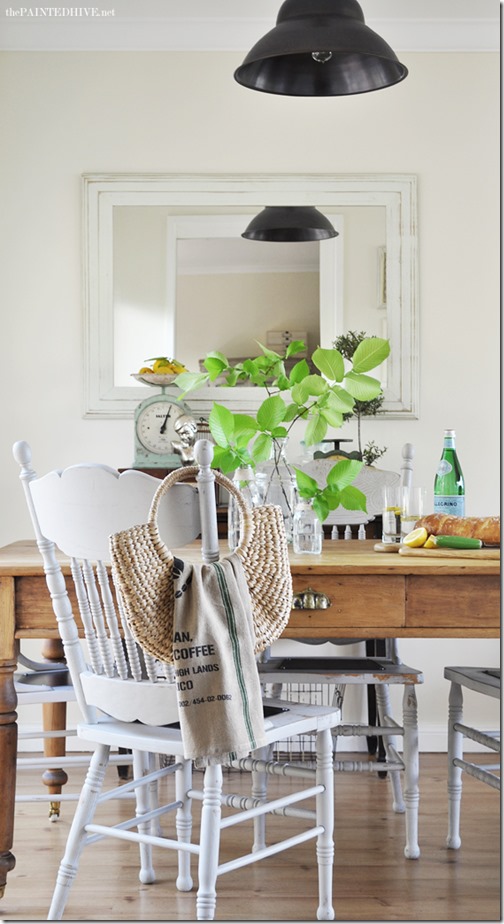 Draws you right in the picture, doesn't it?
Kristine's cute pooch has to be part of the shots and this green painted chair is the star, another DIY project.
Welcoming and so eclectic.
Check out that master bedroom headboard, a map of Paris.  I love the innovation of it.
File card cabinet with those pretty glass vases of greenery are so magazine worthy.
She painted this garden stool too.  I love a fellow DIYer!
Her nursery is equal parts sweet and sophisticated.
Lovely chest and mirror.
With a  comfy rocking chair to go along with it.
She even made this beautiful lamp out of a $6 old music stand. Genius!!
I just totally love Kristine's style and how she puts things together.  She has a wonderful eye for detail and her pics are amazing.  Learning to take great pics of your space is part of blogging and Kristine has definitely nailed that one. And she just had a beautiful bouncing baby boy. Congrats, Kristine!  I hope you'll all go over and say hello to Kristine at The Painted Hive and take a look at her eye candy of a blog.
Don't Miss a Post, join my list!