This blog world is so funny and surprisingly small at times.  Sometimes it takes someone in another state to introduce me to a local person right here in my own hometown that I've never met before, all because of a love of houses.
You all know that I love older homes.  I have never owned an old house, but I sure do appreciate them and one of my readers and a fellow blogger in AL, Fairhope Supply, emailed me awhile back and told me about one of her dear friends here in Marietta that I must meet, a couple named Rachel and Douglas.  The 2 of them had met 20 years ago in the Marietta Junior League and they had renovated an older home off the square of Marietta and she wanted us to connect.  I had planned to for the longest time, but life gets busy.  Recently I got the opportunity to stop by their house one Sunday afternoon, as they were hosting a college group tour of their beautifully restored home.  Finally, I got to meet this delightful couple and The Trammel House is their pride and joy. You can see Fairhope's blog post about The Trammel House too, lots of beautiful pics, taken by the decorator of the house.
I enjoyed seeing this gorgeous home up close and personal.  My hometown of Marietta has some beautiful gems of older homes and this is one of them.  Built in 1887, this Queen Anne Victorian is now back to her glorious splendor.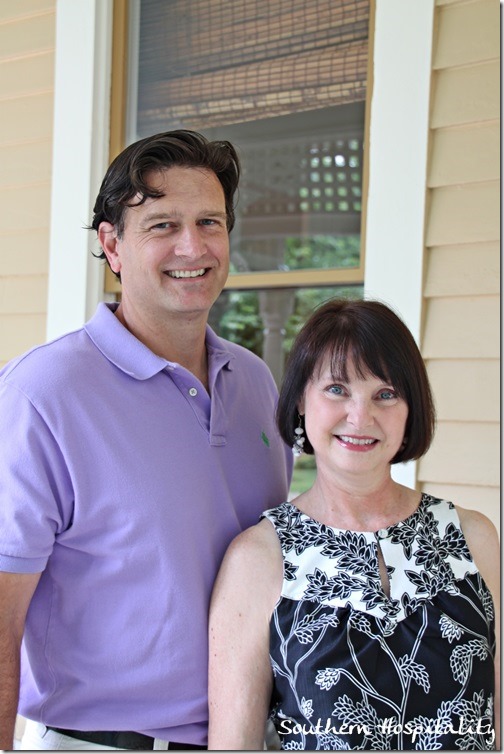 Douglas and Rachel Frey, the hardworking homeowners who spent 5 years renovating their lovely home.  They did the majority of the work themselves, as Douglas does this for a living, restoring and preserving older homes.  Here's a great article in the Marietta Patch, telling all about their experience of finding and buying the home.  Very interesting, so I won't repeat all of that, go over and read it.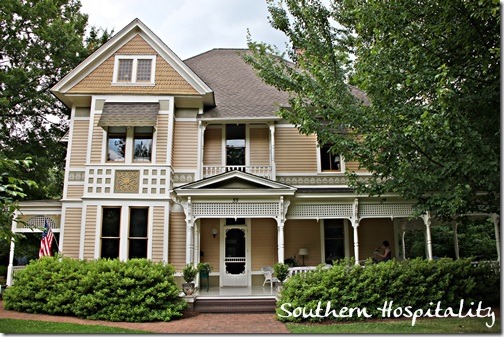 Built in 1887 and purchased by the Freys in 1998, The Trammell House in all her beautiful glory, now stands proudly off the Marietta square on a tucked away street.  I've lived here all my life and so enjoy getting to see some of these houses in person.  Reading about the 5 year renovation process makes me tired, but I think you'll agree, it was worth saving.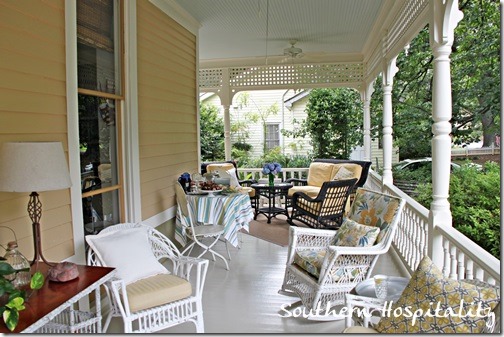 The restored and renovated wrap around front porch is a Southern tradition and this one is perfect.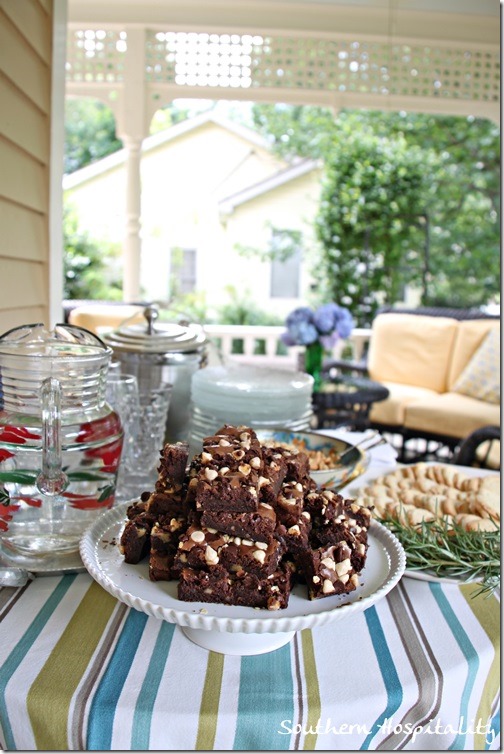 Rachel is from North Carolina and I enjoyed hearing her beautiful Southern drawl and seeing what a wonderful hostess she is.  These treats were delectable!  I could have stayed on the porch all day.
The wrap around porch continues around the side and check out the blue painted beadboard ceiling.  I have a little touch of history on my back porch too.
All weather wicker seating is perfect for an area like this.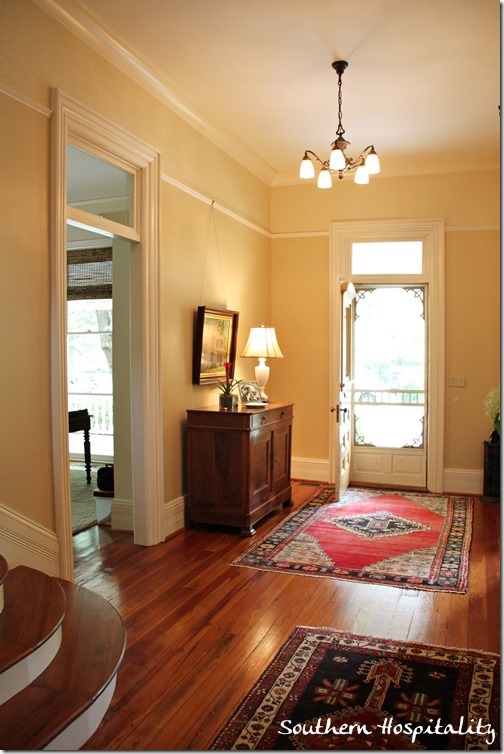 Inside the foyer, it was a treasure trove of pretty things, from the original pine floors to all the carefully selected antiques and collectibles that make this house a home.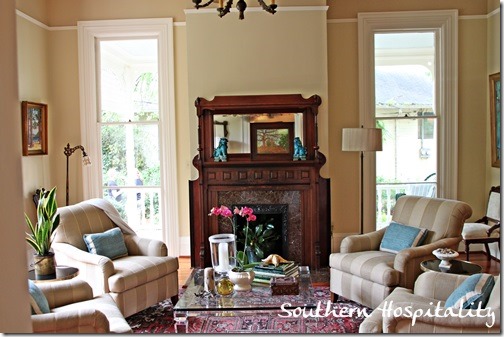 Front parlor area with all those floor to ceiling windows.  Rachel had help with decorating the home from her design friend, Wallace Bryan, in Decatur at Trinity 131, who I also met that day.
I took the tour and took as many photos as I could, so even though these are not top quality, you get the idea of how beautiful this house really is.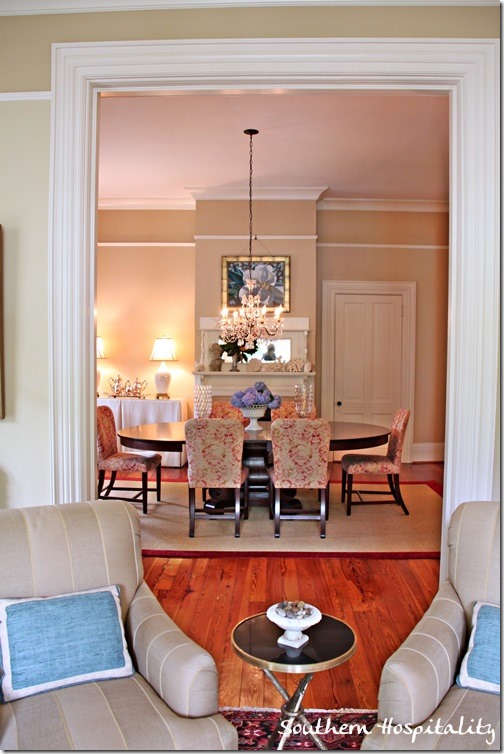 Looking into the dining room from the parlor.  I just love the tall ceilings and all the woodwork in these older homes.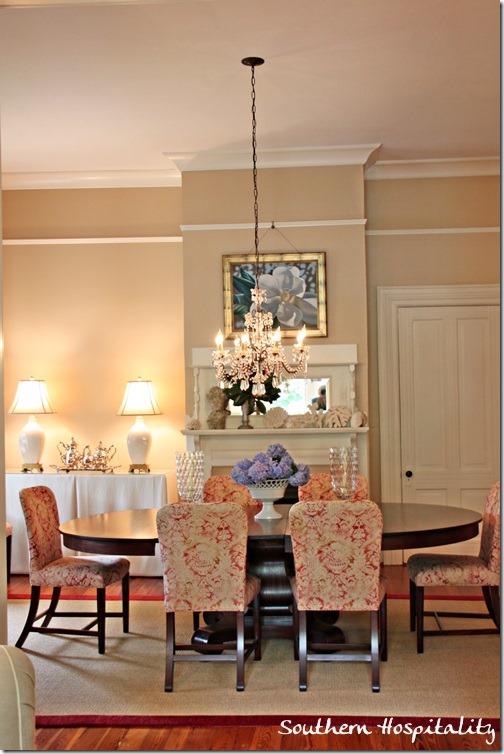 Dining room is beautiful.
Another view of the dining room.
Fireplace in the dining room with shells and magnolia leaves, truly Southern.
A side table in the foyer displays the book that Doug wrote during their renovation journey.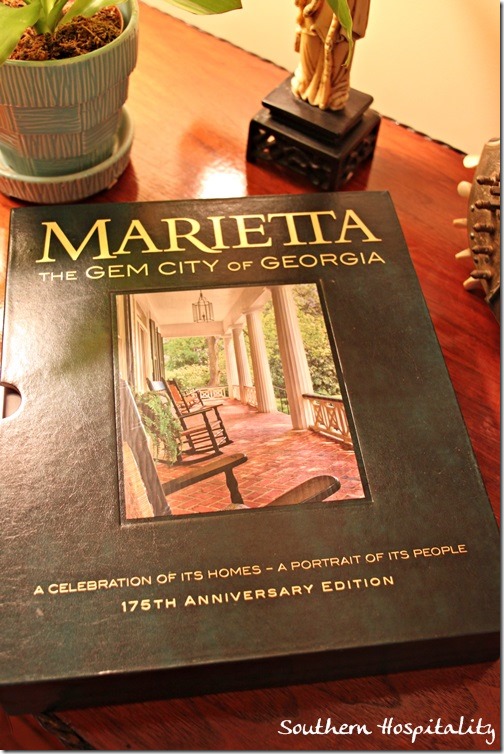 Marietta, The Gem City of Georgia is a book I'll be picking up for my collection.  I can't wait to read about the 50 houses in Marietta that Doug chose to write about.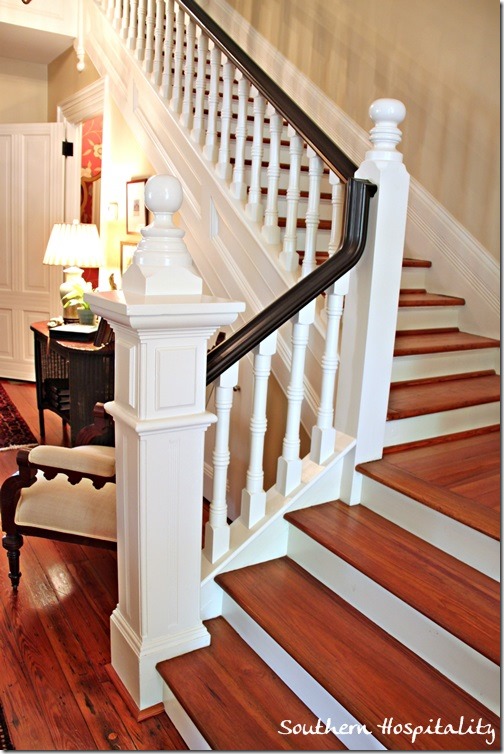 Amazing that this home was once divided into 3 apartments. You would certainly never know that now.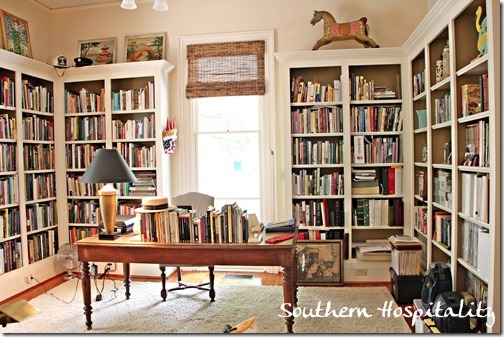 The library
Love this room with wall to wall books.
A portrait of the original home owner, Leander Newton Trammell, who fought in the Civil War.
The kitchen is large and spacious with pops of red.
Don't you love this banquette tucked in the kitchen?
I love this space!
They added a 1949 Roper stove, renovated and working perfectly now.  It adds to the charm of the kitchen.
It's a spacious and beautiful room.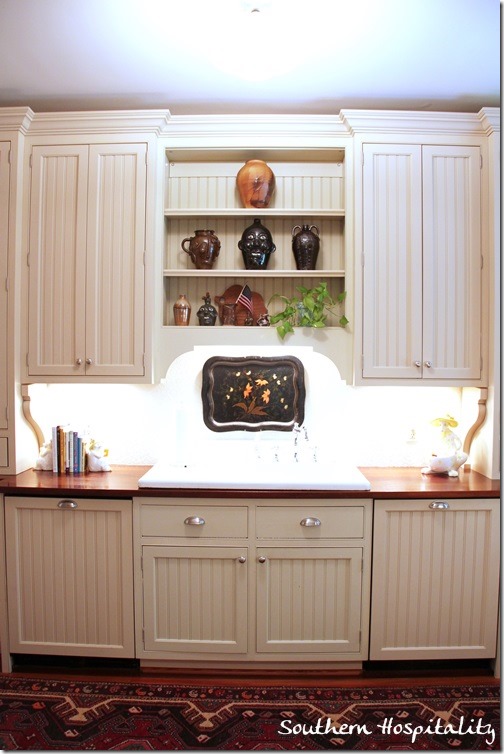 Butler's pantry area off the kitchen.
Hallways and woodwork in these older homes always draw me in.
View from upstairs looking down to the first floor.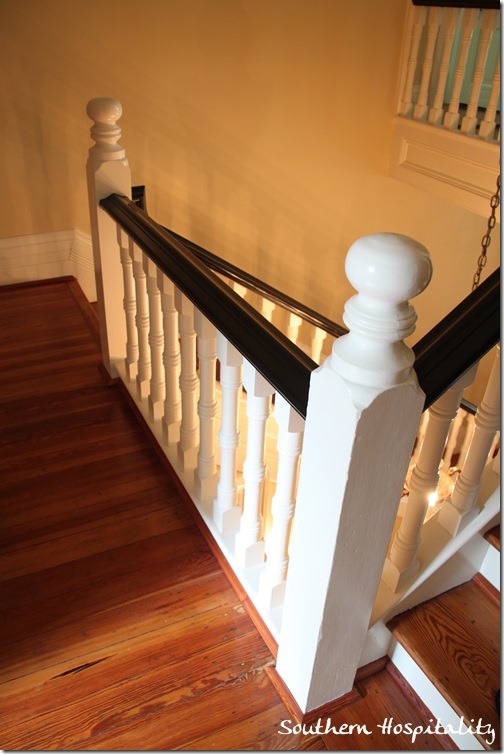 The staircase
Upstairs hall bath is just beautiful.
Master bedroom is peaceful and serene.
Master bath with clawfoot tub, as well as a free standing shower.  All the conveniences of modern times.
Two pedestal sinks.
Free standing glass and tile shower is so pretty.
Fireplace in the master bedroom.
One of their beautiful antique pieces.
A guestroom with twin beds.  They look like wood.
But in reality are metal beds.  So pretty and Frenchy!
Another bedroom upstairs.
Older homes have so many fireplaces, which really add the charm.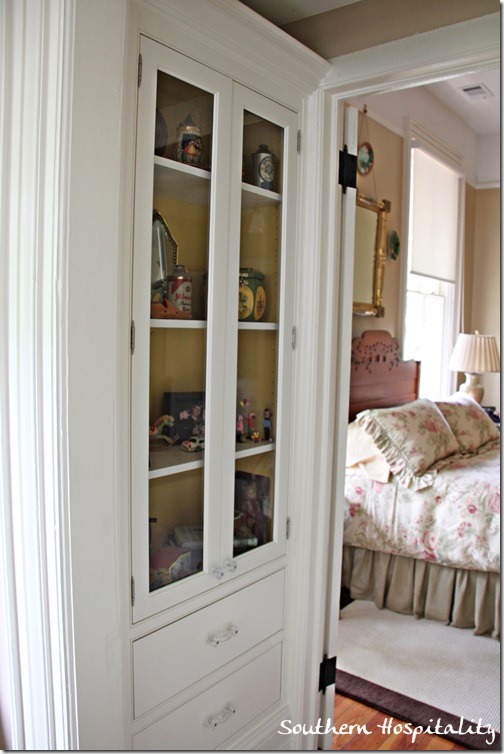 A pass through to another bedroom houses a built in cabinet.
Another extra bedroom.
With a tucked away shower.
Outside the backyard is full landscaped with beautiful blooming hydrangeas.  I hope to have lots of these in my yard one day too.  My favorite flower shrub!
I thoroughly enjoyed the tour of The Trammell House and I know you did as well.  I admire the folks that take the time to preserve these older homes and make our cities prettier by keeping the old and not tearing them all down.  What a shame that would be!  Marietta has a beautifully restored Historic area and I hope it stays that way forever.
Don't Miss a Post, join my list!