Happy Friday friends! Today's Feature Friday is a long time blog friend. I've known Karianne since the early days of blogging when she lived in a beautiful farmhouse in Kentucky. I featured her farmhouse here on Feature Friday long ago and it was beautiful.
Two years ago, Karianne and family moved back to Dallas, TX where she was raised and they bought the 1908 traditional house she grew up in. The house her parents had owned and where so many family memories were made. Her mom sold the house after her dad died and she and her husband were able to buy it back. Talk about great timing! I think how fortunate it was that Kari was able to get back into this stately house that she was raised in. It's a gorgeous traditional style home, one of my favorite styles in fact and they have done an outstanding job in the two years they have been there. Her blog is still called Thistlewood Farms and you probably already know her, but in case you don't, click over and visit now! She's a girl you can't forget!
Isn't it beautiful? They painted it a pretty gray after moving in.
And later painted the front steps gray. This is the current Fall tour on her blog, so pretty.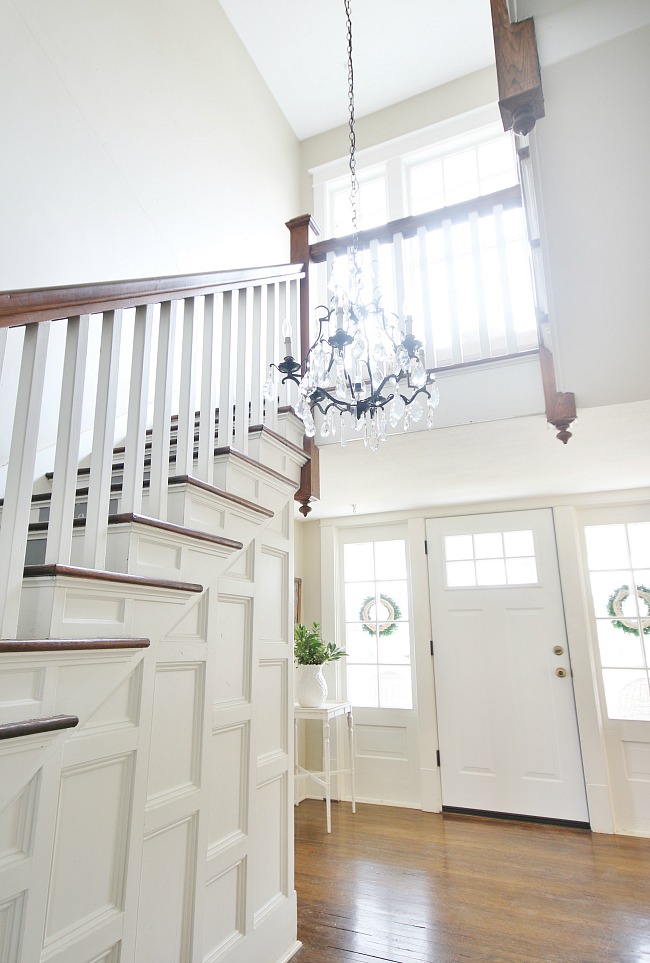 The home is what house dreams are made of and I love all the old floors, the beautiful woodwork, moldings and trimwork. These kinds of houses are the best and I love that her 4 kids get to live here now.
That is some grand staircase.
They painted everything after moving in and have done a lot of beautiful updates along the way.
Like the kitchen, it got an update and makeover and it's beautiful. Even though Karianne doesn't living in a farmhouse anymore, she's incorporated that vintage esthetic into the new house too and it fits right in.
White kitchens are always in style.
I love the openness of the house and the wide hallways.
The family room off the kitchen.
Downstairs bathroom.
Looking back to the front door.
And Buddy the family dog.
The laundry room is so cute in black and white.
The back door is a Dutch door and I love that black and white tile.
Kari just completed a beautiful makeover in her dining room with deep walls in Naval. It's gorgeous! Of course I would love it, since my dining room is navy and white.
Take it all in, it's gorgeous!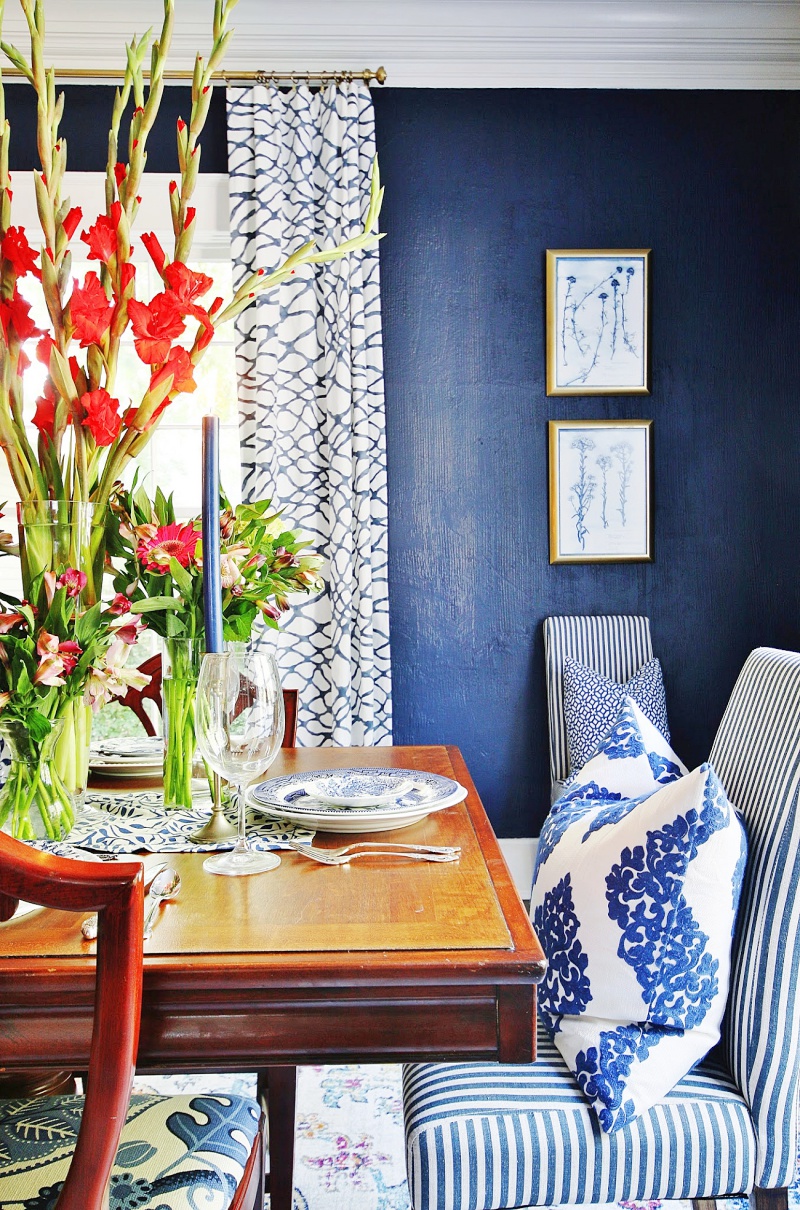 And recently with some Fall decor added in.
The living room is in blue and white too and looks so pretty.
A new glass table took the place of the white one.
Her office space and that's her dad's old desk.
I know she treasures it.
The upstairs landing where they added built ins.
Aren't they pretty?!
The master bedroom.
Upstairs bathroom.
Karianne has twin daughters who are teen girls now so this is one of their rooms.
And this bathroom is adorable, love the soft colors.
She's also got two boys who share this room, also painted in Naval.
Very cute and vintage!
Karianne does all sorts of projects on her blog including this pretty painted concrete stoop off the back of her house. I love how this looks now! What an amazing difference!
Wasn't that a fun tour?! I adore Kari's home! If you don't know Karianne and I don't know how you couldn't know her, she's a powerhouse in the blog world and has done amazing things like write several books and has a product line. She's is a whirlwind and gets things done and her infectious happy personality is one you won't forget! Stop by Thistlewood Farms and visit her blog, you'll love it!
Don't Miss a Post, join my list!