It's been 5 years since I featured this blogger, Cami at Tidbits, so I'm doing an update. Enjoy this cottage style home!
*******************************************
Today's Feature Friday is Cami, a busy blogging mom of 4 kids, who with the help of her handy husband, has renovated their 1990's builder basic home in Utah.  She shares all of their renovations on her blog, Tidbits, and I've enjoyed seeing all her progress in remaking this home for their family's needs.  With lots of moldings, planked walls, and adding architectural interest all over the house, it truly doesn't look like the same place.
Her kitchen is my favorite and Cami says her style is a mix of beach house on the coast and a quaint little cottage in France.  She's done a remarkable job of this and I think you'll enjoy her home tour.  Let's start with the kitchen, it really caught my eye with it's bright and airy look.  They DIY'd most of this themselves and it looks amazing.
With lots of cottage charm, Cami's house is fun to browse, so enjoy the tour.
The kitchen looks entirely different than when they first bought the house.

Her handy hubby DIY's all the planked walls, shelves and even the Corian countertop.
Columns and a cottage skirt add charm to the kitchen sink.
So many fun little details in this kitchen.
A handy desk in the kitchen makes a great little office space.
The dining table off the kitchen was made with reclaimed lumber from her grandpa's house and her hubby made it all.
Lots of planking and molding was added for architectural appeal, which I think is a great idea to personalize a space.
The front entryway.
Living room with calming colors.
Mudroom to keep everyone organized.
With 4 kids, lockers come in handy in the mudroom.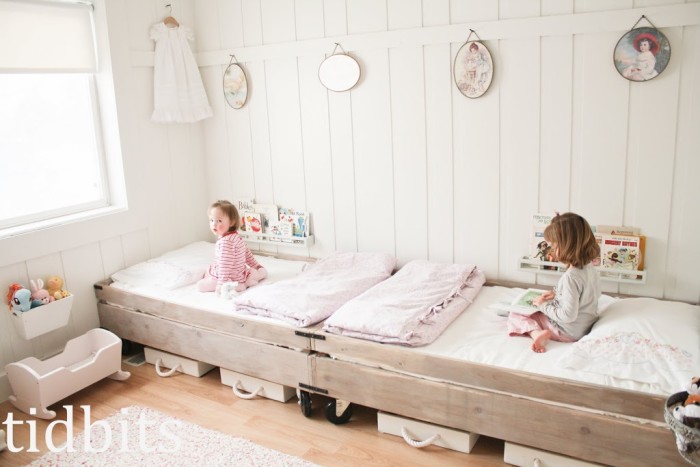 Two of the little girls share a room and they came up with this bed idea for sleeping and storage.
A cozy closet for 2 little girls looks quaint and charming.
I'm sure they have fun together in this space!
Another daughter is in this space, which is the living room space made into a bedroom.  You do what you have to do when you have children to house.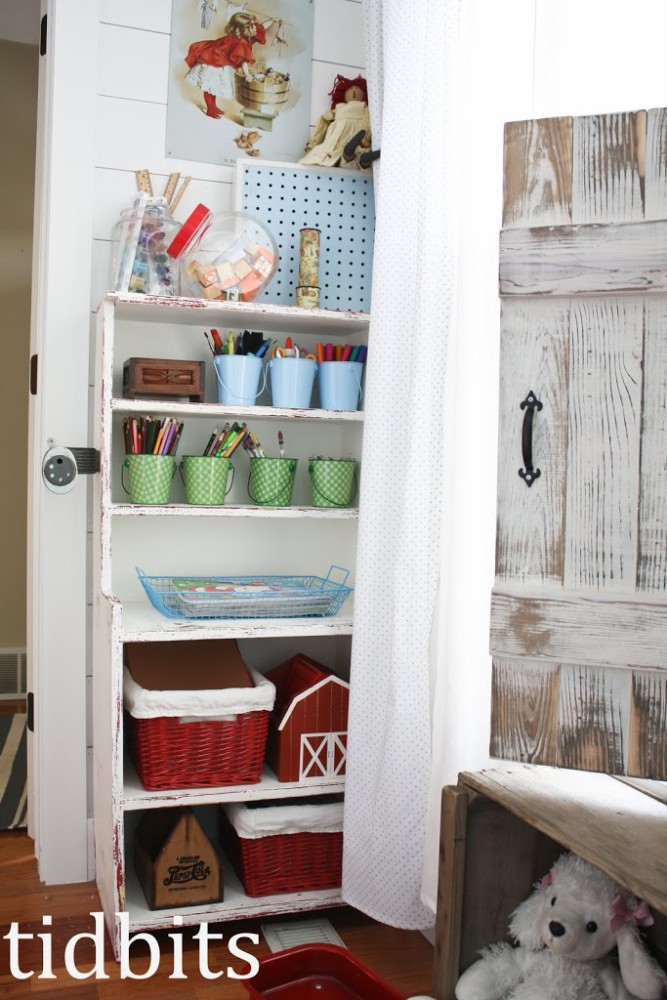 It's such a cute space now for a little girl to live in.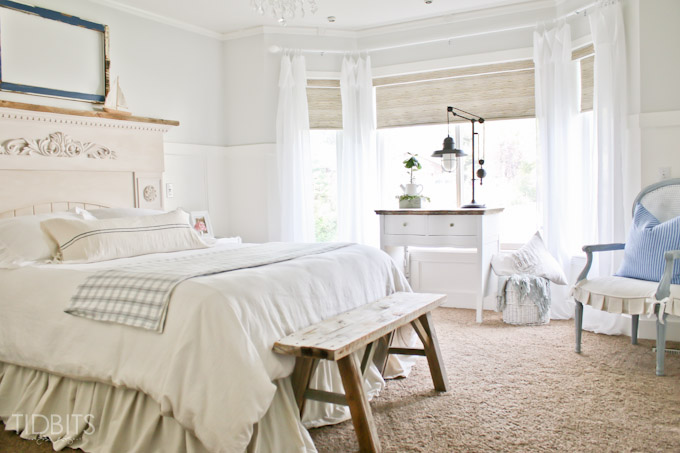 Cami has recently completed a master bedroom makeover and it is equally cottage charming.
Her hubby made the mantel headboard.
And a closet storage wall was built in the room.
Cute cottage bath makeover.
Outdoors on the porch, Cami, displays flowers and plants.
I hope you enjoyed this house renovation by Cami at Tidbits!  Stop on over and check out her blog and say hello.
Congrats to Jean in Georgia! You're the winner of the 2 Country Living fair tickets. I've emailed you already! 
Don't Miss a Post, join my list!