Enjoy this update of a previous Feature Friday! It's still a good one and she's still blogging.
************************
The first room I found online for today's Feature Friday was her laundry room.  It had me at hello.  Fun and funky with shades of blue, it sported white planked walls and a vibrant Amy Butler floral wallpaper.  Well, I was smitten. I had to see her entire house, so I checked that out too  I contacted Susan from Uniquely Yours or Mine and asked her if I could feature her on my series and she was happy to oblige, so enjoy the tour of Susan's Louisville, KY home. She's done some beautiful things in her home, as well as furniture projects too.  Multi-talented gal, Susan is.  She's a blogger and a furniture hoarder (her words!). She buys, refinishes furniture and sells it and loves every minute of it.  In her downtime, she renovates her house, so enjoy the tour!
The newly painted family room with eclectic furnishings. I like that sofa.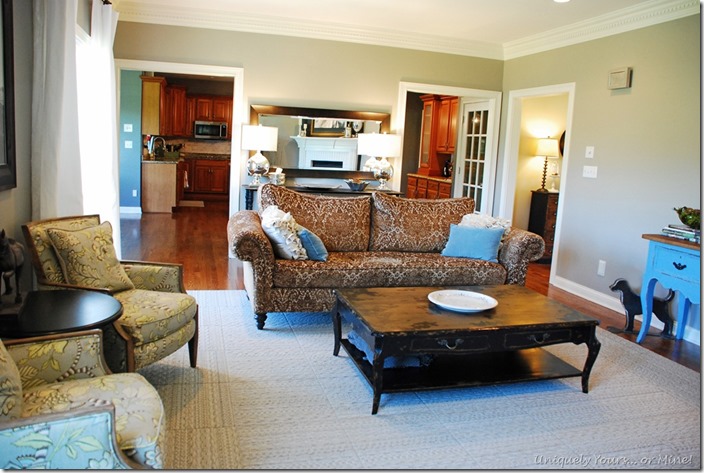 Looking towards the kitchen.
The the corner fireplace wall and TV console. Streamlined and pretty.
Console table on one wall with a rustic stool.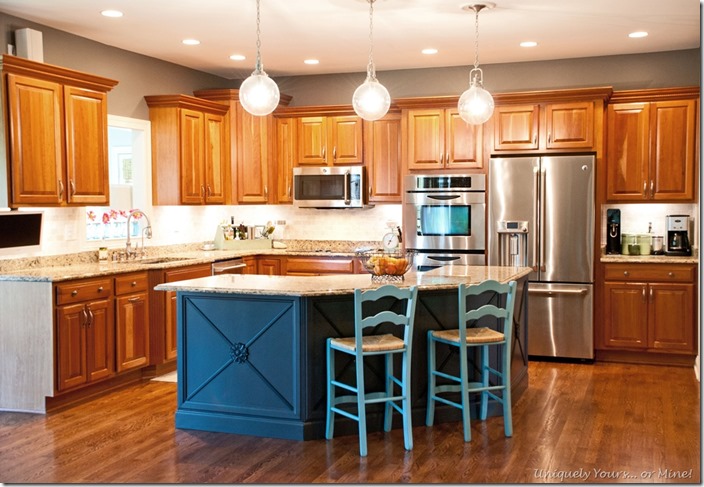 She's begun renovating the kitchen and I hear there are plans to paint the cabinets white.  First thing though, she painted the massive island and added some pretty X details to the backside.
I love how that turned out.
Breakfast area.
And the space that stole my heart, my favorite room in Susan's house, the laundry room.  Isn't this the cutest?
painted cabinets above and below and that oh so happy Amy Butler wallpaper.  You'd have to smile every time you walked in this room.
Bottom row of cabinets painted in a luscious turquoise.
She added white planks to the wall and really made this room a standout.  I love it all.  Those Ikea hooks are so cute in here and great for storage.
Drying racks and a DIY folding table too.  I see she couldn't resist that cute turquoise rack on wheels from Ikea that I got too.
The powder room got an update too.
She has two teen daughters and she's done both of their rooms to fit their personalities.  Love this room.
This vintage bed with the modern bedding is so adorable.
Her other daughter loves purple.
Guest bedroom ready to welcome company.
And I couldn't resist showing you some of Susan's painted pieces.  This is a 1960's Thomasville dining set that she painted and upholstered the chairs in a modern fabric.  So cute!
An old credenza got a coat of white paint and new feet.  It turned out adorable too.
And this piece might take the cake.  She did a whole post on how she took an upholstery class and found this naked French settee frame (see that link for details) and totally remade it from the bottom up.  That is just amazing. She added the webbing, foam, burlap and stuffing to the cushions and back and it's such a cute piece now. She should be very proud of that one.  I wouldn't in a million years attempt something like this.
I hope you enjoyed the tour of Susan's pretty Southern home and the projects she has taken on.  I love women who are resourceful and keep that DIY spirit going!
Happy  Friday!  Here's another style guide on Ebay, all about Fall decorating.  I love this time of year!   Click the Fall pic below. 
Don't Miss a Post, join my list!