Beth is one of my friends that I met up with and got to know while I lived in Birmingham and I'm very grateful for the friendships I made while in AL.  She is a creative mama of one and has a really pretty Southern traditional style brick house on a few acres of land, very picturesque for sure.  She's spent some time making over her house to suit her and her family and I think she's done an outstanding job of making it her own.  But, get ready, this is a big house with lots of rooms!   You can see Beth's complete home tour on her blog, Unskinny Boppy.
And her blog name has something to do with big hair bands from the 80's, so you'll have to go on over to her About page to find out all the scoop on that.  Since I was a cool 20-something during that decade and not into big hair bands that much, it went completely over my head.
This beautiful red brick looks stunning against the forest of trees and green grass in front.
Check out their winding driveway that weaves through the trees.  Not a bad place to get away from it all.
The front door is so welcoming with the arched door and brick stairs. Lovely!
Welcoming foyer. Beth likes plenty of vintage style things and has incorporated some of that in with her traditional furnishings too.
I love the colors of these walls, which is Restoration Hardware's Silver Sage, a very popular color that's been around for awhile.  Still pretty!
Beth has a sort of open floor plan with plenty of room and soaring ceilings in some spots.  It looks cozy to me.
Her hubby is very talented and built this coffee table for her. Lucky girl!
Love this big cabinet that I bet she made over.
You can see a peek through to the spacious kitchen here with stately columns dividing the rooms.
The kitchen is large and very pretty with a big ole' island.
Looks like there's plenty of room to cook up some good meals in here.
I love this eat-in breakfast nook in the bay window and those shutters on the windows are oh so Southern.
Their master bedroom is also large and spacious with a darker green on the walls to make it enveloping.
Pretty space.
With a nice and big master bathroom too, lots of windows and light.
She has one son and he has a cute big boy room.
And a beach inspired playroom that's too cute.
Beth is also lucky enough to have space for her own craft room, how cute is this?
Love the drapes and that chair fabric. She painted stripes on the wall in here too.
Another wonderful space is the sunroom with all those windows looking out to the backyard.  So cozy!
I love sunrooms and any rooms that let in lots of light. This rug is totally cute too.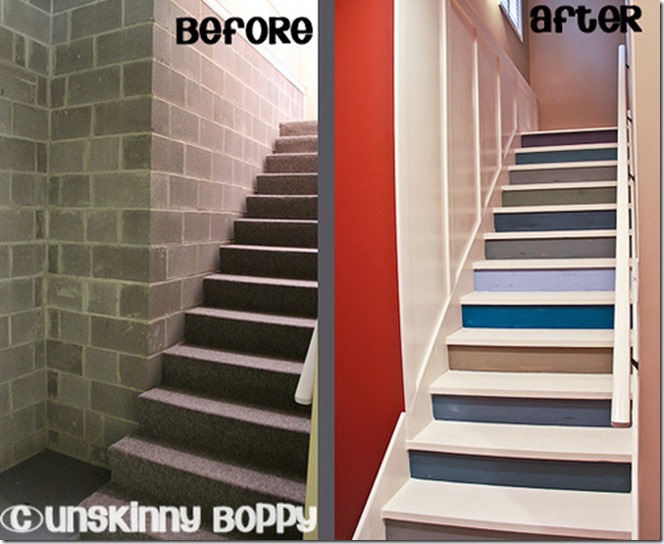 Beth has been a busy girl and they made over their cinderblock wall going downstairs to their finished basement with board and batten.  She painted all the risers different colors, which is a great idea for a staircase like this.
And they have a complete kitchen downstairs too for the theater room.
How nice is this?  Room for relaxing and enjoying a good movie.
Beth made this ladder turned rustic candle holder and I love this project, one of my faves from Beth.  I hope you'll go over and  introduce yourself to Beth, she is a sweet gal with lots of fun projects to share!
Don't Miss a Post, join my list!