It has been my pleasure to get to know so many other bloggers along my blog journey and this young and talented blogger is right in my back door (practically!).  She lives in the same area I do and she and her talented hubby bought a fixer upper foreclosure too, only theirs looks to be about 20 years newer than my house.  Lucky them!  They have taken this somewhat mundane home and turned it into a beautiful showplace, all on a DIY budget and a lot of sweat equity along the way.  Kelly is a sweetie and I've enjoyed getting to know her.  She's a mom to 2 little ones, a boy and a girl and she's putting out some pretty fabulous projects over at View Along the Way.  You're going to enjoy seeing what all she's been up to on her 2 year blog journey.
Here's their fixer upper house.  Looks pretty great to me, at least on the outside.
Inside, Kelly's been busy decorating and renovating this place, one room at a time.
I love her combo of fabrics and colors.
She and her hubby put down their hardwood floors themselves and I know what a hard job that would be.  That was one I'm glad I hired out.
Their dining room is so pretty and I love those chairs.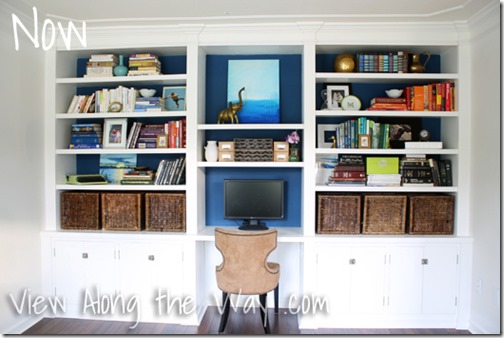 A wall of built in bookshelves is looking nice too.  I want to do something like this in my den.
Great office space.
The kitchen which was redone after they moved in.
Kelly goes into a lot of detail on her projects and how she did things on her blog.
The breakfast nook off the kitchen is a cute little space.
And Kelly did an innovative sweeping plate look on the wall.
Her baby girl's room is so adorable with colorful pinwheels on the wall.
I love her colors and that chandy is gorgeous!
This powder bath is elegant too and you can see those beautiful hardwoods all throughout the house.
Kelly took a plain and utilitarian laundry room and turned it into this, which also landed her on the back page of Better Homes and Gardens "I Did It" series, just a month or 2 ago.  I love opening up magazines and seeing blog friends inside.  Love this laundry room!
The master bedroom is still a work in progress, but talented Kelly made the upholstered bed and the drapes.  Beautiful work!
I know you have enjoyed seeing Kelly's home and hope you'll go over and say hello.  I've really enjoyed watching her house come to life with all the projects and renovations at View Along the Way.
Don't Miss a Post, join my list!