I'm back today with another Feature Friday and another fabulous home renovation from blogger, Jenna, with Wife in Progress.  Jenna and her hubby bought a fixer upper 1960's Colonial in the Greater Boston area and are fixing it up one room at a time. I think you'll enjoy this home renovation along with me. There's nothing better to me than seeing an outdated and tired house come alive with new ideas and creativity to make it shine.  Jenna's cute Colonial has come a long way and they still have lots more to do!
I really have a fondness for Colonials and Cape Cods, probably because of their cottage appeal.
Jenna talks about the fact that they bought their house from an older lady who had taken really good care of the home. It was just stuck in the 1960's.  Jenna has updated and made the home come alive with all the projects and decorating touches.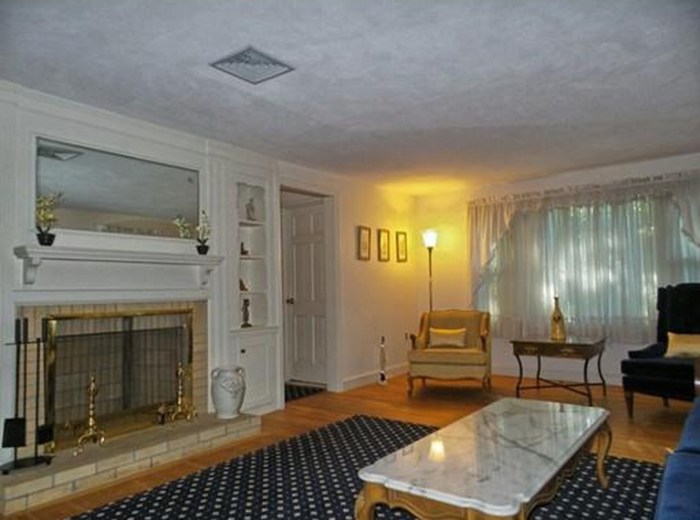 Jenna has shared all the Before shots of their 60's Colonial, so I had to share a couple of those with you.  Cute, but a little old fashioned. Definitely decorated in the 1960's.
And After, their living room really looks fresh and inviting now, doesn't it?
Jenna has a casual style with rustic details and finishes.
The kitchen is waiting for a big update one day, but in the meantime, Jenna painted the old laminate countertops and freshened up the hardware.
Amazing how painting the counters makes it look so much better, that is until they get to a major overhaul. Sometimes we just want ideas on updating on a budget, since not everyone can gut a kitchen.
The dining room, decorated for Christmas.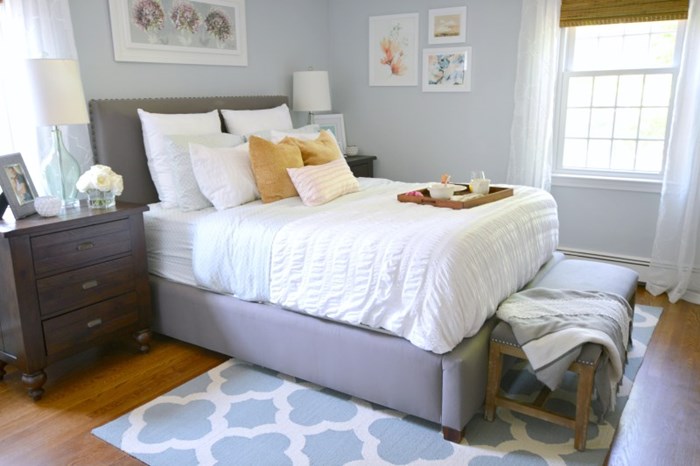 The master bedroom looks pretty and inviting as well.
Another space that just got freshened, the master bath still has the original vanity and counters, but adding a fresh coat of blue paint with the white tile makes it look updated and pretty.
She added a few fun touches in the space to make it feel updated.
This powder room did get a major update and I love the patterned tile floors and that pretty vanity, as well as the shiplap walls.  It seems that blogland has fallen in love with shiplap all because of Fixer Upper.
Pretty space now!
Another Before shot I had to share with you is their basement.  It looks tired and dated, but not anymore.
The after is bright and inviting and feels very cozy and comfortable now.
Another area in the basement updated and pretty.
I hope you enjoyed this home tour of Wife In Progress. You can see her entire home tour in this house and get to know Jenna!  It's really fun to see all her Before and After shots and I can't wait to see what else she accomplishes in this home.
Don't Miss a Post, join my list!