Another one of my very fun blog friends, Ashley in Alabama, did a kitchen renovation not too long ago and even if you may have seen it featured on other blogs, I haven't showed it off yet. So I'm gonna!  Ashley and her talented hubby did a fantastic job of taking a standard builder's grade kitchen and turning it into the kitchen of their dreams.
A kitchen that matched their personalities: fun, playful, colorful
You can see the entire kitchen renovation on Ashley's blog, The Handmade Home.
A nice kitchen, but not what they wanted, the duo took on the challenge of updating and making it their own beautiful space.
Before: Nice, but a little blah!  Ashley is a fantastic artist and has much of her artwork around her house, which I have had the privilege to see in person.  She has done some amazing things around her place and the kitchen is the latest room to be Ashley-tized.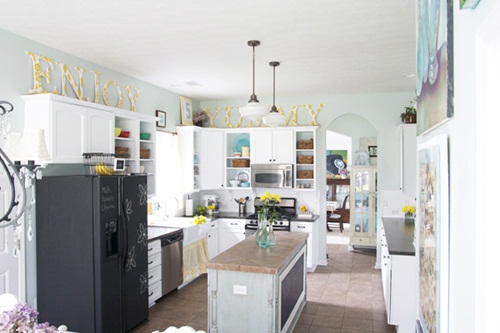 Now it's an all white dreamy vision, with accent colors of aqua and yellow.
Fun, yes!  What a difference some white paint makes.  I say it every. single. time.  Paint rocks for updating those kitchens.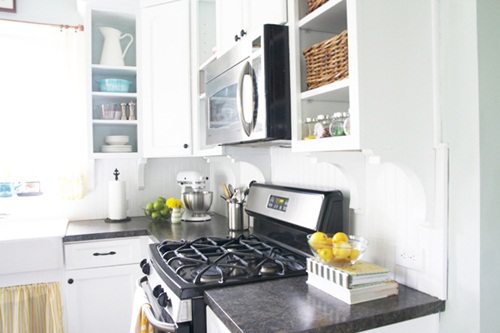 Ashley chose to do a lot of open storage cabinets and it looks great too.  A good way to display those collectibles that you don't want to hide. Show 'em off!
She added a real beadboard backsplash right over the old tile, so that it could be taken off later if someone wanted to.  Not permanent, but fun.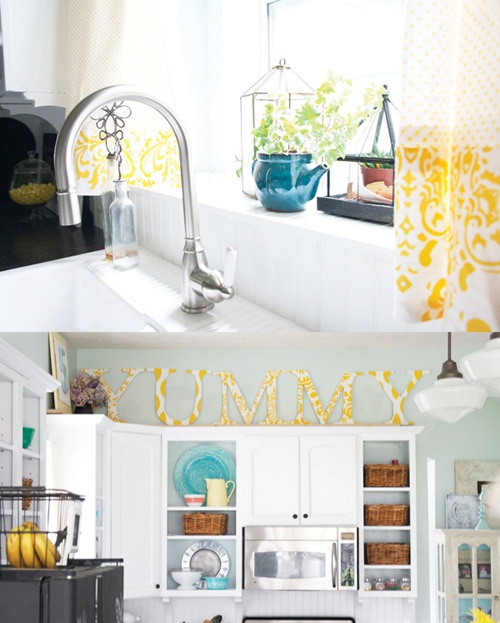 I just adore those cute flirty yellow curtains and the decoupaged yummy that Ashley made out of scrapbook paper. 
To entertain her 3 adorable kiddos, she added chalkboard paint to the fridge and the front of her island.  Perfect spot for some artist in training children to get their arts and crafts on.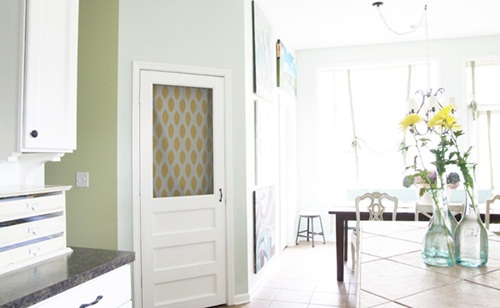 Don't you love that pantry door with the funky graphic fabric?
Ashley, great job on your kitchen reno!  I absolutely love all the fun details and colors you used.  You are so talented and creative.
Go on over and say hi to Ashley!   You will love her too, she's sweet and adorable.
Don't Miss a Post, join my list!