Happy New Year!  Here's to a fresh and new year that is about to unfold for all of us.
If you can stand one more sweet treat, I found this recipe from Pampered Chef several years ago and got it back out again this year for the Holidays. It's a really good candy treat, with white chocolate, cranberries, rice crispy cereal, and almonds. Very tasty and easy to make.  If you happen to need a dessert recipe, this is a good one.  Very festive for Christmas and the whole Holiday season from Thanksgiving to New Years.
Enjoy and let me know if you try it!
You can get this vanilla almond bark at Walmart or most grocery stores.  I also found White chocolate melts from Ghirardelli in one of my grocery stores that I really liked too.  The Vanilla candy coating is 20 oz. and the melts are only 12 oz. so just cut down the ingredients to make it with the melts.  I just love Ghirardelli products, so loved how that turned out too.  Be sure and get candy coating or the melts that can be melted in the microwave.  I tried Ghirardelli white chips once too and they didn't melt properly.
Once you melt the white chocolate in the microwave, add the rice crispy, cereal, and 1/2 of the almond/cranberry mixture.  Then after you spread it out on wax paper to put it in the freezer, add the rest of the almond/cranberries.  After it goes in the freezer and hardens, simply break it up and serve.  Delish!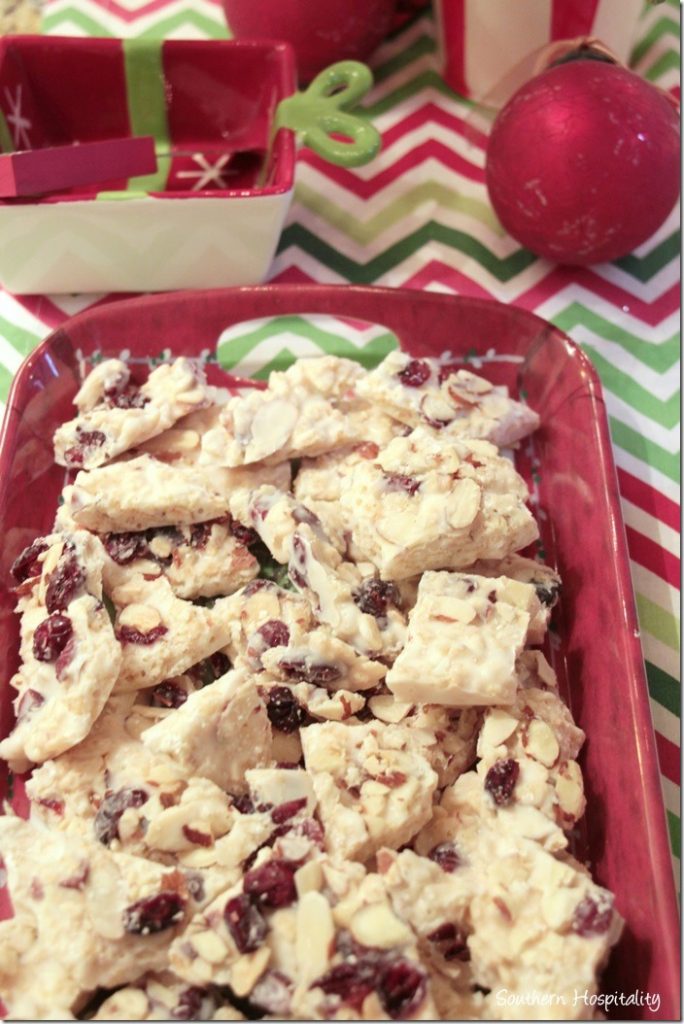 I made it for my party this year and also took it to a couple of other events.  It was very popular!
Festive Cranberry Crunch Bark
White chocolate candy dessert
Ingredients
1

Package (20 oz) vanilla or chocolate almond bark

3/4

cup

sliced almonds

3/4

cup

sweetened dried cranberries

2

cup

crispy rice cereal
Instructions
In a large microwave proof bowl, melt vanilla bark. Microwave 2 to 3 minutes until creamy and soft.

Once melted, add all the rice cereal and 1/2 of the almond/cranberry mixture.

Pour into a large 9x13 baking dish or pan (or baking stone with sides) lined with wax paper. Spread mixture out with a spatula or spoon.

Add remaining almond/cranberry mixture on top and spread it out, pressing into melted chocolate.

Place in freezer for a few hours, until very firm. Break apart bark in chunks and serve on a tray.
[addtoany]


Don't Miss a Post, join my list!