In case you haven't noticed, there's a little chill in the air, which means it's about that time of year again.  The calendar has turned the page to September and the Fall season is upon us.  It's amazing how fast Spring and Summer fly by and then we are here, with football weather, chillier temps, and easing into the Holiday season.  Hard to believe!  I just got back from the beach and it was actually chilly down there in the morning and it felt great!
In honor of Fall, I'm joining 16 other bloggers who are sharing their Fall home decor. We are also joining with Better Homes and Gardens and they will be sharing some of our inspiration online as well.
Our hostess for this fun event is Laura from Finding Home Farms, who started this Fall tour a few years ago.  It's always fun to see what everyone does, so be sure to check them all out.  Laura has a list of all the blogs on her blog so you can start from the beginning and not miss a thing.
If you are stopping by from Courtney and French Country Cottage, welcome!  I know Courtney inspired you with her beautiful decor.
If you are new here……welcome!  I'm happy you stopped by.  Fall is such a fun time of year and even though I don't decorate heavily for the Fall season, I love this time of year and all that it brings.
Each year, I do a little bit of Fall decorating, but not an over abundance of it in my own home. I enjoyed adding a bit to my foyer table and this year I kept it simple.  Most of the time, I pull out what I have and use it in a simplistic way.
I found this Fall metal leaf basket years ago at a yardsale and fill it with pinecones each time I use it.  Those giant acorns are from the now-defunct Biltmore Inspirations line of home decor that unfortunately didn't make it for long.
My big vase from Willow House (not around anymore either) is always a show stopper when I fill it with leaf clippings and outdoor naturals.  Those plumes are from my outdoor potted Purple Fountain grass.
I love a subtle nod to Fall and not an overall explosion.
That pretty pottery bowl with the leaf is also from the Biltmore Inspirations, which is now gone unfortunately.
I love cutting branches from outdoors for those pretty turning leaves and Fall colors.  Not much is turning here yet, but it will be soon.
Welcome Fall!  The little chalkboard is from Kirklands, sharing a little greeting for my guests.
Over on the mantel, I got out my Southern Living white urns and filled them with cut hydrangeas from my garden.
Adding a Rejoice sign in green (from Scripted Simplicity), along with a huge green pear I've had for years, adds a little splash of color on the mantel.
A thriftstore brass bowl holds a gold polkadot pumpkin I painted a couple of years ago, along with antlers which always feel at home in Fall decor.  Simple and sweet, that's how I like to do things! You can't go wrong with dried hydrangea blooms!
Fall throw of leopard print is around most all the time, but extra cozy during the Fall and Winter season.
I love this metal dish I found yardsaling years ago too and fill it with painted acorns (a gift from a blog friend).  Tiny pinecones are a wonderful accent with the acorns.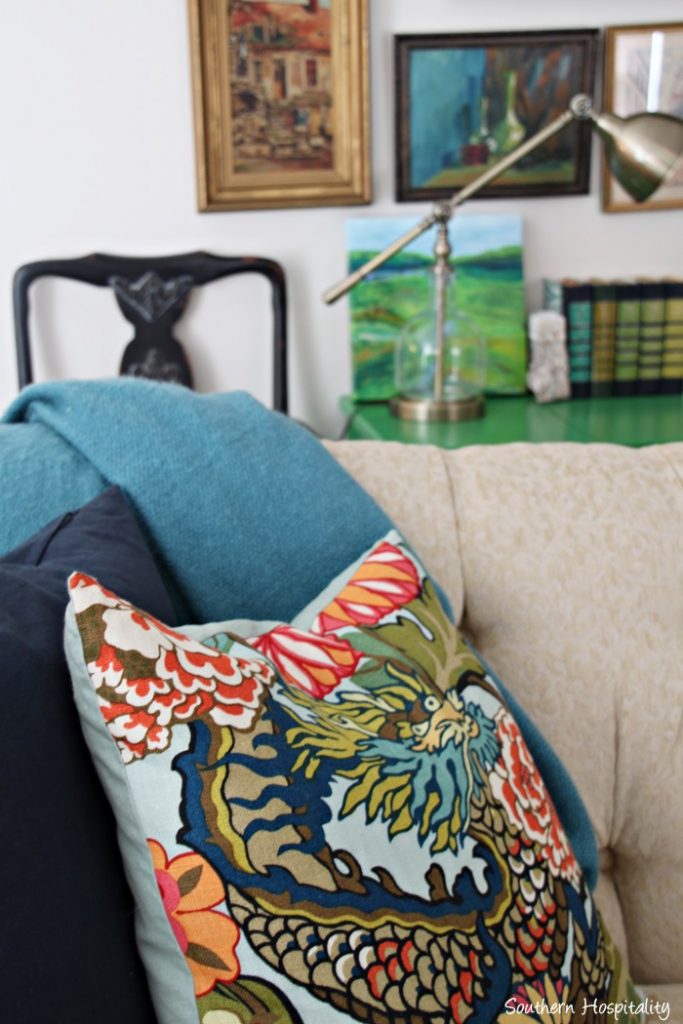 Don't miss the rest of the ladies who are sharing their Fall home tour today.
Be sure and stop by Diane's at In My Own Style (click the pic above).  She will no doubt have a pretty Fall spread to show you.
And if you're a reader and on Instagram, BHG will be sharing their favorite Fall pics on Instagram and so will Laura and some of the other bloggers.  So, share your Fall decor on Instagram and tag them with #FindingFallHomeTour and #BHGCelebrate for a chance to be featured!
Happy Fall to you!  It might be a little early, but Fall is in the air.
I'll be back next week for Fashion over 50!
Don't Miss a Post, join my list!