You all know by now that I love a bargain!  In fact, I've done a lot of thriftstore and consignment store shopping over the years and am proud of it.  Wearing second hand clothes has never bothered me. Heck, I always wore hand-me-downs from my sister growing up. Finding a deal on clothing is always at the top of my priority list when it comes to buying new things.  I enjoy clothing, but I'm not rich enough to wear designer clothing and spend hundreds of dollars on one outfit.  That's just not going to happen in my world, but I do like to look stylish and up to date.
I've shared with you before about an online consignment store called thredUp. They truly have so much to choose from, from clothing, to shoes and accessories and I found them on my own a few months ago and ordered from them.  I enjoyed what I got back then and they were both high quality designer label items that are a nice addition to my wardrobe. You can see both sweaters that I bought here, the coral and green long cardigan sweaters .
So, when thredUP reached out recently to work with me on a sponsored post on my blog, I was all over that!  What's not to love about spending some money shopping online for clothing and sharing it with all of you.  I knew you'd enjoy this too since we all love a bargain!
Here are a couple things to know about Thred Up. With a range of brands from Madewell to Zara to Joie, they are always up to 90% off the original retail price.  That's exciting, isn't it?  Your package will arrive in a cute polkadot box and it's like Christmas opening up the box, carefully wrapped with pretty tissue paper and a sticker, just like a boutique.
Let's have a little Fall fashion show, shall we?  Here's what I got for $150 (plus a little added in)!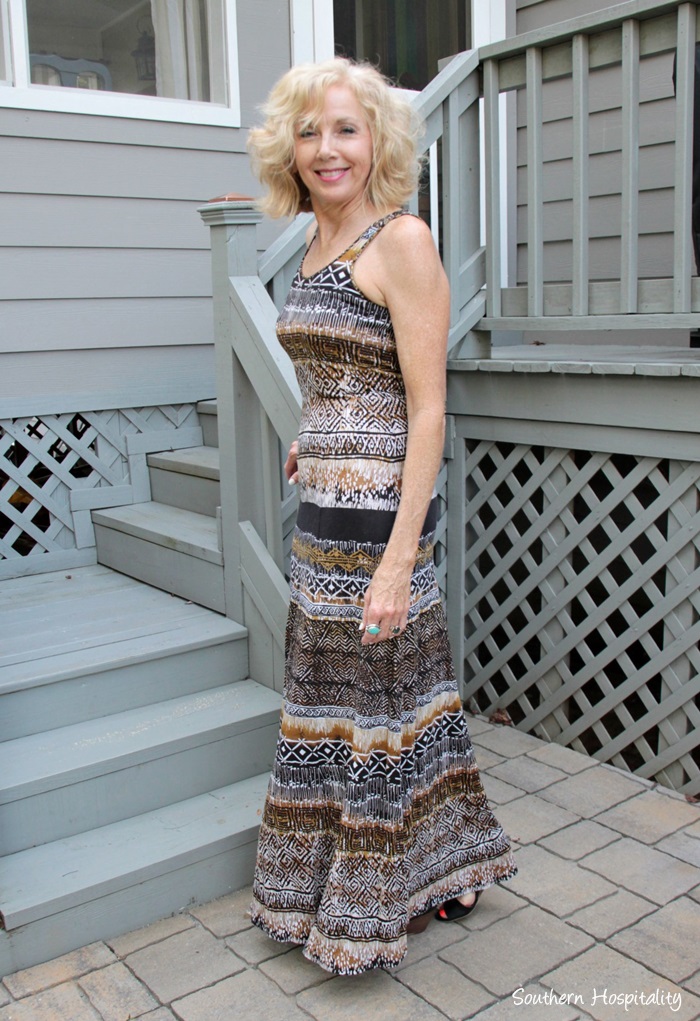 Do you hate to dig at a consignment shop or thriftstore?  thredUP has a ton of merchandise, but it's so easy to find what you want without digging.  All you have to do is search for your brand and toggle by size and color and it all comes up for you.
This long maxi dress reminded me of Fall from the first look.  I love the boho feel of it and the colors are so rich and autumn feeling. The fact that it's a sleeveless tank doesn't bother me and I'll show you why below.
I got this pretty Torn by Ronny Kobo dress for $41.40 and it retailed for $228.  I don't know this brand, but it feels very good on.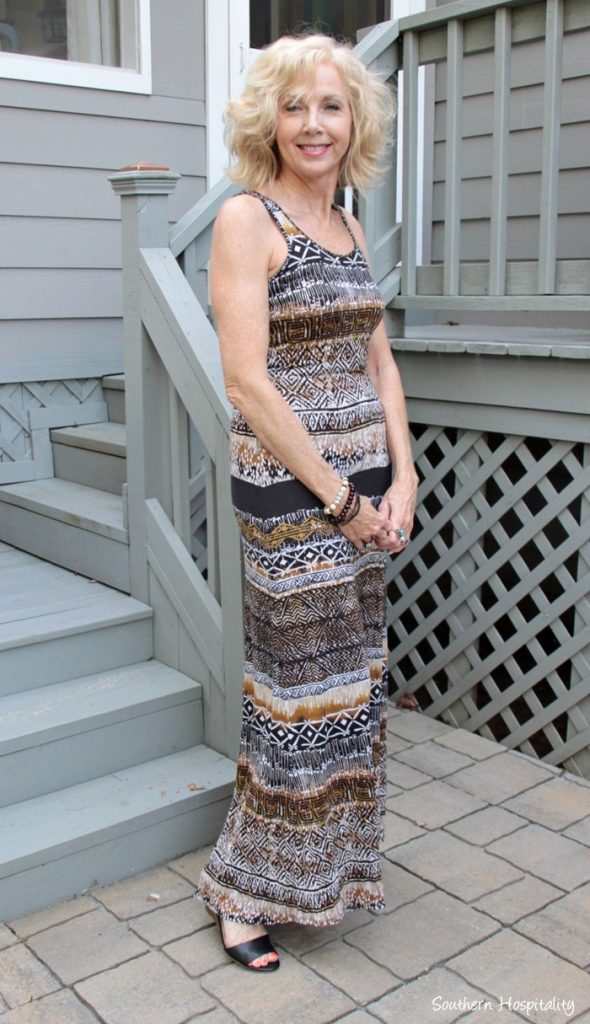 This is a very form fitting dress that shows everything so I did wear my from the bust down to mid-thigh body shaper, which sucks everything in.  We all need a little help sometimes, don't we?  In a dress like this, I feel much better when it's all sucked in. I still had to work at keeping my stomach in because it shows every bump and bulge.
Another thing about thredUP.  If you have old (good name brand) clothing in your closet that just doesn't work anymore, order a Clean Out Bag and send your items in to be sold.  You can check out their website to see what they do and don't take, but what a great way to recycle! You place it on your front door for pick-up, how easy is that?
This dress will be very fun to wear and I do enjoy the longer lengths of these maxi dresses.
Cool, casual and comfy, that's my style.  These are the shoes I've shown before.
To stretch this outfit ever further, I found this Cabi black jacket at a yardsale earlier this summer for $5.
Yay for layering!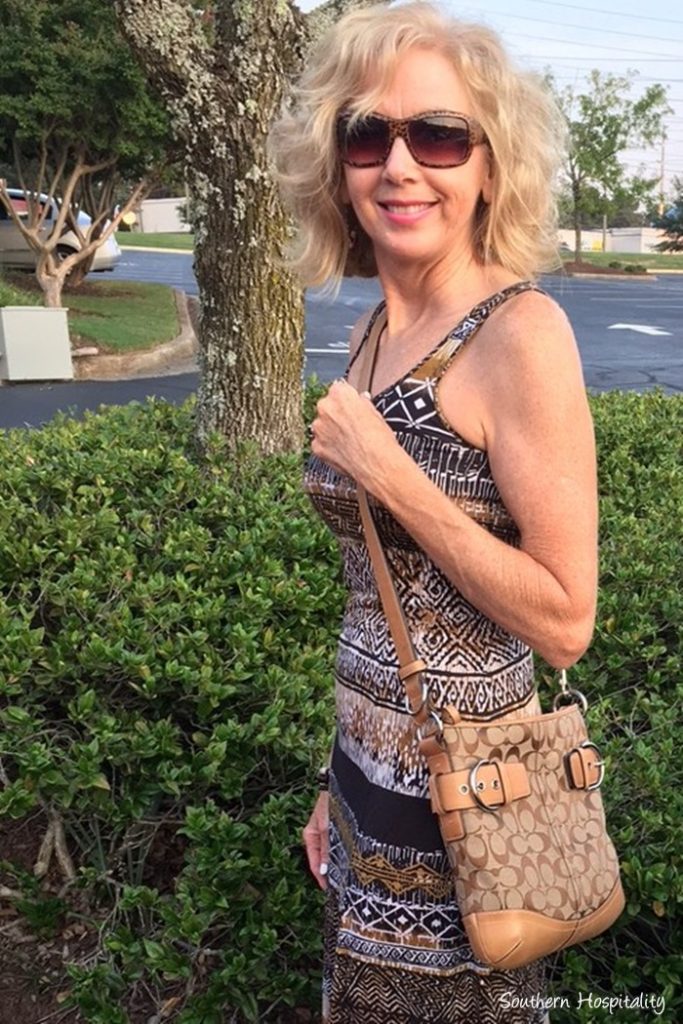 This Coach cross body bag from thredUP was a first for me, but I'm totally in love with it.  At $65.69, it was a final sale, but in very good condition. I only see one small blemish on the back of the leather buckle and it's a slight water looking stain. Not noticeable at all and I'll really enjoy this bag! You do need to be aware that some items are Final Sale, so take notice of that when you order.  Luckily, mine worked out.
I'm not one who would ever spend hundreds of dollars on a designer bag, just not my thing, but a good second hand designer bag at a fraction of the cost, yes please! This bag retailed for $198, so this was a deal.  I needed a good travel bag and the cross body makes it very useful for when I'm out and about.
Spense sweater dress was $3.60, what a bargain! It originally retailed for $74.  I love a good sweater dress and have several of them that I wear with boots and tights during winter.  When I took these pics, it was 90 outside, so I'm looking forward to cooler days ahead!  I really enjoy my black leather boots and they go with everything.
I love scarves during the winter months and they are a great way to layer and add some fun to a plain outfit.
Adding a scarf brings a pop of color to the black, showing off that colorful scarf even more.
I've always been a black clothing fan and it seems to work with my blonde hair.  Black is elegant! This dress would be way too short by itself, but by adding tights and boots, it works for the over 50 ladies.
Next up is this Missoni for Target cardigan which came in at $11.70 and retailed for $50.  Love this piece and it will be such a fun layering piece this Fall/Winter as well. I can see it with jeans or Winter white pants, or casual black pants.
It's very elegant and a great way to dress up a plain pair of black pants.  I'll share these shoes with you at a later time.
I know this cardigan will become a favorite of mine this year.
The zigzag chevron pattern is a fun one in black and white and hello, you know my deep abiding love of black and white!
Saving a fun dress for last, I had this cocktail dress in mind for the Holidays. Won't this be pretty for a date night at Christmas or Valentines?  Tadishi Shoji Cocktail dress was $42.30 and retailed for $238.
It's another form fitting figure showing dress and I'll wear that shaper with this dress too when I venture out on the town. It's another suck in your gut moment! I love the little sheer lines at the top, which show a hint of skin, so will probably wear a strapless bra with this one.
It's such a pretty dress and I can't wait to wear it out.  The color is rich and regal, in cherry red.  I don't know this brand either, but it just feels expensive, like nothing I've ever bought before.
That's an introduction to thredUP if you haven't heard of them before. I love online shopping, so why not shop consignment online. It's a great way to add to your wardrobe without breaking the bank and besides, recyling clothes is great for the environment too.  Less going into the landfills!  Plus, look at the deals you can get and you know I'm all about the deal!
Some fantastic news for all of you!  thredUP wants you to try them out for yourself and they are giving my readers 40% off your first order.  Make it a good one and enjoy shopping!  
Go to thredUP and use code SOUTH40 for first time customers only, up to $50 off.  Hope you'll give it a try and let me know what you think!  As you can see, I got some great new pieces for Fall and Winter to add to my closet. These will be great to mix and match with what I already have!
Note: This post is sponsored by thredUP, but all shopping and opinions are all my own.  They let me buy whatever I wanted! 
Don't Miss a Post, join my list!