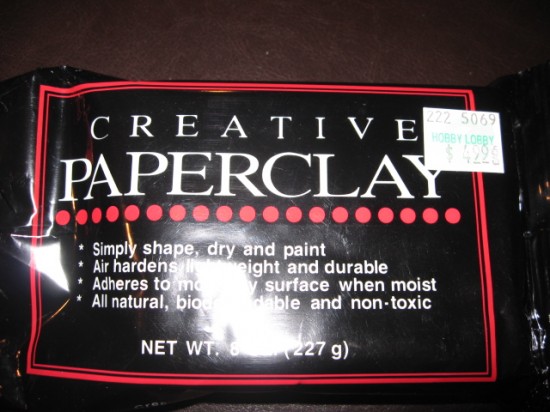 Last year, I shared a project I did with air dry clay (you can find it at the craft stores). This stuff is great for fixing little boo-boos around the house.  I used it to fix a broken handle on an urn in that post and recently did a couple more things with this versatile stuff. You can mold and shape it into whatever you want and this time I used it on paper mache and pottery, so take a look at the results.
I forgot to take a before pic of this trashcan, but you get the idea.  I gave my sister a monogrammed paper mache trash can (blogged about the shop here)  just like mine a couple of years ago for Christmas from The Royal Standard (unfortunately, they closed the store here in Birmingham, but are still in LA).  Her rambunctious and young at the time dog, Holly, decided to take some chomps out of it (why, I don't know?), so it was pretty ugly looking with the paper showing through and a big bite out of it in 2 places and wouldn't you know it, it was right on the monogram?!
I also had this cute pottery bird piece that I picked up at a yardsale and the tail was broken, so I figured while I was at it, I'd fix this too.  So, out came the air dry clay and I molded it to fit both pieces. It smooths out to the touch and  you can really make it do anything you want.  I thought the little bird's tail looked pretty realistic and much like the other one.  Let it all dry well.
Then, get out the craft paints or leftover wall paint, whatever matches and paint right over the white clay after it's dry.  I used my wall paint that was a pretty good match. I didn't try to get the glazing streaks in there, since it was a pretty good match without it.
Then, my Ralph Lauren Turett Stairs was a perfect match for the chocolate brown monogram.  Filled that in, as well as the edging on the trash can and it really looks almost new again, don't you think? My sis was thrilled that I fixed it for her.
You can hardly tell that it's been repaired and touched up at all.
Same with the birdie's tail, I got out my craft paints (which I've had for years) and found a blue to match him.
Paint it on and let dry well and they're both good to go now.  I even added some glossy mod podge on his tail so it would be shiny like the rest of him.  Clever, huh?
I've got plenty of craft paint around for things like this and can usually match up just about any color.
So, do you have anything broken that needs to be fixed?  This air dry clay is great stuff and I'd urge you to give it a try!
Linked to Kimba's DIY Day party!
I've got a fab giveaway from one of my sponsors tomorrow, so you will not want to miss it!  Come on back to see me.

Don't Miss a Post, join my list!