Have you heard of this one?  It's a burger joint, called Flip Burger Boutique.  I've been hearing talk about it here in Birmingham and there's a new one at The Summit, so I took hubby there for lunch on a recent Friday.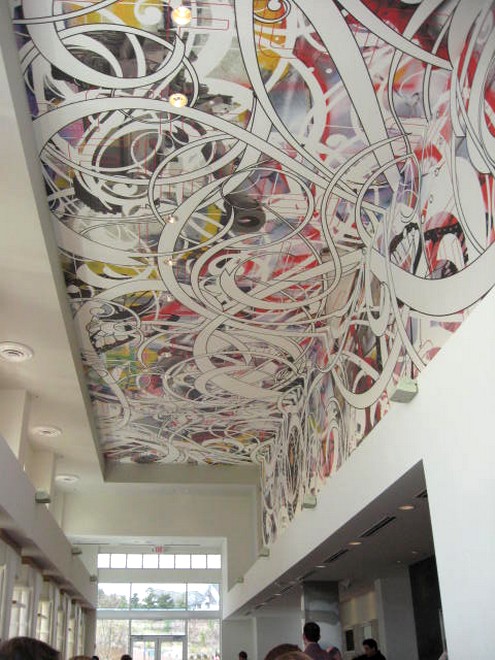 Very cosmopolitan, this is the ceiling that greets you inside the front door.  Definitely an urban vibe going on and not your typical burger joint at all.   Apparently, lots of folks were dying to try it too, as it was very crowded. 
I knew it would be pricey and it was a bit on the expensive side for hamburgers and fries, but worth it for an occasional splurge.  The coffee milkshake was delish!  Some of the other milkshake flavors are Krispy Kreme and Nutella.  Not your average milkshake either.
For $12, we opted for the combo:  Cheeseburger, fries and shake.
The food really was tasty and we enjoyed our lunch very much.  Looking at their website, it appears that they are only in Atlanta and Birmingham at the moment, so you AL and GA girls can check them out if you get the chance.
There's nothing better than a tasty burger and fries, definitely one of my all-time favorite foods!
(I was not compensated or asked to write this post by Flip Burger Boutique in any way.  These are my own opinions after visiting the new restaurant).
**********************************************
In other news, I'm happy to announce a brand new magazine that is in the works, by style expert, Matthew Mead and joined by Linda MacDonald of Restyled Home.  The magazine is called Holiday with Matthew Mead and will be released this October, just in time for the Holidays 2010.  Check out the new website for all the details:
It's sure to be a very inspirational magazine chock-full of Holiday ideas that we can all use in our own homes.  And, they are even going to get ideas and pictures from blogger's own homes to use in the magazine and you could even be featured in the magazine.  Wouldn't that be fun?
Be sure to bookmark their page for lots more to come, along with giveaways.  You can pre-order your copy of the magazine, as it will NOT be sold on the newsstands, but delivered to our mailboxes.
Don't Miss a Post, join my list!