This post is sponsored by Tree Classics and I'm a Brand Ambassador for them this year.  
I know today is Friday, but I'm skipping my normal Feature Friday to bring you a special Christmas post.  As I've mentioned a few times, I am partnering with Tree Classics again this year and am using some of their products in my home.  I've also got some other great bloggers who are sharing some Christmas inspiration this year, so I'd love for you to take a look at their beautiful blogs too. Join us for a Christmas housewalk!
Most of my trees in the last few years have been fairly neutral and I have always loved gold and silver as a metallic accent at Christmas and that seems to blend festively with my living room, so that is what I go with for the most part.  All of my ornaments I've had for many years, except for a few additional gold and silver from Tree Classics that were added this year.  I love the sparkle and shine on the flocked tree, which is the Snowy Aspen Spruce tree, 7 1/2′ tall.  It's fatter than most trees I've had, but the foliage is so pretty and realistic.
As usual, I took a ton of photos, because I wanted you to see the tree in natural light and with it all lit up too, but I can tell you the lights stay on all day. That's the first thing I do when I get up in the morning, turn on the tree lights!
I know many of you love the traditional red and green colors on Christmas trees and I do too, but haven't used those colors on my trees ever. I've always been more of a neutral metallic girl on the Christmas tree, but you did see red and greens in my kitchen.  Love it in there!  I've got another colorful tree I'll be sharing too that is covered in all my Shiny Brites.  Adding some pretty wrapped packages make for a better picture, so these boxes add a lot of bling to the tree.  My friend from Nashville Wraps was so generous and sent me those stacking polkadot gold boxes this year and I love them.  This collection of Golden Holiday dots is gorgeous and they have the best wrapping supplies.
It looks so pretty in my room and really looks good with my furnishings adding just that special touch of Holiday sparkle.  You can see a peek at my foyer table and I'll be sharing that area next week with more pictures.
All lit up, the tree is the star of my living room and we are sure enjoying the ambience.  The tree skirt this year is a cream afghan I've had for many years.  I just folded it around the tree stand.  The sweater like material seemed to fit in with this tree.
I just love a beautiful Christmas tree, don't you?!
I added new ribbon this year for the first time in years and found this gorgeous cream, black and sparkly wired ribbon at Michaels. I just love the way it looks on the flocked tree and with all the metallic ornaments.
I have a few favorite ornaments tucked in the tree that I've had for over 20 years.
All of them together add such a nice sparkle to the tree.
My tree topper is one I've been doing for a long time too and it's just tucking branches, berries, and feathers in the top of the tree cascading out for a lush look.
Let's look around the living room.  I always add a bit more cheer to other areas in the room, so I want to show you that too.  On the far side of the room, my French antique cupboard holds the nativity set.
Glory to God in the Highest is from Scripted Simplicity as well as the big one over the fireplace.
It's a pretty Fitz and Floyd set that I've had for about 25 years.  I've had these pretty sparkly grapevine stars for  many years too and I found a perfect spot to use them.
One star stands over the manger scene. I added burlap underneath the nativity and a few of my bottlebrush trees.
The table behind the sofa has large JOY sign and a winter scene under glass.
Just the little touches make me happy.
Faux snow and some little people make a beautiful winter scene. I forgot I had that cute hedge that lights up, so I added it this year.
I showed you the coffee table already, but here it is without the glass on top, so you can see all the details.  I just love these sweet little vignettes.
My green lantern got the ornament treatment to add some festive cheer.
And here's a peek at the whole room.
The fireplace and mantel looks so cozy with the tree.
Another peek at my mantel, which I shared here. 
This little glitzy reindeer has been with me more than 20 years too.  Another cute Christmas sign from Scripted Simplicity.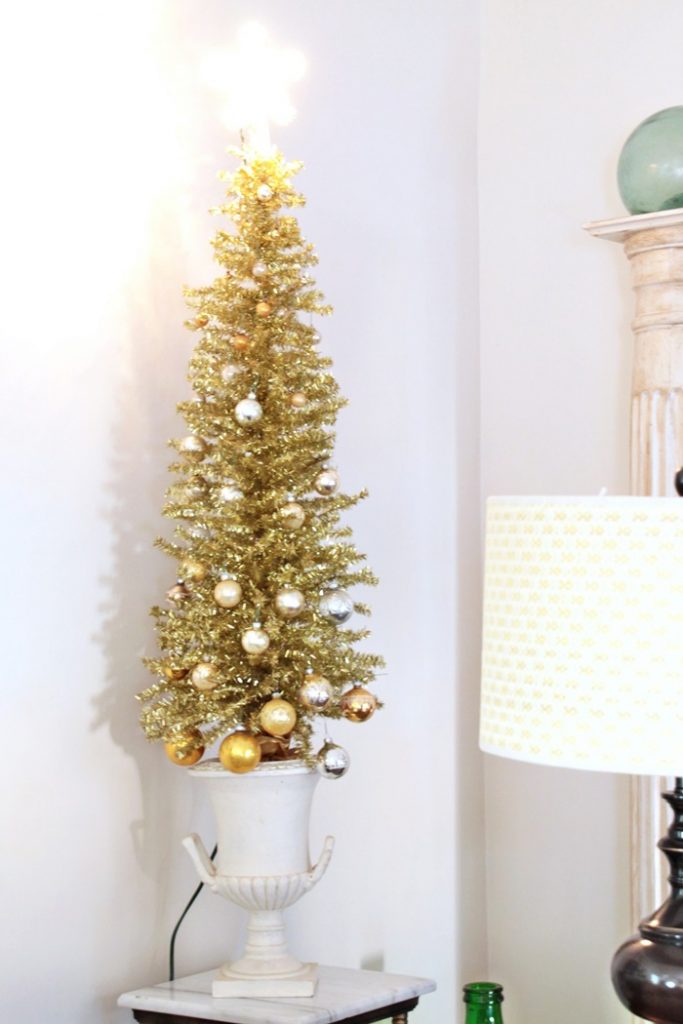 Over in the corner, I added my vintage gold tree on a marble plant stand. It's filled with these pretty golden ornaments I found antiquing. This cute little thing makes me really happy too.
And here's a shot of the tree at night, all glowy and pretty.  This is the perfect spot for my Christmas tree and it stays lit all day long.
It creates such a warm glow in my living room.
With lots of special ornaments that I've collected over the years and a few new ones, it's a special tree and one that I am proud of.
I hope you enjoyed this tour of my living room and that gorgeous flocked tree!  It is definitely one of my favorite trees I've ever decorated.
For lots more inspiration, I hope you'll stop by these blog friends of mine! They have joined me this week in the Tree Classics Home for the Holidays tour, sharing their own Christmas inspiration from Tree Classics and I just love all these girls and their talents!
Also, stop by Tree Classics for their 12 Days of Christmas giveaways, where you can win prizes every day until December 11, including a Hyde Park Snap Christmas tree.  You can find all the details on that link on how to enter. 
Don't Miss a Post, join my list!