Ahhhh, Spring!
It's full blown spring here in Georgia and I couldn't be happier.  The pink cherry tree in my front yard is about to explode in those soft and billowy blooms that I absolutely love.  The pink dogwood tree isn't far behind either.  So, this time of year I love to clip off a few branches from the cherry tree and bring them indoors to enjoy on my foyer table.
All you do is clip some branches, stick them in water and watch them explode into pinkness!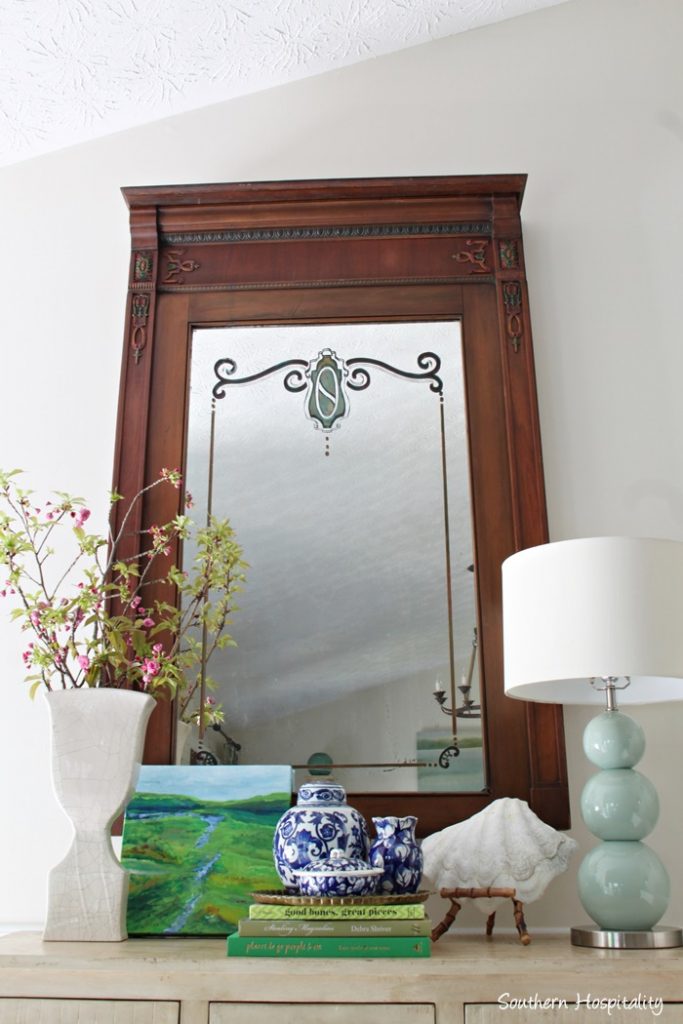 I have this tall pretty white vase that I picked up and just filled it with water and branches.
The blooms are already unfurling into the prettiest soft pink blossoms.
How's THAT for bringing in Spring?
I sure have enjoyed my new foyer table and having fun decorating it with some bright colors.  The rest of my living room is undergoing changes too and as soon as I can get it all done, I'll post new pics.  I'll be waiting on the new chair from Birch Lane to get here and that will be about 6 more weeks, as well as the rest of my pillow covers.  I've been moving furniture around switching things from the den to the living room and making all sorts of changes.  With the addition of the new windows in the downstairs den, it just made sense to move things around and I'm loving the fresh changes.
I'll show you some progress soon!
In the meantime, I'm joining my blog friends for 10 minute decorating ideas and this is one of the easiest things you can do to freshen up your home for spring.
Do you have budding trees outside?  Go out and clip some branches for instant spring inside the house!  Couldn't get any easier than that.
Join my other blog friends for more spring inspiration in only 10 minutes!

Don't Miss a Post, join my list!