Hey friends!  During my going on 12 years as a blogger, I have made so many friends with some precious and talented ladies along the way.   So many of them have written books and the latest friend of mine who has just been published is the super talented Courtney with French Country Cottage.  I've know Courtney for several years now and we've spent time together at many events along the way and she is sweet, talented in photography and styling, and overall such a gifted lady in sharing her heart and her home in such a special way.
Her new book, named after her blog, French Country Cottage, shares so many beautiful photos that Courtney has taken herself and I know if you love French Country style, this is a must have book for your coffee table.
Courtney's home is so beautiful and quaint and she shares all about how she found her home in California and the renovations that went into it.
Courtney has so many gorgeous photo spots around her properly, like this stone outdoor fireplace  that is just brimming with ambience.
Courtney's photos take you to a place and time of romance just from looking at her pics. 
If you love flowers, Courtney is the best with using flowers in her photos and making them come alive.  You find yourself getting lost in her photos, taking in the feelings.
Courtney has also done so much to her vintage home, bringing it up to day, but also leaving the charm and character of of the home intact.  Isn't this dreamy?
You'll find so much inspiration and beauty in the pages of French Country Cottage!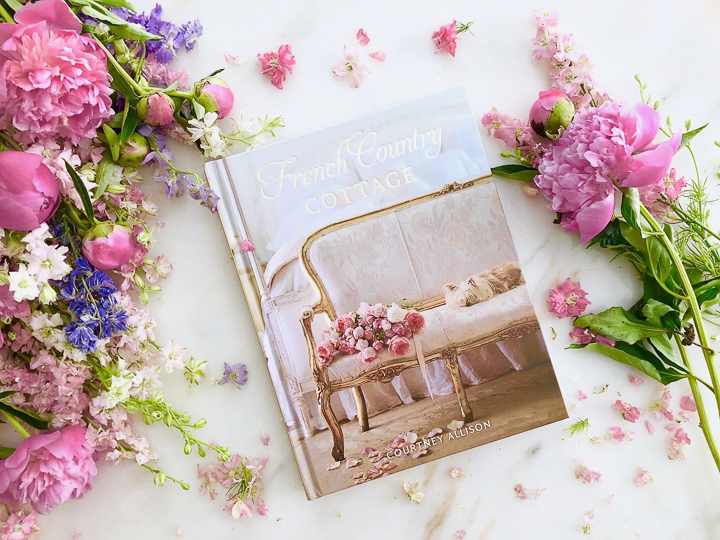 Please visit Courtney's blog, French Country Cottage, if you haven't met her yet and also check out the book on Amazon below.  It's a gorgeous book full of great ideas and inspiration and you can't go wrong with this one on your shelf.  She covers French Country style, shares her entire home in photos, as well as the Greenhouse and her outdoor spaces as well.  There's even a chapter about Celebrations and holidays.
You'll love it, I know! So proud of Courtney for following her dreams and making them come true with all her hard work on her blog and photography!
Don't Miss a Post, join my list!