Spring is here!  What better way to celebrate the arrival of my favorite time of the year that to head outside and cut some fresh florals for the Biltmore Inspirations door bucket I have.  It definitely comes in handy for all seasons.  I figured why go and buy faux, when all this glorious fresh florals are right outside in the yard.  For FREE!
I love FREE!
Biltmore Inspirations door bucket and floral oasis foam.
This is going on my sis's door, so I cut some fresh florals at my parent's house, then headed over to her house and we took the clipper out to her back yard and clipped away.   I found those magenta azaleas, pink and white dogwoods in my parents' yard.
Stuck them in water for a bit while we scoured the yard for more fresh floral victims.
Renee's yard has plenty of beautiful lush greenery and florals, so we clipped maple, vinca vine, and a feathery pink plumey tree that I'm not sure what it's called.
She's got plenty of beautiful pink fluffy cherry blossoms too.  I tried getting some forsythia, but they were on their last leg and had hardly any yellow blooms left, so I ended up not using them.  A little Eucalyptus for some gray green contrast.  Far right is a crossvine, not quite open yet.
I soaked the floral foam for a few minutes, but I think it really needs a long soaking to pick up plenty of water.  I began by sticking in the longer dogwood branches, since they were taller and will be the background.  Pinks and whites.
Dogwoods are so pretty and I love their blooms.
Then, I started tucking in cherry branches with their fluffy pink blooms.  They cascade well too, so I added plenty at the bottom.
Then I tucked in some of the pretty green maples, with their wispy feathery leaves.
Also added in those hot pink azaleas that are just exploding right now, tucking in more green maples and more fluffy cherry blossoms along the bottom.  I added in the crossvine at the very bottom, to cascade over the edge.
There you have it!  A fresh Spring floral bucket for the door.  Now, keep in mind this is not going to stay fresh for very long.  We tried adding water to the bucket to help soak the foam and keep the fresh florals wet, but the bucket isn't waterproof, so  it dripped too much.  Note to self:  Get some tub caulk and add to bottom of the bucket inside, to keep it watertight. 
Isn't it beautiful??  I love these colors and how fresh and pretty it is on the black door.  It would be a wonderful welcome for a Spring party, if you only needed something fresh for a day or two.  And the best part?  It's FREE, did I mention that? 🙂
It is not hard to put one of these together, as you can see.  Add height at the back and then start filling in, all the way to the front, with cascading flowers.
Pretty pink dogwood, there is nothing prettier than this. We have to take advantage of these blooms now, they will not be around for long.
Fluffy soft pink cherry blossoms and hot pink azaleas.  Love them too!
The maple leaves add texture and softness as well as that pretty green as a complement to the flowers.
One beautiful fresh Spring floral bucket for the front door.  Yes, please!
So, tell me?  What are you doing on your front door this Spring?  It's time to share your front door, back door, or whatever flat space you want to share your Spring inspirations.  I know everyone will enjoy seeing them all.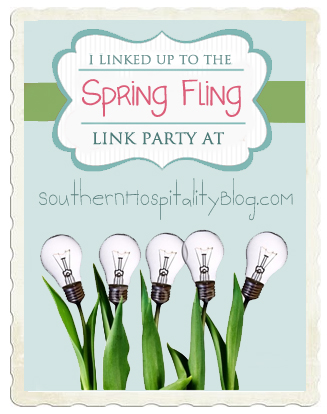 Please be considerate and add a link back to THIS blog post from your post.  That's the nice thing to do in a link party.  That way everyone can enjoy the party.
Only one link per person, please!
You can add a door, front porch decor, or something along those lines for the Door Decor Spring Link party.   Thanks for joining!
Don't Miss a Post, join my list!