Happy Friday friends! I'm going to start skipping over Feature Friday since I've stopped doing new ones for the time being. It became hard to find a lot of new blogs to feature, so it's still a big category on the menu and you can check it out anytime you'd like, but I'm going to quit highlighting the old ones for now. If and when I find a home to feature, I'll do more Feature Friday home tours, but for now, I'll just share my home inspirations from Instagram.
Instagram Inspiration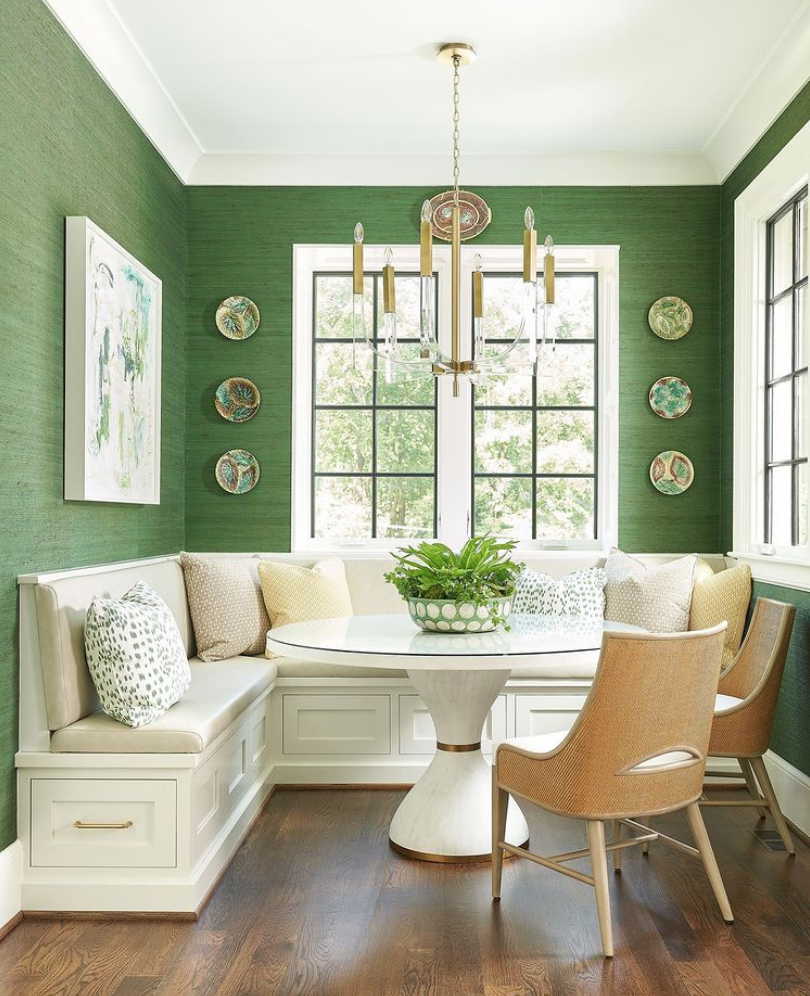 The color green still makes me very happy and this room by Allen James Home in High Point is absolutely stunning! I shared this on my Instagram stories and everyone agreed.  Looks like grasscloth.
This outdoor porch is equally stunning from Colleen Rosar Design. Just gorgeous! I'm discovering so many talented designers on Instagram for sure.
Recipes
I'm not the most skilled at cooking fish, but Dishing Out Health makes this Skillet Salmon dish look so easy and delicious, with sun dried tomato cream sauce involved. Wow, that looks good!
This Caprese Grilled Cheese sandwich from Spoon Fork Bacon looks right up my alley too, all the yumminess between toasted bread has to be good.
Around the House
Affiliate links used below.
When we moved in this house 5 years ago, I bought a monogrammed mat from Frontgate and it's lasted well for all these years. Some of the black and part of the black monogram was wearing off, so I saw Frontgate was having a big sale and I bought this blue one (affiliate link) from them. I love a good monogram and this one is so pretty with the blue flowers. I figured this would be a good welcome mat and with my blues flowing through the house, good for curb appeal and I love it! Their rugs are large which I really like, this one is 4′ wide, so really makes a statement.
I've found some Creative Co-op decorative accessories on Amazon, which are sold in some stores and boutiques. They have a reputation for beautiful and unique home things like this brass bunny jar.
I've seen others share this cute set of caned boxes, they are a little pricey, but would be great for hiding things like remotes.
Another good brand is Two's Company and this cute rattan floral holder is another unique piece I spotted.
You can see all the things that caught my eye and  I've compiled on my Amazon shop page. I add new things as I find them.
What We're Watching/Reading
If you haven't discovered Sean Dietrich from Alabama yet (Sean of the South), you must go over and read some of his columns. He reminds me of the late Lewis Grizzard, who I grew up reading in the local Atlanta paper and who was loved by so many here in Georgia. I found him awhile ago, but forgot to keep up with his writings and recently read his ode to the tomato sandwich, which completely cracked me up (if you love tomato sandwiches, you will laugh all the way through) and I sent it to my family and friends who "get" this indescribable yearning for a tomato sandwich with homegrown tomatoes every single summer. I grew up on them and so did all of my family and we all cheer for each other when it comes to that first one of the season. I just had my first tomato sandwich of the summer last week when we hunted down those home grown tomatoes from a farmer man in Cherokee County. It made my week and I took a picture and shared on my Instagram stories. It's the stuff that summer in the south is made of! I'm not quite as opinionated as Sean is on mayo brands (we have Hellman's in the fridge, which doesn't make his cut), but I understand his disdain for Miracle Whip. That stuff is nasty!
Here are a couple of shows that we watched recently. Taken at Birth (streaming on Hulu) is a really compelling documentary about babies sold out the back door of Dr. Hicks clinic, in McCaysville, Ga in the 50's and 60's. They identified at least 200 babies that were sold during this time and the story was really interesting to watch. Parts of the story were in Murphy, NC, where my parents mountain house was located for 30 years. It's quite the story and affected so many people.
We also watched Shania Twain: Not Just a Girl on Netflix, another interesting documentary. I never followed her career that closely, but I think she's a super talented singer and it was fun to watch her climb to success and the obstacles she faced along the way that almost derailed her singing career, but she's back again and singing better than ever.
Don't Miss a Post, join my list!