October is winding down and we are heading into November so fast. I can't believe it will be Thanksgiving in a few short weeks and then Christmas. Where does the time go? Today I've got some Friday Favorite shares for you, so thanks for stopping by!
Instagram Inspiration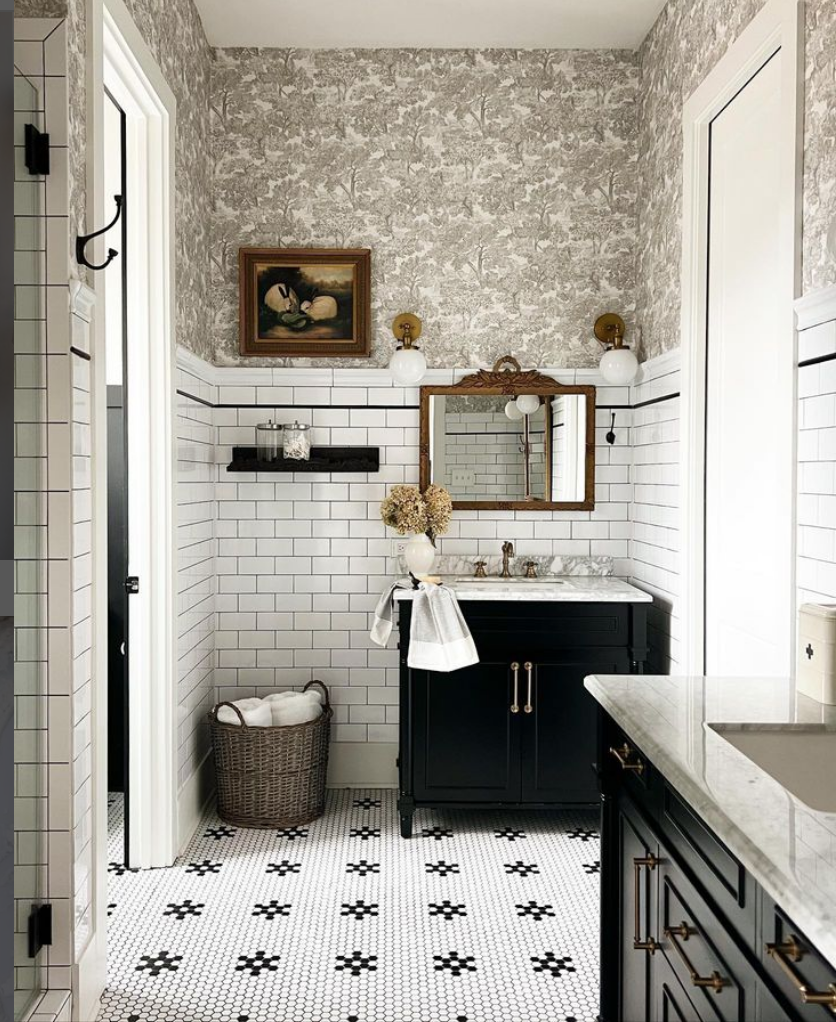 We are gathering ideas for our last bathroom remodel at our house and this bathroom from The Linen Rabbit really caught my eye! I love everything about it. Mark wants to have a lot of input on that bathroom since it's right next to his man cave (and he loves Art Deco style). We already have the wallpaper purchased and now need to look at tile. We both love the tiled walls like this with bullnose and border pieces, so we want to do something snazzy like this with wallpaper above. We already have a countertop and faucets and need to figure out the rest.
Also from The Linen Rabbit, these beautiful marble and brass shelves are so classic. Aren't they gorgeous? Great inspiration on that account.
Recipes
Since I got my new Ninja Air Fryer (affiliate link) a few weeks ago, I've been experimenting quite a bit and I have to say I'm really impressed so far. I've been using it for meats, potatoes and veggies. It works for so many things, but I've still got a lot to learn. I found Air Fryer Addicts on Instagram and this Caprese sandwich looks so good. We love Caprese so I think this might be a hit around here. I'm definitely adding it to my list to buy ingredients. This is a video so click over to watch it all. I can't wait to learn more about my air fryer and grill.
This pork loin also from Air Fryer Addicts looks delicious too. I'm going to use the grill feature on mine more and more I think. Mark does our grilling on his Weber charcoal grill, but it doesn't make it easy to grill in bad weather or quickly. This pork loin was cooked on the air fryer grill for 30 minutes on 385 degrees and looks delicious. I'm looking forward to experimenting more and getting new ideas for meals. That's one of my challenges!
Around the House
Here are a few home decor and cozy items that caught my eye on Amazon lately.
These checkerboard throw blankets come in several colors and look so cozy!
Stone and Beam has some nice looking home decor items, you can peruse their page and see all the categories.
This is a good deal on a pair of swivel rocking chairs plus side table.
What We're Watching
We are watching a documentary on Netflix called Vatican Girl and it's a mystery series about a case in the 80's of 2 girls who went missing in Rome. We aren't quite finished yet, but plan to see what happens. You might enjoy it too.
Have a great weekend!
Don't Miss a Post, join my list!