I've shared a few of my frugal clothing finds in the past and since my friend, Jen is have a Frugal Fashionista party this Friday, I thought I'd pull a couple of pics out of my archives and join in the fun.  And since most everything you see me in these days has been purchased second-hand, I don't have any trouble coming up with some great combos  of clothing.
These are pics from our Florida vacation, so bear with me.  First up, this denim skirt and cute little white top, both found frugally.  I am lucky  and have a neighbor who owns a women's consignment boutique and she has yardsales at the end of each season at her house, twice a year.  And I've scored some major good buys from her.  At $1 to $2 a piece, it's a no brainer and I've found many quality, name brand basic pieces from her sales.  And I even get to bring them home and try them on first to figure out which ones fit and are keepers.
This cute denim skirt was $1 and the white top came from another yardsale and was also $1.  If you'll look closely, you can see my pretty mother of pearl jewelry, also yardsale finds at 2 different sales.  The earrings were $2, I think and the necklace $1.
So, when I saw these mother of pearl bracelets while at the beach for $6 each, I snapped one up and now I have a complete set, all for $9 total.   And you know, $6 is a splurge after shopping this way for awhile.  I have SO many great jewelry pieces that I've scored so cheap at yardsales.  It will definitely spoil you.
Here's a closeup of the 2 jewelry pieces (and with my monogram!), bought at TWO different yardsales on the same day.  How's that for a score?!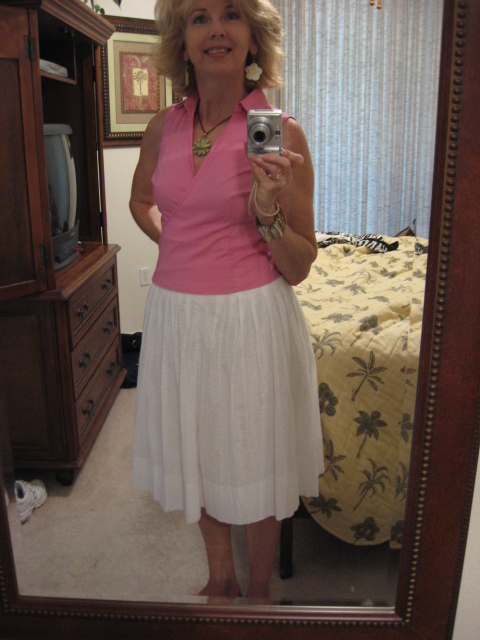 This one I snapped while we were getting ready to go to dinner one night.  The pretty white skirt was $1 from my neighbor's sale and the pink top is from Ann Taylor and I've had it for a few years, also from a yardsale and I think it was $1 or 2 also.  It's a wrap top and I don't wear it that often, but thought it would be good for the beach.  And you can see, I wore my mother of pearl again with this outfit.  Those are some versatile pieces.  I ended up wearing  pink flip-flops with this too and it was a cute, summery outfit.
Just a reminder that dressing cute and stylish doesn't have to cost a fortune, it's the same mantra for me whether I'm talking fashion or home decor!
Don't Miss a Post, join my list!