What a wonderful Thanksgiving week it is!  I can't help but be extra thankful this year that we will be celebrating with both our families for the Holiday season and we have SO much to be thankful for.
A couple of weeks ago, I had the pleasure of visiting a place I've heard about most all my life.  I knew that Danny Thomas was the Founder of St. Jude Children's Research Hospital, but it was such a wonderful experience to get to visit it in person and see the good things that are being done at St. Jude.  What a positive experience and place it is!
I'm so blessed to be working with companies that are so generous with their contributions.  Who support charities such as St. Jude with their money to make the world a better place.  St. Jude is all about fighting childhood cancer and it was inspiring to see that first hand.  I so appreciate that Shaw invited the Style Board to be a part of this wonderful event.
We gathered in Memphis, TN for a short trip and full day of touring St. Jude and to see this place in person brought tears to our eyes, as we saw these small patients in the hallways, all fighting their illness trying to get home again.  Shaw Floors is an awesome sponsor of St. Jude.
I've been a part of the Shaw StyleBoard for the last year and a half and it's been a pleasure to be associated with Shaw in this way.  The StyleBoard members were all excited to be there and see it for ourselves.  From left to right, Brittany, Roeshel, me, Beth, Cassity, and Heather.  I think all of us left St. Jude with a better appreciation of what founder, Danny Thomas, had created and what is now nurtured by his daughter, Marlo Thomas, and family to keep St. Jude running and making children well again.
None of us really knew all the facts before we went to St. Jude, but did you know that children coming to St. Jude never leave with a bill to pay?  That's for treatment, housing, travel or food.  All they have to worry about is getting their child help at St. Jude and to get them well again.
Since St. Jude opened over 50 years ago, childhood cancer survival rates have been pushed from 20% to 80%, thanks to the research done at St. Jude and they won't stop until the survival rate is at 100%.  All the research they do is shared throughout the world with other doctors and research facilities to help thousands more children all over the world to be saved from cancer.
We got a full tour of the St. Jude campus from a former patient, Eliza, who gave us first hand exprience with her treatments and now being free from cancer as a young woman who works there as part of the staff. That's how passionate she is about the place that helped save her life as a child.
It was such an honor to see what Danny Thomas built at St. Jude for myself.  We were all so touched by the stories and people we saw throughout the day.
Danny's nose on the statue is rubbed countless times a day from those wanting good luck.  You can see how shiny it is!  Danny's children, including Marlo, have all been involved over the years of his passing with St. Jude and continue the legacy that he built.
Side note:  Anyone grow up watching That Girl?  I just loved Marlo in that show! 
St. Jude is a beautiful facility with color and hope scrolled throughout the campus.  It wasn't a sad place at all, but a happy place, full of hope and love.
Artwork is abundant at St. Jude all over the walls and halls of this beautiful research center.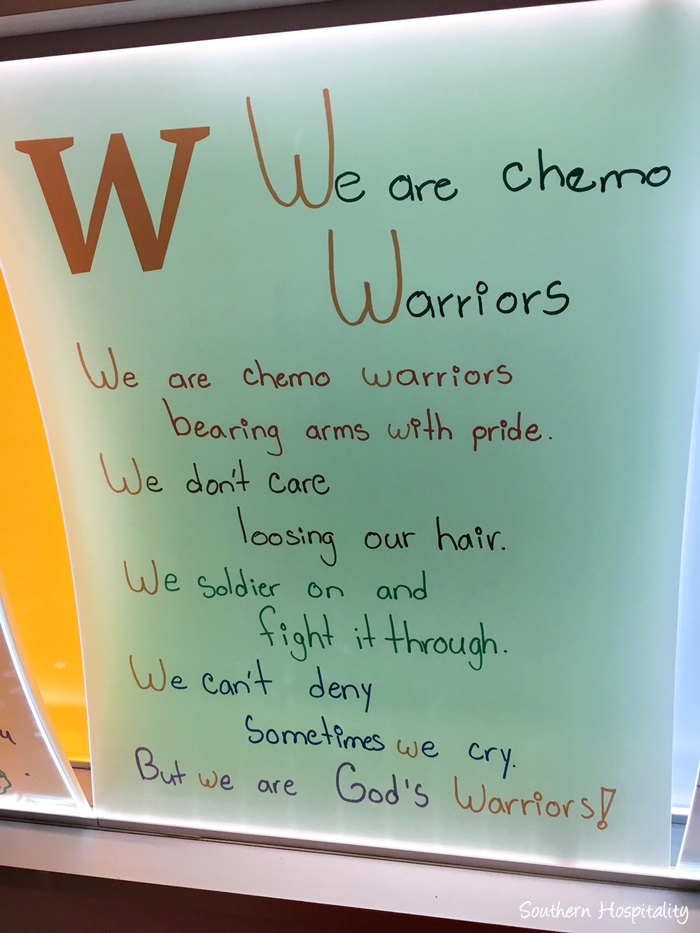 Reading the children's captions on the walls brought tears to my eyes more than once.
I loved so many of them.  The Miracle one above was just so special and I loved that last line, "Nothing you have is because of luck or chance.  It's all due to God's grace and favor.".  So true, that is!
And this one, such wise words from a child.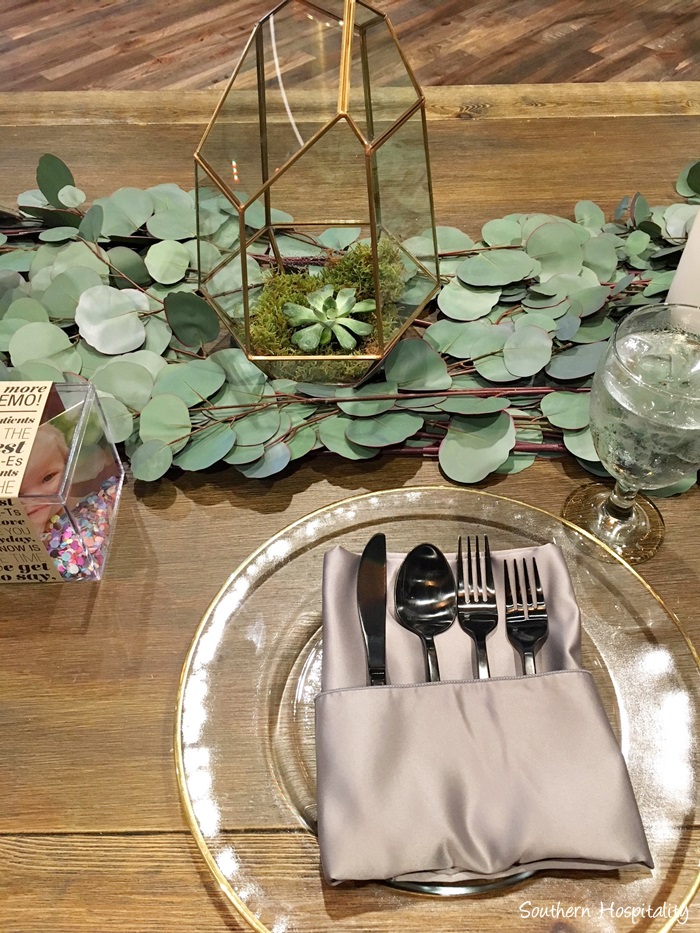 We had a wonderful lunch at St. Jude and heard from so many people about the importance of the hospital and what it means to treating childhood cancer.  It's all funded by generous donors and donations from all over the world.
Once a child is cancer free and gets to go home, they receive this little box of confetti to throw a going home party.  That was so special!
We also had the pleasure of sitting with some of the kids during craft time and helped them with a fun little Fall craft of adding colorful leaves to a blank tree.  It was a fun moment to spend with these precious children, taking their mind off what they were going through.
Those happy smiles said it all!
We all enjoyed being a small part of that activity.
Later in the day, we visited the Target House, which houses families who live out of town while their kids are in treatment at St. Jude. Can you imagine being away from home for such a long period of time, trying to get help for your child and not having a place to stay? The Target house is free for those families who stay long and short term for treatment at St. Jude and what a place it was. Every family that leaves Target House receives a beautiful quilt to commemoriate their time there.
The Target House was such an impressive place, with beautiful rooms and so many nicely appointed common areas that familes can enjoy together.
Everything was so fresh, clean and colorful.  Again, not a depressing place at all!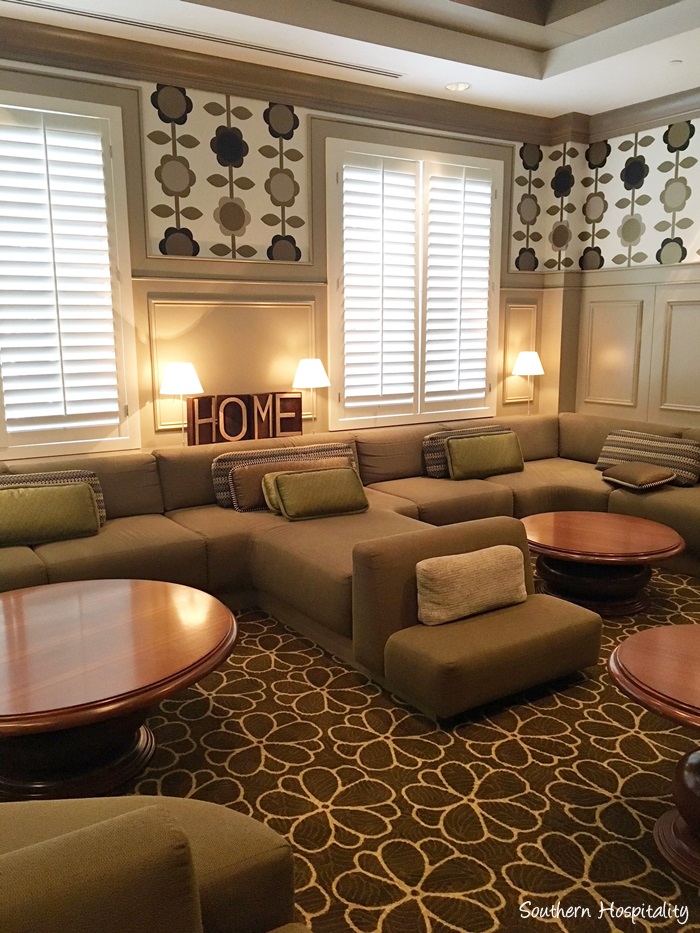 Several celebrities have donated spaces at the Target House, this one was from recording artist, Amy Grant.
And this one was from Country singer, Brad Paisley. Such a worthy cause to invest in.
We  were so impressed by our entire day at St. Jude and Target House and were blown away by what we saw happening there in Memphis.
It gave me an even greater appreciation of what St. Jude does for so many families in treatment and curing of cancer in so many children.  I loved hear so many stories of hope coming from St. Jude. I think probably every family I know, including my own, have faced cancer in the family and it's such a hard thing to go through.  Children's cancer has to be the worst.
Shaw Floors is such a wonderfully generous company and I'm very proud to be a partner with them as part of the StyleBoard last year and this one.  The people of Shaw are really friends now and I think so highly of all of them. It's been a pleasure to get to know so many of them.
We stayed in the gorgeous Peabody Hotel for a couple of nights and what a treat that was.  I had never been to Memphis or the Peabody before, but had heard such great things about it over the years.
Including the stories of the famous Peabody ducks in the lobby fountain.  I knew about them, but had never experienced it in person and oh, what fun that was.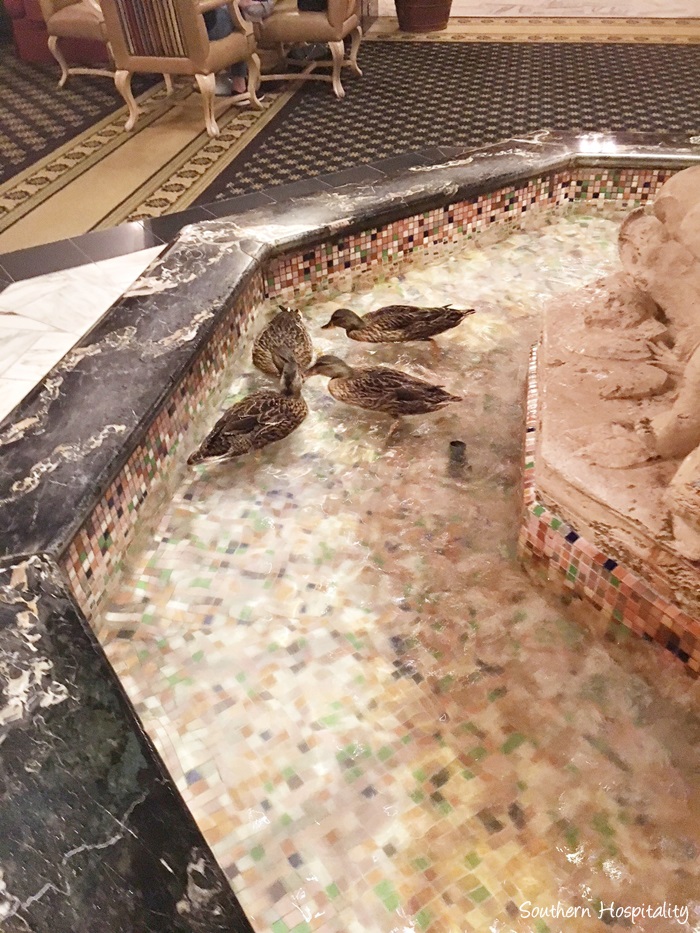 These pampered ducks march across the lobby red carpet every day at 5 pm and go to their rooftop penthouse where they live.  The crowds that gather for this event just love waiting for it every day to see the duck march and we got to see it too! This has been going on for 80 years and the story is that hunters were staying at the hotel then and had real live duck decoys that they brought in as a joke and put them in the fountain.  It was so well received that ducks have been living in the fountain all these years and now it's a big attraction to the Peabody Hotel.
It was such an enjoyable and informative trip and a big thanks to Shaw Floor for inviting the StyleBoard to come along on this event.  So proud to be affiliated with them. And you know how much I love my Shaw Floors in our new house, I will always shout that out.
As a final note, if you'd like to donate to St. Jude Children's Research Hospital and help keep childhood cancer at bay, you can click here to donate any amount, small or large. What a worthy cause to contribute to.  
SaveSaveSaveSave
SaveSaveSaveSaveSaveSave
SaveSave
Don't Miss a Post, join my list!