I hope you enjoyed the tour of Ryan Gainey's Decatur garden yesterday.  We toured through several more gardens as well, so today I'm sharing some of those highlights.  I love gardens and admire those who plan and build a beautiful garden, whether it's the front yard or backyard.  It's always fun to get ideas on how to make a backyard special and inviting.  Landscaping makes such a difference in a home and I so enjoy getting ideas and seeing a passionate gardener's handiwork.
Enjoy the tour! These are 4 different houses all mixed together.
I won't talk a lot through this, I just want you to enjoy seeing all the beauty.  This house was our first stop in Decatur and these homeowners obviously have spent years building this garden.  The hydrangeas were just beautiful and this was probably the best show of hydrangeas that we saw all day.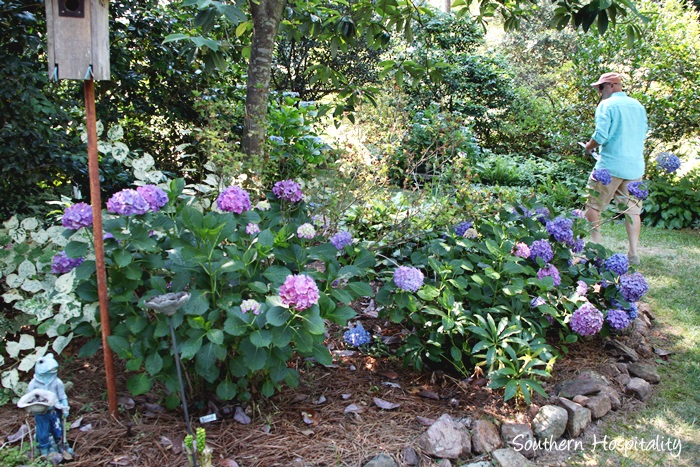 There's my guy, Mark, who went with me on the tour. It's nice to have a guy who enjoys things like this.
Lacecap hydrangeas have their own special beauty, don't they?
The rest of the pics are from 3 home garden tours in Marietta.

Wasn't that a lot of beauty in these garden tours?  It was great for the homeowners to open up their gardens for all of us to enjoy.  I took these pics with my big camera and my iPhone.  Sometimes in shady situations, my iPhone does a better job of capturing gardens than my big camera does, but it's nice to use both.  I dearly love outdoor living and beautiful gardens and I know that  many of you do too.
One more note for today! I'm doing a little guest feature at my friend, Cassity's blog, Remodelaholic on one of my painted table tutorials, so check it out if you get a chance.  She's featuring a whole week of table makeovers.  
Don't Miss a Post, join my list!