If you love historical home tours and you live in Georgia, you should definitely look at the Georgia Trust for Historic Preservation for their calendar of events in the state of Georgia. We've done a tour with them before and when I found out about a historic home tour in Monroe, GA last weekend, I bought tickets and we went for the day. Monroe is on the other side of Atlanta from where we live, so that means about and hour and 1/2 travel time to get there. The Atlanta area is so big and spread out, that's just the way it is around here. We thoroughly enjoyed it though, so I'll take you along for part of the tour.
I had been to Monroe only one other time with my sister and niece for a quick visit, so this time I got to see much more.
We arrived as the tour was just starting at 10:30 in the morning, picked up tickets at the First Baptist Church in Monroe and we were on our way.
Monroe is a charming small town with a bustling downtown area, shops and restaurants plenty.
It's very cute and just what small town USA should look like.
I met Brittany with Addison's Wonderland a few years ago and she's a very popular blogger and historic home owner in Monroe, so she was on the tour and I was excited to get to see her house as well. She also has a downtown shop named after her blog, and it's a really cute home decor and fashion stop. It looks very much like her own aesthetic and very smartly put together. I'll be sharing a bit of her home below, but be sure to visit her blog. She loves color as well as texture and has great style.
Her shop resembles her home in many ways.
There were over 20 houses and historic buildings on the tour, but we mostly did the private residence tours, except for one home that is now a place that holds events in town, so I was able to take lots of pics inside that one.
We began the tour at this house, the Tichenor-Harris-Farmer house, built in 1900 by Governor Henry McDaniel for his daughter, Gipsy. Since these are private residences, I won't share inside pics, but I did take a few of this house's wrap around screened porch. It was amazing!
Outfitted with loads of white wicker, these porches were just beautiful, wrapping around the house in an L-shape and looking out over the backyard pool.
Isn't that gorgeous?
I loved the table set up for dining.
Truly gorgeous wrap around porches on this house.
And the backyard pool was stunning too, sitting on a beautiful piece of property.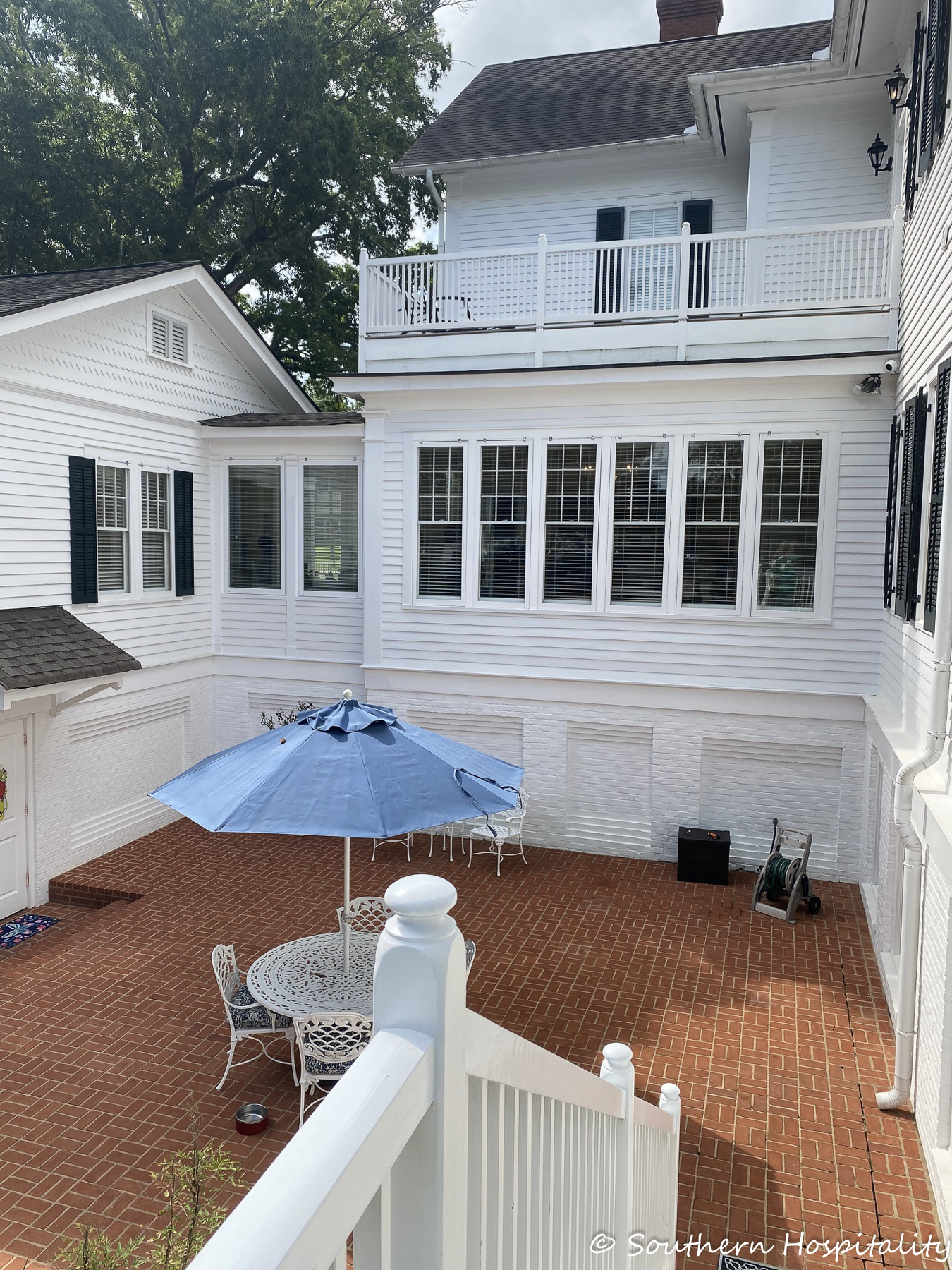 Next stop was the Walker-Sanders-Malcolm house built in 1916.
With a pool in the backyard, it was a beautiful home as well. I didn't want to disrupt their privacy too much, so mostly took pics outside.
Across the street from the white house is the McDaniel-Tichenor house, built in 1887. This was the home of the Governor Henry McDaniel who built the white house for his daughter.
It's called an Italianate Villa style and was extensively remodeled in the 1930's, which you'll see as we tour and as the sign says a historical asset of Walton County.
The 1930's renovation changed the house from Italianate style to Neoclassical style. The eclectically furnished interior features pieces dating from the late 18th century up until the mid-20th.
I won't try to narrate all of the rooms, so enjoy the tour!
Next, we got to Brittany's home and I was excited to see her historic home in person after seeing it on her blog. I love that she's not afraid to decorate in a modern style which really makes her historic home shine with personality. When she bought her home, if I remember right, a renovation had started, but it was down to the studs, so she was able to rebuild the new home exactly the way she wanted to, keeping some of the historic elements and adding lots of new too. I think it turned out beautiful. You can see lots more on her blog, so be sure and go over to visit.
I love the brick walk and stairs as well as the deep navy color she painted the exterior.
Her front porch sports a really pretty hanging swing and the front door is to the right.
Lovely front door. I did get permission to post these pics of Brittany's home in case you're wondering.
I won't try to talk about all of her home interiors, but enjoy the tour. It's very colorful and stylish, I love her style and love that she's not afraid of color or pattern.
This wallpaper has always been one of my favorites.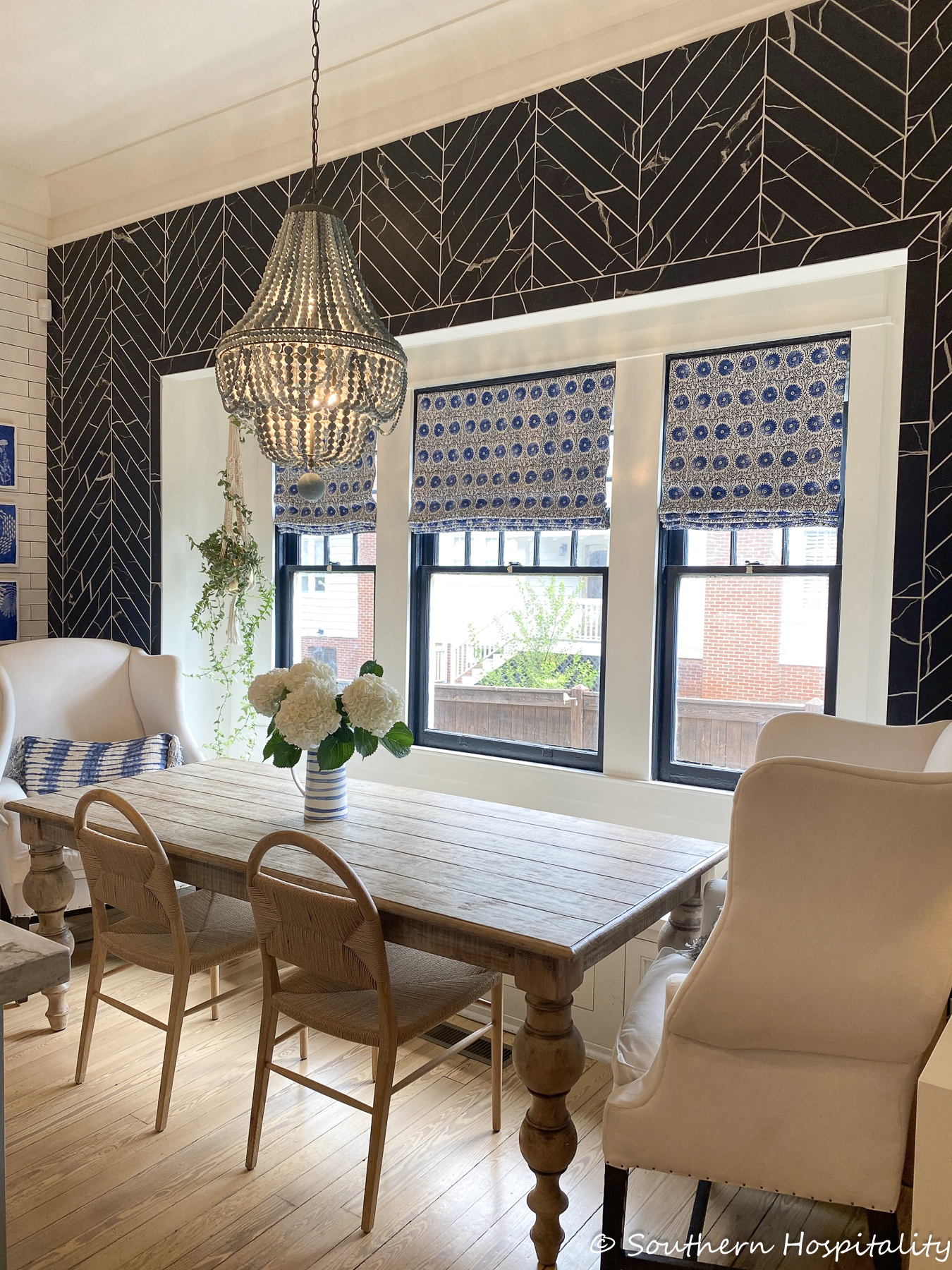 Brittany just shared her master bedroom reveal on her blog with the new paint color and details, so check it out. Her pics are stunning and much better than any I've shared here, so definitely check out her blog for all these room posts.
Her daughter, Winnie, just got a room makeover, so cute. I love her use of wallpaper.
And her older daughter, Addie's room.
Downstairs to the basement.
This is where she has her Addison's Wonderland office.
Back porch swing.
And they just added a new pool too in the backyard. So pretty! Brittany got remarried a year ago and has a beautiful blended family and I'm so happy for her.
There were several houses on this street on the tour.
I didn't take inside pics but loved the porch planters.
And another beautiful backyard pool. These pools all look fairly new.
Really cute playset in this yard, right across the street from Brittany's house.
More pretty homes on the street.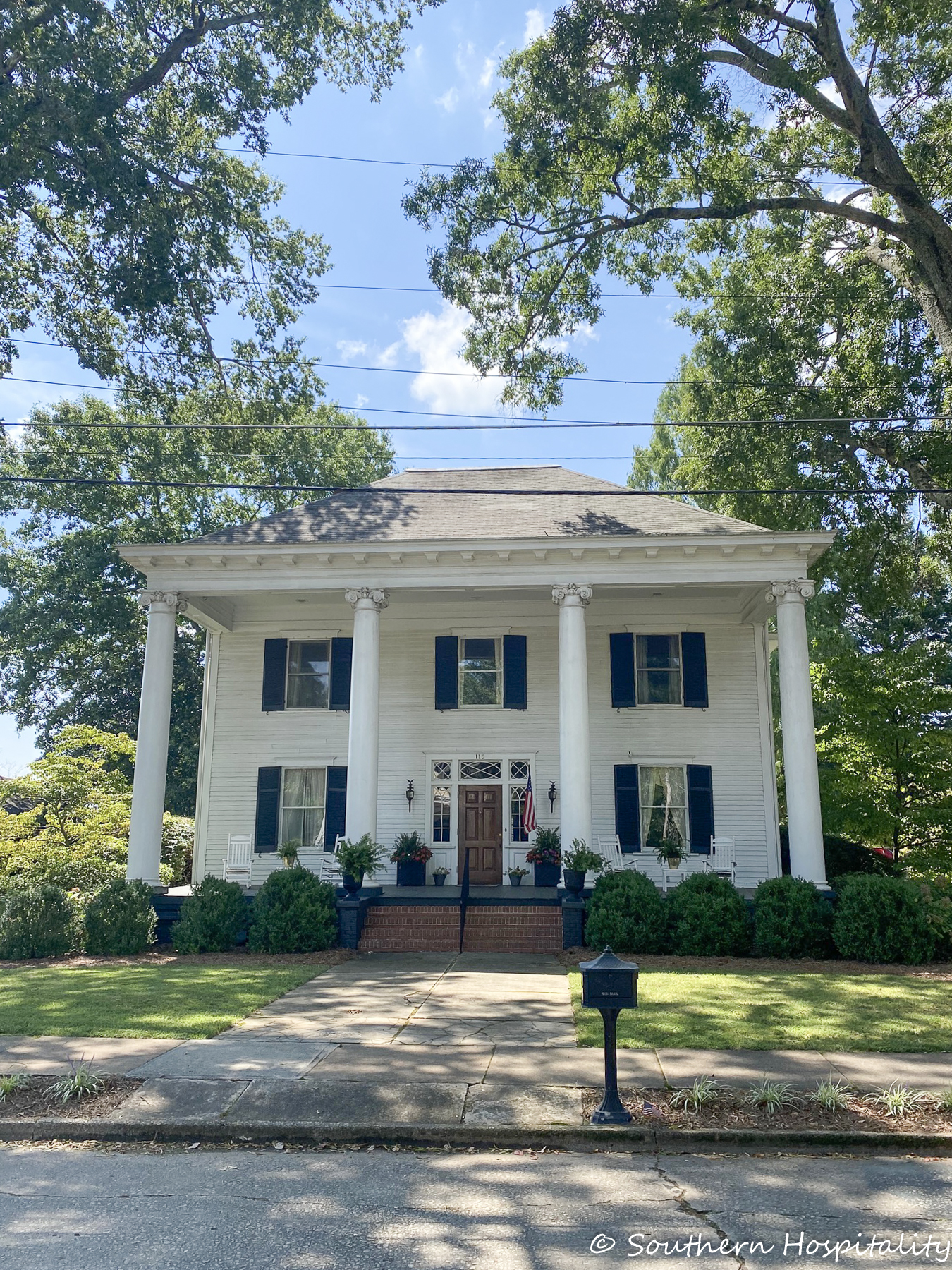 Before we left, I took a peek into this old church, now a theater. It's adorable!
I love small and quaint theaters for live plays. As you can see, Monroe is a charming and quaint town and we enjoyed our tour. I can definitely see why people love Monroe. Small town living has had a resurgence of popularity in the last couple of decades, I think and more and more people want to live in small towns. I know we sure love our small town of Acworth, GA.
Don't Miss a Post, join my list!