On Easter weekend, while Lauren was home, we visited some beautiful gardens here in the Atlanta area.  Going on the tour:  me, Lauren, Parker, mom, and our family friend, Tammy.
Gibbs Gardens opened in 2012 and I have just started hearing about this gorgeous place in the last couple of years.  So, we decided to check it out on a beautiful Saturday before Easter.  We missed the big daffodil blooms, but it was still inspiring and beautiful to look at.  Spring is so pretty here in the South and there are plenty of things about to bud out in bloom.  The azaleas are next and they had just started to bud out in the gardens.  I was so inspired that I bought a season pass so I can go back and visit several times this year and see more things at their bloom peak.  And next year, I'm making a note to go back and see the daffodils in bloom!  They have outdoor concerts in the gardens during the spring and summer months.  I will definitely be going back!
Gibbs Gardens was built by Jim Gibbs, President and Founder of Gibbs Landscaping here in Atlanta. Coming from a long line of gardeners in his family, he continued the tradition and bought the property that Gibbs Gardens stands on back in 1980.
After traveling extensively for years looking at gardens, Mr. Gibbs decided to build his own and scoured properties in North Georgia for 6 years before settling on Ball Ground, GA as the garden destination.  The house and gardens include 220 acres, with a beautiful stream flowing through the valley.  There are rolling hills and mountain views on the property. With 24 ponds, 32 bridges, and 19 waterfalls, the gardens are a sight to behold.
The manor house where the Gibbs live is a mix of European architecture.  It took 32 years for Mr. Gibbs to complete the garden and open it to the public.  Now we can all visit the beautiful Gibbs Gardens and appreciate all the love and work that has gone into making this place spectacular.
A quote from Mr. Gibbs from the Gibbs Gardens website, who we got to meet on our way out.  He was in the welcome center as we were leaving and was so nice.
Jim Gibbs said, "Passing down seeds and plants from generation to generation provides a kind of love that only a gardener understands. I'm sure my three children and eleven grandchildren will enjoy this garden for years to come as I hope the general public will enjoy visiting and viewing the legacy I leave behind. A garden is fresh and alive from early dawn to the peace and tranquility of the setting sun."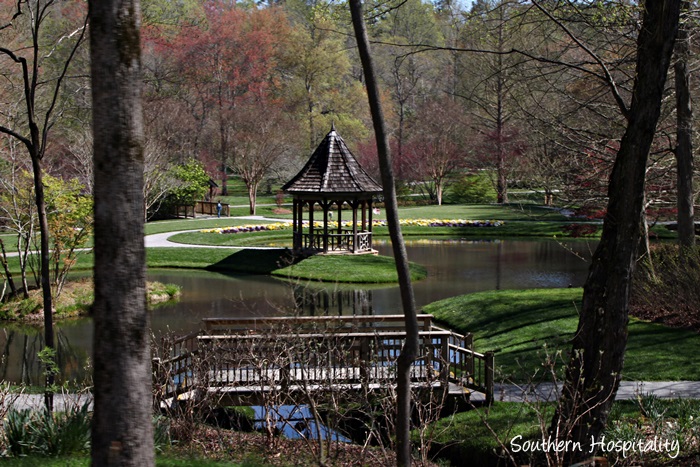 We missed the big daffodil show, but could see how extensive they were all over. I will make a point to get back there next spring to see the huge display of daffodils.
There were still a few late bloomers making a pretty showing.
There's a spot to stop and have lunch and boxed sandwiches and snacks are there to purchase.  Nice seating area under the trees too for lunch, so that is what we did.
You can purchase an extra $5 ticket to take the trams from garden to garden, which helps for older folks (like me, sometimes!).  Lauren, Parker and mom on the tram.
The Japanese gardens were just gorgeous and I took lots of pics in this area.
That's Lauren and our friend, Tammy strolling Parker on the walkway.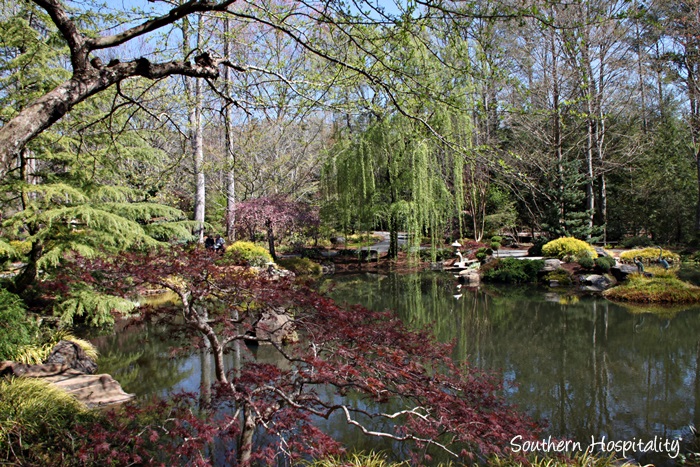 That's Part 1 and tomorrow I'll be back with Part 2.  I can't help myself and always take a lot of pictures when I'm at a beautiful spot like this.  Hope you all enjoy this look at spring in Georgia at Gibbs Gardens. I'd highly recommend a visit to this place!  It won't be my last time there.
Don't Miss a Post, join my list!