Thank you ALL for the very sweet comments on my move in day!  I love reading your comments, they make my day. Thank you SO much for being supportive and kind and just plain happy for me with my new house.  I can't wait to get all those boxes unpacked and everything in place.  This week  is still busy, as I'm down at the children's home working on those rooms.  I did get some more unpacking done over the weekend.
When I toured the Southern Living idea house down in Senoia, GA earlier this year, I fell in love with the gingham paint treatment in one of the rooms and filed it away for reference.  And as plans began to unfold in my master bedroom, I decided this paint treatment might be just the thing to give my room some pizazz and add a bold look to the headboard wall.
I decided to use the same paint I already had used in the guest bath and my vanity area, Sherwin Williams Windsor Greige. It's a bit deeper color than the color that the Southern Living house used and mine is bolder, but I do love how it turned out and it should be a nice backdrop to my blues and greens.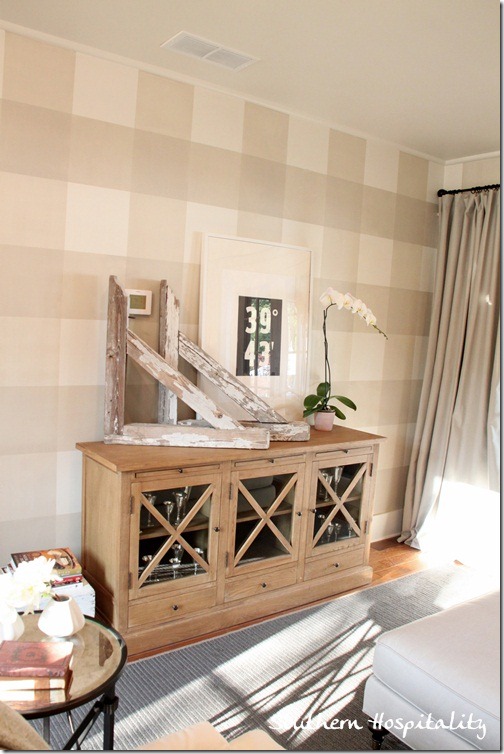 I used these instructions from the Southern Living site for my project.  It was very detailed and worked perfectly for me.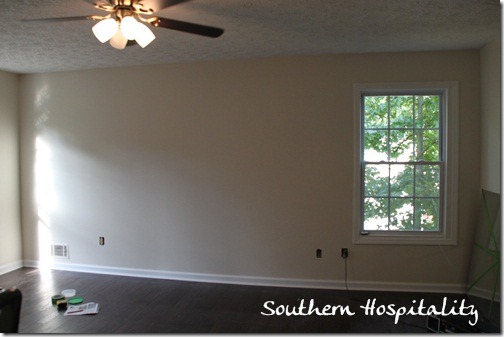 Here's my headboard wall, walking into the master bedroom.  The base color is the same as the main areas of my house, Moderate White, by Sherwin Williams.

Tools of the Project:  long level, plus laser level, Frogtape, and measuring tape and pencil.
Begin by measuring your walls.  I used the same spacing as the Southern Living house and they did 12" wide stripes both vertical and horizontal.   My ceilings are 8' tall.  I began by using my laser level to shoot a level line and then used a long level to draw my lines horizontally across the walls.  I had a friend come over and hold the laser level for me. Thanks, Tammy!
Drawing lines across the room, keeping them level.
After drawing all the lines, I then went back and used my fab Frogtape to tape off the lines for painting.  You can see some lines are the whole 12" deep and some are shallower.  That's because you want to tape inside and outside the lines depending on where you will be painting.  I'll be painting INSIDE those 12" spaced lines.  The top will be kept white, then I'll start painting my stripes on the 2nd row.  If you count every other stripe, I'll be painting 4 stripes with my darker color, with the bottom row being painted too.   Be sure and press down the Frogtape very well to avoid bleeding.  The tape works great!
I used Windsor Greige, a pretty gray/beige (a nice Khaki color) and mixed it with glaze.  The directions say mix 1 part paint with 2 parts glaze and that's what I did, just eyeballing it.
Mixing it in a paint tray, I used a paint stick to mix it all together.  The glaze gives the paint a more translucent look when dry and it keeps the paint open longer.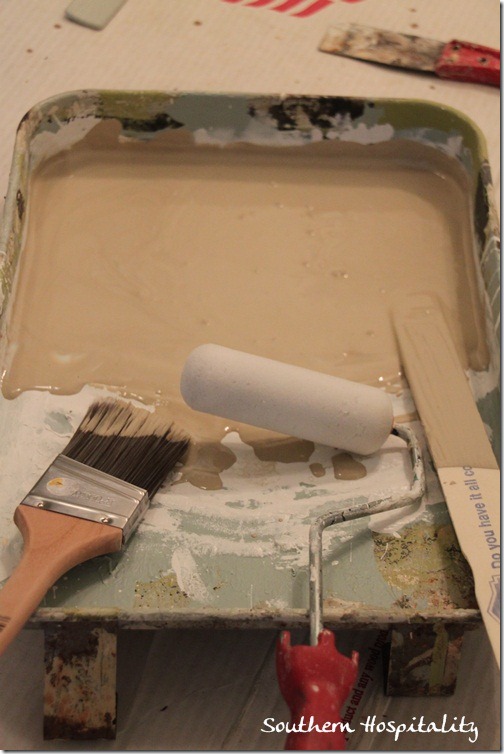 All mixed together.  Using a paintbrush to cut in near the ceiling and corners of the wall, and a small foam roller for the stripes, I began the treatment.
Rolling all 4 stripes across the wall, painting right over the Frogtape.
I immediately peeled off the Frogtape to reveal a nice crisp line.
See!
And the horizontal stripes are done!
With a big pile of Frogtape left behind.
Next, I did the same exact method and taped off the vertical stripes.  There were more of these to tape.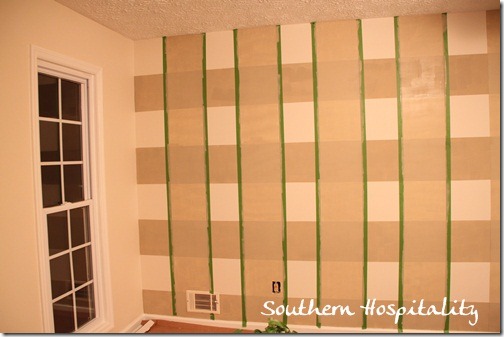 Mixing the glaze and paint, I painted these too.  Where the 2 blocks intersect, the color is darker, creating a gingham look.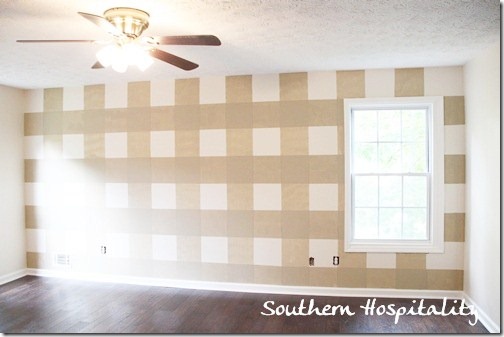 And here it is with the tape removed.
I love it!  It's a bit of a bold statement, but wait until I get all my stuff in here and my drapery panels in place.  I have 3 pairs of Ritva panels from Ikea that I'm going to stencil and hang in here along with my blues and greens on the bed and rug.
I can't wait for it all to come together!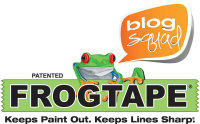 Thanks to Frogtape for sponsoring this post.  I'm blogging projects for Frogtape for the next year and will be sharing all sorts of ideas on using this versatile tape.  I was planning to do this project anyway and it's a great one to demonstrate Frogtape! 
Linking to Traci's Best of Nov. DIY party!
Don't Miss a Post, join my list!