Hi, all!
We've made some huge progress already with the porch.

Mom and I first cleared everything out and then scraped the concrete blocks that were flaking off, getting it ready to prime and paint.  Just getting a fresh coat of paint on these walls will be a major improvement. 
I didn't completely prime all the walls again, since they have all been painted with several coats of paint in the past, but my mom said it has been well over 10 years since this room has been painted, so it was definitely time.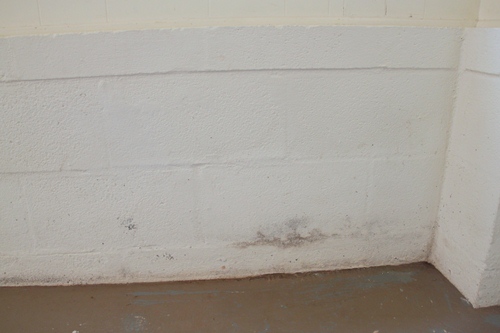 I went around the room, touching up the bad spots with my Kilz Clean Start to get it ready for painting.
Dad said he wanted to paint, so I let him do that and he got it all painted in just a few hours, cutting in and then rolling.  Do you love this color?  I sure do!  It's actually leftover paint from my old house. This is Dutch Boy Colony Green, with another quart of a similar green from Lowes thrown in there.  They were very close anyway, so adding that extra quart to the gallon, made plenty of paint to cover this space.  It feels so happy out here now!
Since I'm getting most of the new stuff from Home Depot, here's what I found in the store that I fell in love with.  I love green anyway and this set will be so nice to lounge on.   I'll get one settee.  You can hardly see it, but those pillows have a bit of aqua blue in them, so I'll bring out a little of that color too.

And 1 of these rockin' glidin' chairs.  Oh my, this is so comfortable. We'll all be fighting over the best seat in the house. 🙂
An ottoman to put up the ole' feet and relax.
This 8×10 lattice rug will anchor the space.
And this pretty white armoire via Target.   This was also part of my points and the only thing I ordered from a different site.  I loved this cabinet for storage. It will hide all those things away that we don't want to see.
This Martha Stewart storage bench from Home Depot is also a great piece and it has room for these cute fabric drawers.
I just adore these cute aqua blue fabric drawers.  I'm throwing in a little of this color to bright things up too. They will hide more things away, like garden gloves and misc. stuff.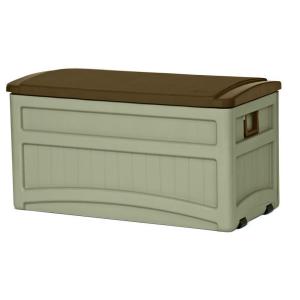 For the shoes and garden boots, I'm getting this huge storage bin, also for hiding it all away.  It's going to look so much better when things are put in their place.
On all 4  windows, I'll be adding a shade like this to keep the sun from coming in. This will unify them all and add some texture to the space.
And I got a new and improved light fixture, nothing really fancy, but much better than the old one.  In fact, anything is better than the old one. 🙂
So, you can see how this porch is coming along and I hope you see my inspiration of how I envision this space functioning. It's going to be SO pretty and I can't wait to sit out there and chill.
You likey??
If you missed the first Post #1, click on over to read about how this all started.  This project is sponsored by American Express Rewards points.  I was chosen to redo a space in our home using rewards points (150,000!), which I cashed in for the most part for Home Depot gift cards, which is where I'm buying the majority of items that I'm using in this space.
I was contacted by American Express about a program that they have going on:  Membership Rewards.  They launched Membership Rewards 20 years ago as a first of its kind program that over time has continued to innovate through new partners, categories, and features.  The program offers more than a million rewards from over 500 brands and millions of Card members have redeemed their points for a variety of merchandise and experiences, from movie tickets to trips to the world's finest resorts.
Not a Cardmember? The Premier Rewards Gold Card can help you redesign your social space. Apply today and receive a $100 Home Depot Gift Card when you spend $1000 within your first three months of Cardmembership to get you started.
{Disclosure:  I was given 150,000 points ($1500) to use to redecorate this porch for my parents.  I did not receive any other monetary compensation and was allowed to pick my own products from their websites.  The final post of this series when I show the finished porch, will host a giveaway for a $100 giftcard from Home Depot!  Woohoo for one of YOU!)