If you missed my first post last week about the yardsale adventure of a lifetime with GMC's Hidden Treasure Adventure, go back and read up on all that fun!
After that whirlwind of a yardsale adventure, it was time to get back to Atlanta and see the Habitat house in person.  What a thrill to be shopping for a deserving family, one that would appreciate our efforts to make their house cozy and comfortable for them.
If you missed my first post, I joined 7 other bloggers and we were sponsored by GMC to do the Longest Yardsale to shop for a deserving family and their Habitat for Humanity house.  It was such a joy to all of us to have this family in mind as we shopped our way down Hwy. 127.  Each of us had an area/room to take on and so we knew what we had to do to complete it, all on a $285 budget.  Some of us went over budget, but it's all for a good cause, so no one minded.  GMC paid for our meals and hotel at night and provided us with beautiful GMC Yukon Denalis to drive.
We got information about the Yaro family before we started shopping, including the ages of the kids and pics of the empty house, as well as colors the family likes.  We could envision what we needed to buy from the pictures and that helped a lot.
Brooke put together a cute video of the shopping adventure, so take a look at it, so adorable!
I'll start in my dining area first and then I'll link to all the other bloggers as we get to their spaces. Here is what my space looked like as we first looked at the house.  I knew that I had a bay window that would require 6 curtain panels to dress properly.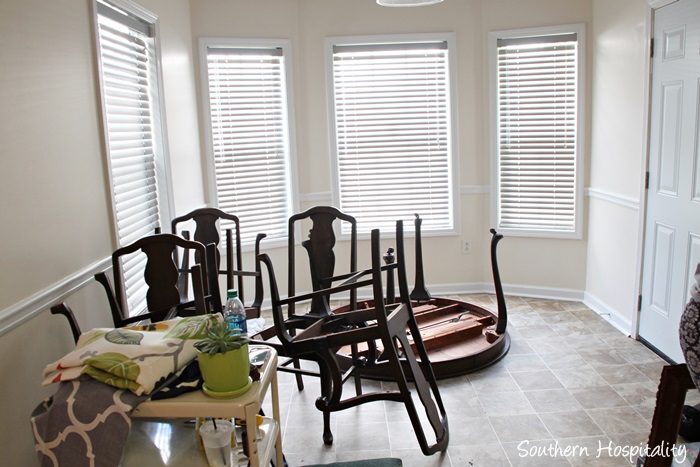 My table and chairs arrived from the trailer and got loaded into the house. First things first, I would recover the chair seats and then get those curtains hung.  We had stopped by Walmart on the way to Atlanta and I found the most beautiful trellis pattern curtains for $15 per panel.  They were 84″ long and a great deal and a lot of impact for the money.
Then, on the way down I-75, we stopped by my house to pick up some paint supplies and beadboard wallpaper for Lucy to use on the backsplash in the kitchen.  I also picked up a piece of fabric that would work well for the chair seats that I had stashed at my house. This fabric is some that I had used on my porch for pillows and it's been a favorite of mine for years.  Lots of fun colors in this fabric!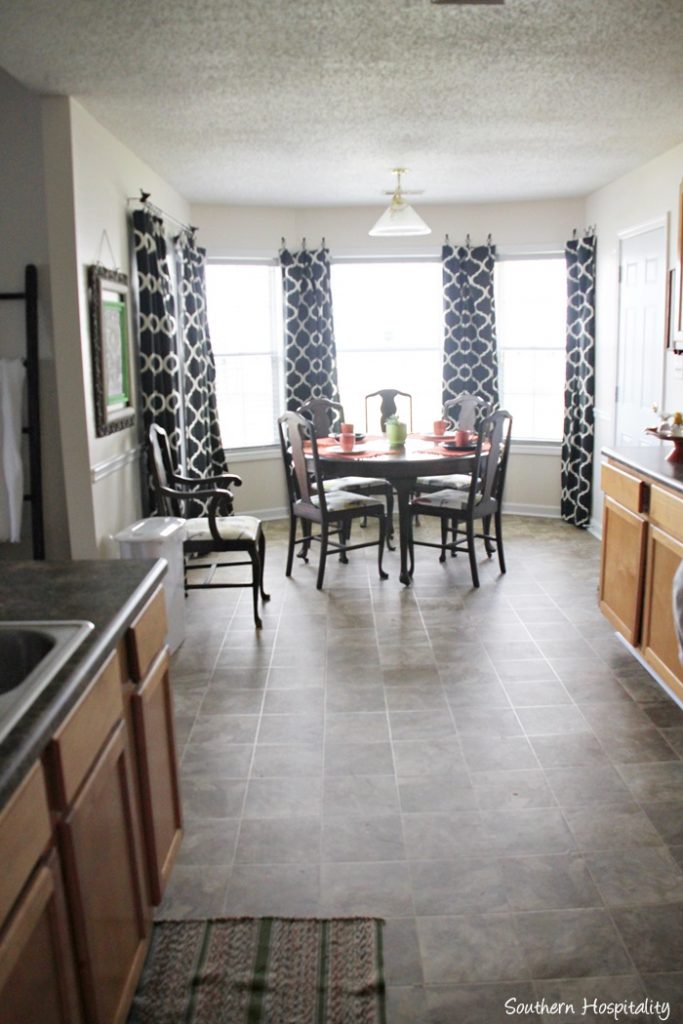 Here's the same shot of my dining space all finished, with table and chairs in place and drapes on the windows.  What a difference, don't you think?  It's always a concern when you do a project like this, hoping it turns out like you envision.  I'm very happy with how my space turned out!  Finding that table and chairs was a big bonus.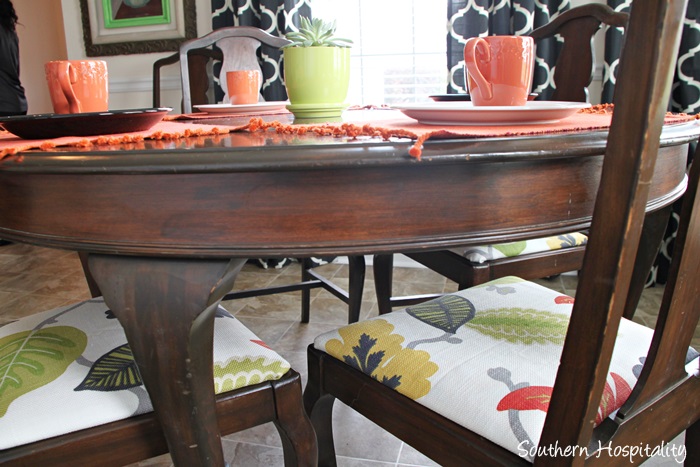 Lucy and I had this space together and she had the kitchen to accessorize.  She bought placemats from Homegoods for the table, along with some orange dishes.  She had found black and white dishes on the yardsale too, so the kitchen was very colorful when we finished.
This all wood table and 6 chairs cost $100 on the yardsale and it was in very good shape.  Of course, with any used furniture there are scratches and dings, but overall in good condition.  After recovering the chair seats, this table and chairs had new life!
Adding color was so crucial and all of this really made it pop.
I loved the impact of the black and white trellis pattern with the bold floral.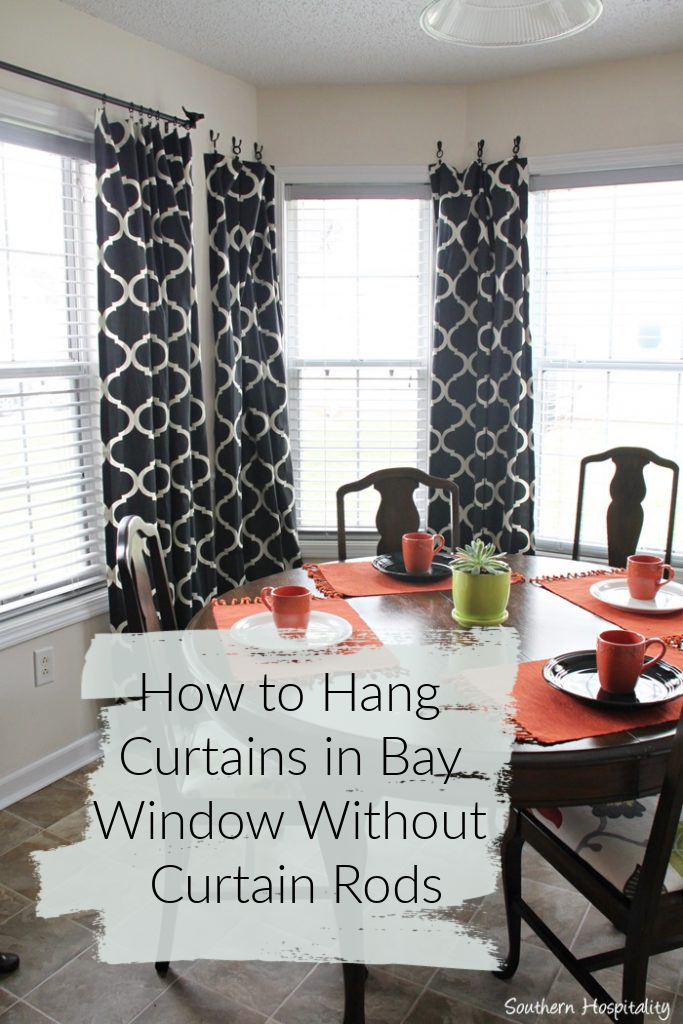 Lucy had picked up the large vintage picture frame for $1 at the yardsale and I found the floral painting for $1, so we mixed them together for art on the wall. I had a few sample chalk paints with me and so I chose the Antibes Green for an accent on the frame. It's a bit bright, but with the bold fabric nearby, I think it works and adds a cheery spot on the wall.
It was so fun seeing the house all come together with everyone's finds.
I was going to look for curtain rods that work in a bay window that Brooke had seen at Home Depot before, but there were none to be found at the Home Depot I went to, so we had to improvise.  We brainstormed and came up with small hooks and rings to hang the curtains and it really worked out well.  I used 5 rings on each panel and hung 2 rings on 2 hooks and one ring on the last one. It was a pretty good solution to hanging curtains without the right hardware!  All that fabric really adds softness to the bay window area too.
The chair seats were not all recovered the same, but bold colors were mixed up on each seat to make a nice impact.  Love this fabric!
Here's the kitchen end of the space and Lucy got busy in there.  We had fun working together and pulling ideas together for this space.
She collected some fun accessories along the yardsale route and made some great chalkboards for the wall for the family to write on.
She hung the frames right over the chalkboard, after taping off squares and painting them with chalkboard paint.
There was still some work going on in the floor when I snapped this pic, but you can see how cute the countertops look with a few colorful accessories.  Love that Eat sign!  And you can see the beadboard backsplash here.
A vintage rolling cart was scored by Lucy on the yardsale and she added baskets for some personal touches and a neat clip which held a picture of the family.  They loved seeing that!  More chalkboards on this wall too.
Fresh flowers in glass bottles was a nice touch on the kitchen counter.
More fresh flowers on the other counter welcomed the family to their new home.  Lucy found those old butter churn lids on the yardsale too and they looked great hung on that small wall.
Peeking into the living room.  The sofa and loveseat were donated by a local Atlanta GMC dealer and that was a relief for Ashley, who was decorating the living room and could focus on everything besides the sofas. You can see her entire post here.  She did a fantastic job with a small budget.
She found this really cool coffee table on the yardsale and added some pillows and throws (from Ikea), as well as artwork to the walls. The artwork was a DIY project.
This coffee table was 2 pieces stacked together.  Really a neat thing!
Fabric stretched artwork hangs over a dresser that Ashley scored and painted for the family.  Hopefully a TV will sit here.
Michael had the little boy's room and did a fabulous job in here.  The family loves soccer, so Michael kept that in mind with this space.  The beds in each room were donated by the same GMC dealer in Atlanta. Here's Michael's post on the boy's bedroom, for more details.
Michael found some really cool things for this little boy, along with the dresser which was already painted this color.  Artwork and a few accessories make a fun accent in this room and I know the little boy will enjoy his new room.
Loved the rocking horse and chalkboard art on the walls, along with the balls.
Michael got really creative and hand-painted this soccer ball on a piece of drop cloth. So cute!
Little Elias will love this room, no doubt!
Dusty had the girl's room and she is now 11.  Her love of pink and purple was taken into account and Dusty really made her room special.  With the pink floral  with bold pillows, along with a side table filled with pretty books (a steal at the yardsale!), Dusty made this room girly, but functional.  You can read more about Dusty's room on her blog post.  She did such a great job on this space!
She painted a dresser in hot pink and added this old gate, spray painted grassy green for a bulletin board over the top.
An art easel and rug fill in this side of the room.  Love those ruffly curtains!
This little nook got a feature wall painted hot pink, along with a chair seat in the same colors. What a cute little girl's desk this is.
Next, the master bedroom was done by Sarah and she did a fabulous job too.  Again, the bed and frame were donated and Sarah bought the bedding new from Walmart, along with the curtains.  The family loves orange and blue, so we tried to accommodate their tastes and amazingly, the house came together so well. Sarah found the side tables and lamps and accessories along the yardsale.
The dresser was scored for $125 at the yardsale and adds some storage for the family.
This cute vintage chair was $15 and looks adorable in the corner with new fabric.
Sarah added a new shower curtain and some accessories and towels in the master bath for the cozy factor. Those vintage shelves came from the yardsale too.
Dusty had the kids bath to do and she added this pretty colorful shower curtain along with a shelf for storing towels.
Here's a little bit behind the scenes as Lucy worked on getting the beadboard wallpaper up on the backsplash.  I sell this wallpaper in an online shop and happened to have an extra roll at my house, so we picked it up to use for this purpose. If you haven't seen it before, it's amazing stuff!
If you've never seen beadboard wallpaper in action, it's so easy to work with and adds so much character to a space.  You can see the finished backsplash above.
On Sunday afternoon, the Yaro family arrived, ready to see their new house and we were all inside waiting for them. It was a happy and smiling kind of day as they came in and saw all that we had done for them.  We were all so joyous at being part of this momentous occasion for a sweet and deserving family as the Yaros.  I think they are going to really enjoy their new home!
If you'd like to check out the video I did on the house reveal, check it out here:
We took a group photo of the Yaro family and all 8 of us bloggers, along with the GMC girls.  You couldn't stop the smiles!
All the GMC bloggers this year:   Michael, Ashley, Me, Brooke, Dusty, Lucy, Sarah, Allison
Brooke and Allison were yardsale veterans and served as mentors this year, helping us along the way. They used their money to buy special things that the family had requested, like a washing machine, mower, and food processor.
It was a long 5 day journey, but all of us were so happy and feeling blessed to be part of this special venture. I'm so grateful that I get to do rewarding events like this in my blogging path and this one was extra special.  We were tired, but so very rewarded at the end of the day.  I would love do more projects like this, helping someone less fortunate to make their home pretty.
Thanks for tagging along with me on this fun adventure with GMC!  It truly is a highlight of my blogging journey of over 8 years and I'll never forget it.
Don't Miss a Post, join my list!