Almost 4 years ago, I went on my own and met up with some other bloggers to High Point, NC furniture market, the mecca of furniture manufacturing here in the US.  That's where all the major American furniture makers are making their furniture and the market is open twice a year showcasing all of the new and beautiful products that are going to be available to the public this year.  It's a world I dearly love and I so enjoy seeing all the inspiration that's out there, new design trends, and all the gorgeous items to make a house a home.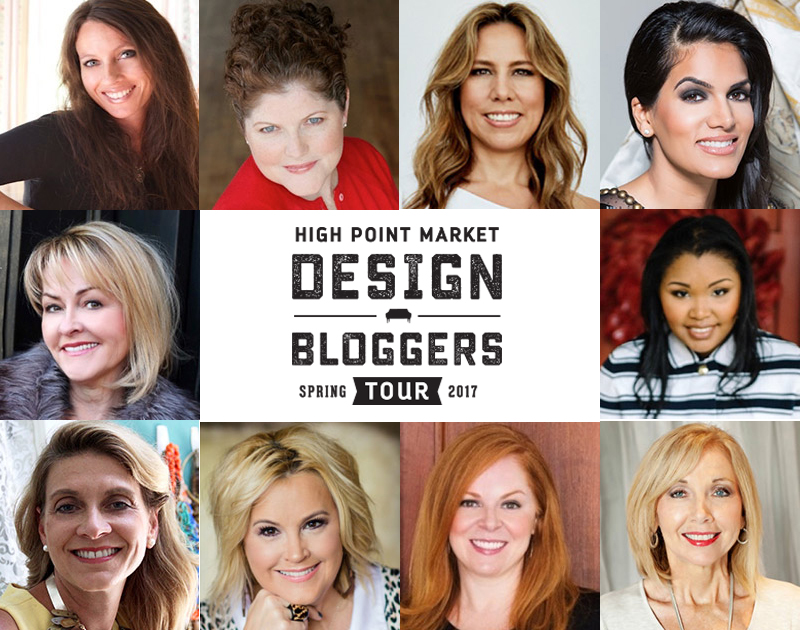 This year, I applied and was accepted to join the High Point Furniture Design Bloggers tour and I'll be one of 10 designers and bloggers to tour the market, checking out some fabulous brands and products.  I can't wait to share it all with you!  Some of the brands that are sponsoring the tour are Bernhardt, Century, Rachel Ashwell, Huntington House and lots more.  It will be such a thrill to see all the new things coming out up close and personal.  I'll be taking a zillion pics and looking for new trends that are emerging.
Last time I was there, I took pics, but it was just a blogger tour that we did ourselves and this one will be hosted by all of these great brands and we will be on a schedule, a fast schedule to see as much as we can in about 2 days.  High Point market is SO big and overwhelming and you have to know where you are going to get around.
I'm looking forward to being there and taking in all that inspiration and see so much dreamy new design ideas.  It's always fun to take in ideas and creativity to bring home for myself.
These are a few pics that I took 4 years ago and I know this year will be even better and more inspiring as I join these other design talents for a few days of sensory overload.
I can't wait to go back and am honored to be invited this year.
Here's a list of all the sponsors of the Design Bloggers Spring 2017 tour and I am thrilled to be invited along:
Artefama Furniture
Bernhardt Furniture
Century Furniture
Crypton Home Fabric
Eastern Accents/Pandora's Manor
IMC – Interhall
Nathan Anthony Furniture
Rachel Ashwell
The MT Company
Theodore Alexander
Universal Furniture
Note:  This post and trip is sponsored by High Point Market but my opinions, ideas and what I see and want to share are all up to me. 
Don't Miss a Post, join my list!