Even though I'm not a huge decorator when it comes to Fall and Halloween, it is sometimes fun to come up with ideas that are out of the usual box of Halloween décor and such.  I do like white pumpkins and have done a version of these white stenciled pumpkins in the past for Fall/Halloween and since I'm working with FrogTape®, this seemed like a good time to get out the new FrogTape® Shape Tape™ and try my hand at a fun new white pumpkin spin for Halloween.  I'll enjoy these golden pumpkins on my foyer table for a few weeks and put them away for next year.
I picked up 3 faux white pumpkins from Michaels on their 1/2 price sale and used them for my golden paint project and I think they turned out pretty cute.
Three white pumpkins along with FrogTape® Shape Tape™ = fun Halloween/Fall crafting.
These FrogTape® Shape Tape™ come in Chevron, Wave, and Scalloped.  I used the Chevron and Wave for this project, along with polkadots.  Get your pumpkins all taped off and ready to paint. Remember the exposed area is what will be painted gold (or your choice of color).  I decided to only do one chevron stripe around my large pumpkin, so I taped it off with 2 pieces of tape and will spray the middle section. One thing to keep in mind, on things like these pumpkins, there are lots of dips and waves and it's really hard to get the tape secured without any bleeding at all. I had some bleeding, but it still looks cute and no one will be examining them up close.
I used what I had around for my polkadots and that was left over yardsale stickers, the perfect size for my dots. They stuck pretty well on the pumpkins.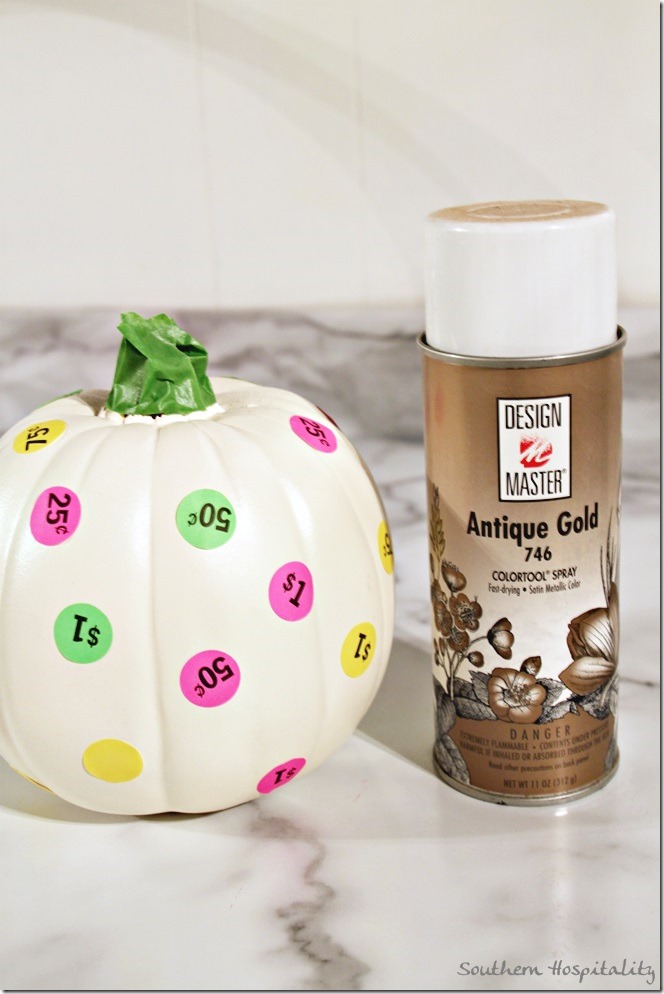 Don't forget to tape up the stem if you don't want it gold too.  I had some Antique Gold spray paint that I think came from Michaels ages ago, by Design Master.
I started out trying to use some metallic gold craft paint and a brush, but it was really light and so I went for the spray paint.  It covers well, that spray paint.  I taped off my entire pumpkin, except for this stripe of chevron that I wanted gold.
Same thing with the wave Shapetape, but this time I did it horizontally.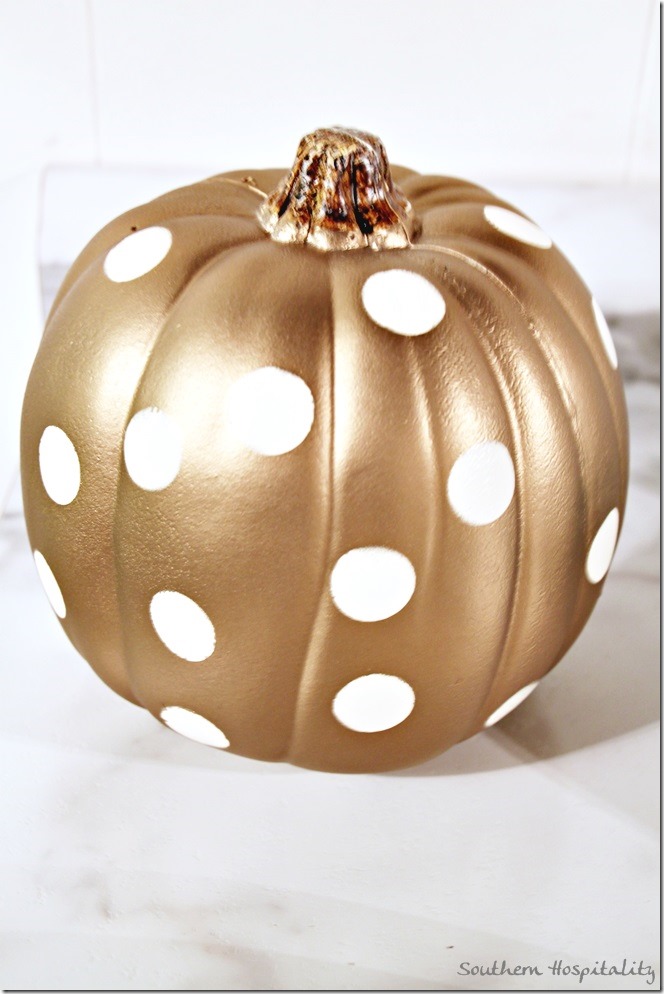 After a nice coat of metallic gold spray paint, I peeled off the dots and had a cute polka dot gilded pumpkin.
My chevron lines were a little less than perfect since again, it's hard to keep this from bleeding on such an uneven surface, so I took a black sharpie and free handed the gold bands and that made it look better (I think!). Not perfect, but that's OK.
A little bleeding too on the wave Shapetape, again because these pumpkins are so wavy too.  On a flat surface, Frogtape is super!
I put together a little Fall/Halloween vignette on my foyer table and love the way it turned out. Looks nice with my magnolia wreath too.  I had a deer horn too that I added into the picture.
I've had this Southern Living pedestal for a long time (yardsale find), as well as that pretty silver tray (also a yardsale find). The cute acorn metal dish behind is also a yardsale find and I drag it out during the Fall every year.  Some green moss on the pedestal really sets of the polka dot pumpkin.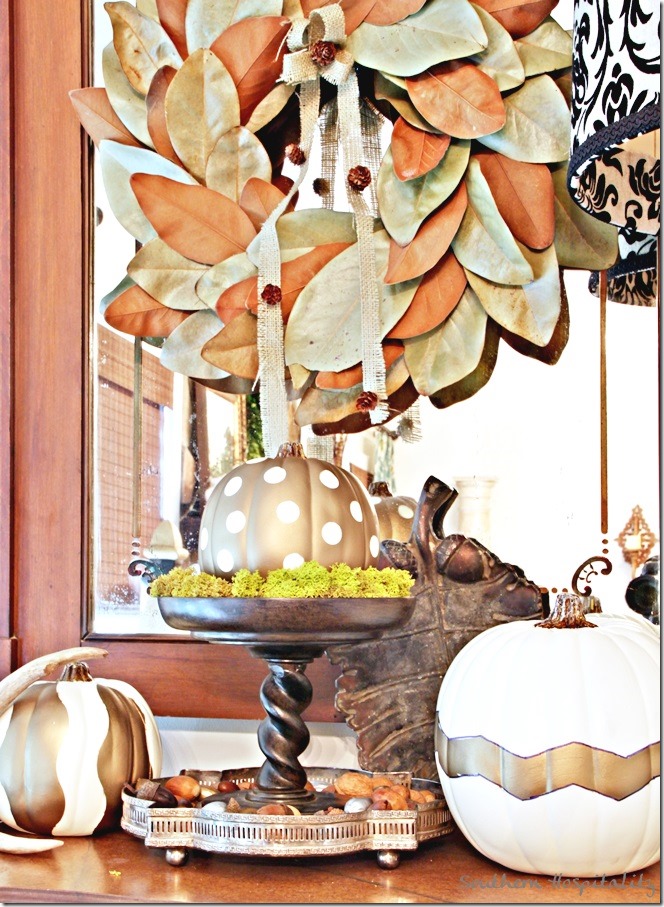 The whole vignette.  I added some of my acorns to the silver tray too.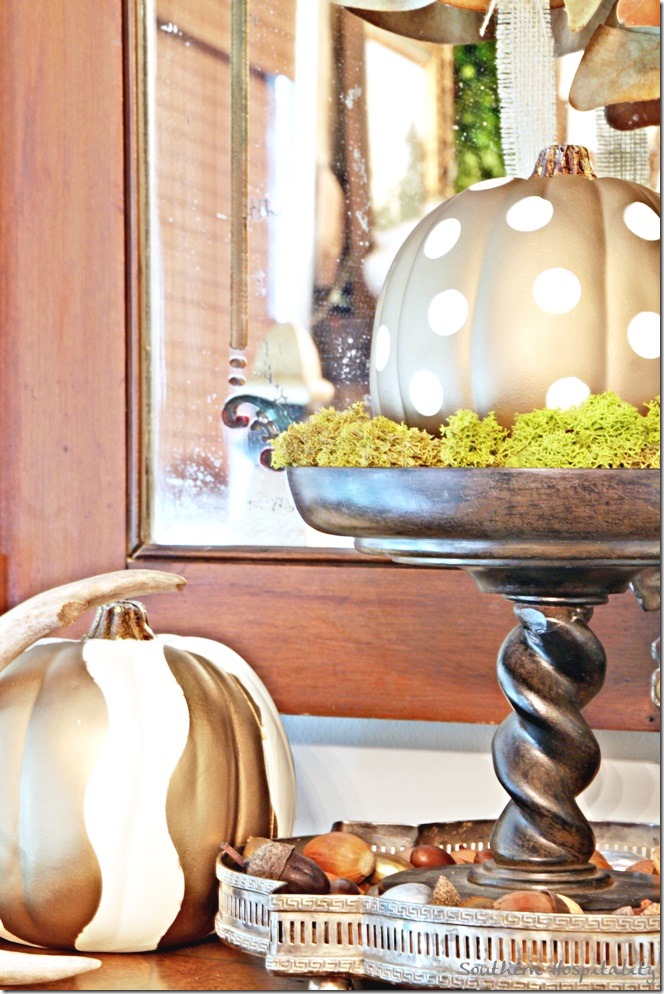 Cute gilded pumpkins!
I will enjoy these for a few weeks this Fall and then store them for next year.  Have you tried the FrogTape® Shape Tape™ yet?  FrogTape® comes up with some great things and Shape Tape™ makes it easy to try some fun painting projects that otherwise would be really time consuming.  This tape is very easy to work with.   You can find it at Home Depot or Lowes or either online.
Disclosure: I'm a Brand Ambassador for Frogtape® and am compensated to share my projects using FrogTape®. All opinions and methods of using the product are all my own.
Don't Miss a Post, join my list!