I will readily admit that we eat some strange things here in the South.  Today's dish just might stump every single one of my Southern friends.  It's different.  It's tasty.  It's probably not all that good for you, so proceed with caution if you are watching your cholesterol.  I might need to have a disclaimer on my blog about not being responsible for food that could be hazardous to your health.  🙂
If you eat at Cracker Barrel, you will be fine with this one.  I'm just not sure how many Southerners have had anything like it.
Grits and tomato gravy.
Oh yeah, we do sawmill gravy too.  That white gravy with sausage or bacon grease.  This one is totally different.
Ever hear of it?
It might be a one and only family dish for us.  My parents BOTH grew up on this stuff, but then again, they are both from Florida, so someone out there just may have had this too.  Another one I grew up on.  I love this stuff.  Served over grits is my favorite way to eat tomato gravy, but we have also been known to have it over biscuits or rice.
OK, so get ready for a weird one.  Don't say I didn't warn you.  🙂
First, my mom browns up some sausage in one of her black skillets.  Leave the sausage drippings in the skillet.  I warned you!   I'm sure this is pork sausage.  Bacon also works just as well.  Bacon drippings do the same thing.
Add a tablespoon or 2 of flour into the sausage grease and stir in well.
It makes a roux and will thicken the gravy.  Are you salivating yet?  OK, maybe not yet.
She uses her quart jars of tomatoes and depending on how much she wants to make, she will pour 1/2 jar or less into the skillet.  One whole quart jar would make a ton of gravy.  So, if you don't have homemade canned tomatoes, then just use a small 15 oz. can of diced or chopped from the store canned tomatoes, it should work well too.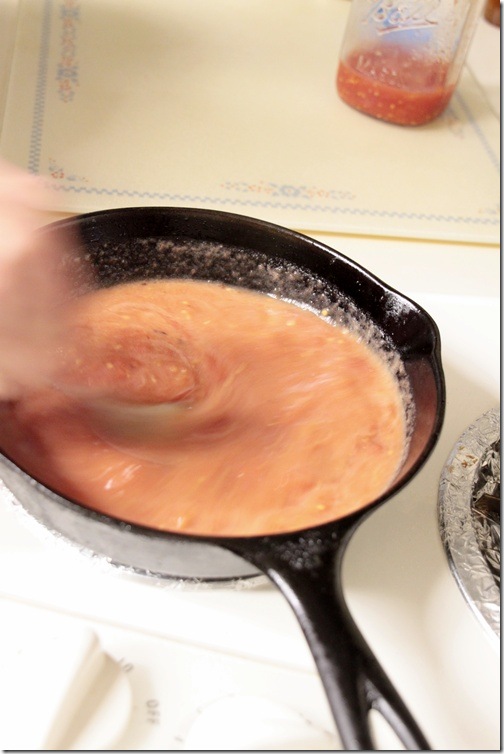 Stir it all together and simmer a few minutes.  She adds a little salt and pepper and even adds a pinch of sugar sometimes to cut the acidity of the tomatoes.  That's it, just simmer for about 10 min. or so, until it thickens up.  That sausage grease is what gives it so much flavor.
It will look like this.
Spoon out some cooked grits and ladle a healthy serving of tomato gravy and it's a delish meal. It's great for breakfast, but we are known to eat it for dinner sometimes. I have to admit, I love it!
I mix it up really well with the grits and add an English muffin with homemade strawberry jam.
So, what do you think?  Have we lost our minds on this one or have ANY of you ever heard of tomato gravy??
My parents both grew up with their mother's making it for the family and so did we.
Yum, it's good!
Anyone brave enough to try this one?? 🙂
Don't Miss a Post, join my list!