Last weekend was such a thrill for me, as I was invited to be a judge this year at the Omni Grove Park Inn's 22nd annual National Gingerbread House competition for 2014.  This event was something I had vaguely heard about, but really didn't know how it all worked.  My niece, Lauren, however, has been following the competition for 10 years, watching the shows on the Food Network and following along every year to see the winners after they were chosen.  She knew all about it and I was so happy to be able to take her along with me.  It was a great time for aunt and niece to spend time together.  The last time we did a trip by ourselves was back in 2003 when we took a Caribbean cruise together and that was a blast too.
This trip was so much fun and we enjoyed every minute of our 4 night stay at the Grove Park Inn.  We had plenty of free time while there and the actual judging of the competition was on Monday, so that was my busy day.  We had planned dinners every night, which were great too, having delicious dinners in Edison and Vue 1913 on two nights.  We had a free day on Saturday and hit a few of my favorite shopping spots, like the Screen Door, which I've shared here before.  We also went to the Biltmore House and did the tour of the house all decorated for Christmas, which was very fun too.  I'll be sharing a post later of the Biltmore house and have some exclusive pictures of the inside of the house decorated for Christmas, so you'll want to see that too.
We also had a spa day (courtesy of the GPI) at the Grove Park Inn spa and wow, what a treat that was.  I did one called Fire, Rock, Water and Light, a combination of sea salt exfoliating body scrub, massage, tub soaking, and overall pampering for 80 minutes.  That was a real treat for me, as I don't often take the time or spend the money to do spas in my world.  The spa itself is 43,000 square feet with grottos of rock and waterfalls, lots of amenities, inside and outside in the spa.  Truly a beautiful place and worthy of a splurge!
Lauren and I were treated to the Club level in the hotel, with a beautiful and spacious room and a spectacular view of the outdoors.  Scenery in Asheville is gorgeous, with the Appalachian mountains in the distance.  If you wondered how I got this special invitation, I had the pleasure of meeting the vivacious Tracey Johnston-Crum, who is Director of Public Relations and I met her last spring at the Southern Living event I attended at the Grove Park Inn.  We hit it off right away and she added me to the invitation list and I am SO glad she did!
The Grove Park Inn is a special treat at Christmas, with this spectacular Christmas tree all decked out for the Holidays, greeting guests as they drive up and go inside the inn.
I had such a great time with my niece, Lauren, and am happy we had this time together.  She's a great travel partner.  Of course, my sister kept baby Parker while we took off for the weekend and that made her and my mom very happy with lots of baby time.
The amazing Grove Park inn celebrated its 101st birthday this year.  It's truly a gorgeous place.  The middle section of stone is the original inn, with the 2 wings added in the 1980's.
The distinctive stone and red roof tile fits right in with the rustic beauty of the mountains.
Sunset the first night at the inn.  Always a beautiful sight to behold.
The outdoor terrace areas are just so pretty and I can imagine that these seats and tables are well used in the summer months.
With these views and amenities, you'd want to spend lots of time outdoors.
The spa is down there at the lower end of the pic, where you see the glass topped roof.  That place is amazing too!  The whole stonework area with the arch and the glass topped roof are all the spa.
More views of the terrace and mountains.
The Vanderbilt wing, where we stayed.
A Thanksgiving centerpiece outdoors on the terrace.
Monday was our big judging day and we all took it seriously.  After getting instructions on how to do things, we all set off to the ballroom to look at each creation individually and determine the top 10 in each category.  There are 4 categories:  Child, Youth, Teen, and Adult.  We narrowed down the Top 10 in each category.
After lunch, we then went back and rated each of the categories by a number score and those are compiled for the winning scores for each category, with a 1st, 2nd, and 3rd place winner for each one.
The distinguished panel of judges.  There were 11 of us and I have to tell you, I was wondering on more than one occasion what I was doing in this prestigious group.  But, they all made me feel welcome and very much a part of the group.  They are all well known in their circles.
From left to right:  Me
Misty Chandler, Marketing Manager for Southern Living Hotel Collection
Aaron Morgan, Former Executive Pastry Chef at Omni Grove Park Inn and author of Making Great Gingerbread Houses
Gerry Hempel-Davis – Judge at every gingerbread house competition since inception, author of 6 books.
Steven Stellingwerf – Travels the world teaching cake decoration, candy and gingerbread classes.  Author of The Gingerbread Book.
Mark Seaman – Works with Barry Callebaut, world's largest chocolate manufacturer, also judges wedding cake competitions around the world.
Nicholas Lodge – The head judge of the competition and judge since 2003, co-founder of The International Sugar Art Collection and Owner/Instructor at The International School of Sugar & Confectionary Arts in Atlanta.
Nadine Orenstein – Curator of the Department of Drawings and Prints at the Metropolitan Museum of Art in NYC.
Cheryl Forberg – Nutrutionist for the NBC hit show, "The Biggest Loser", leading advisor on health and nutrition.  New York times bestselling author and a James Beard award-winning chef.
Colette Peters – Owner of Colette's Cakes, a specialty cake company in NYC, she designs cakes for many celebrities.
Geoff Blount – Heads up the Baking and Pastry Arts program at CPCC, attended French Pastry School in Chicago.
During the opening of the gingerbread house winners announcement, we were all introduced to the full house who came to the ballroom to see the winners.
It was so fun to see the winners announced in all the categories and hear the screams of excitement from the kids when their names were called. Truly an inspiring moment!  We were all smiling from ear to ear watching those kids come up and stand behind their beautiful gingerbread creations.
Here are the official photos of the Top 3 Adult winners.  You can view all the category winners on the official slideshow and see just how creative these folks are in making these works of art.
Grand Prize Winner Adult:  Ann Bailey from Cary, NC
2nd Place Winner Adult:  Glenda Tant from Lebanon, TN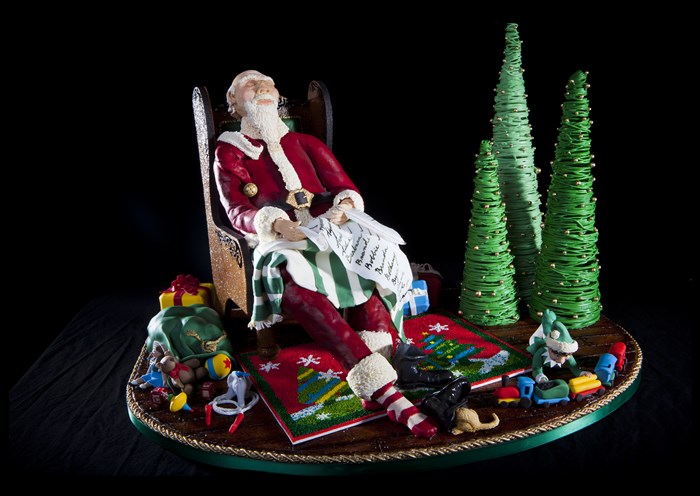 3rd Place Winner Adult:  Barbara Evans and Mary Jo Dowling from Edelstein, Ill.
My personal fave was this firetruck and street scene, titled Holiday Parade, the 2nd place in the Adult category. I loved all the details and color and how realistic the people were in their faces and clothes.  It was so well done and just beautiful.  I loved them all and was really happy to see my top picks lined up for the most part with the other judges.  All 3 of the Adult winners were in my top faves too, so I was excited to be right there with the other judges in how we scored them.
Just for the record, the entries do NOT have to be a house.  The rules have changed over the years and now gingerbread creations an be anything people dream up.  We saw so many creative entries, it was amazing.  Each piece has to be around 70% gingerbread.
These are a few of my faves that didn't make the Top 10, but were very creative.
It was such a fun event to be a part of and I'm grateful for the opportunity to be there and meet all the amazing judges, many of whom have been judging the competition for 10 to 22 years.  Great group of interesting people and Lauren and I enjoyed many conversations with them all around the dinner tables.
Again, this blogging journey has taken me to so many places I never dreamed I'd go and wow, has it been fun!  I knew you'd all love seeing this competition behind the scenes and to see the winners announced too.  People are so creative in this competition!
Note:  As a judge, I was provided with lodging and food while staying at the Grove Park Inn.  We also received a Spa day too as a fun perk!
Getting ready to decorate for Christmas?  I'll be getting my decor out on Thanksgiving weekend, so here are some ideas I put together in a style guide for decorating with mercury glass and sparkly ornaments.  Love the sparkle and shine it adds to a tabletop!   Just click the pic! 
Don't Miss a Post, join my list!