Hair is a woman's crowning glory and there's not a woman I know who doesn't care what her hair looks like. We all care about our hair.  Whether it's thick, thin, short, long, gray or colored, hair is a big part of who we are and how we feel about ourselves.  We spend a lot of time on our hair, getting it to look just so and it's amazing how a bad haircut can make us feel less than and self-conscious when we go out into the world.  Most women I know go kicking and screaming on giving up their hair color to gray hair, myself included.  We simply do not want to let go of our youthful vibrant hair!  I'm going to go ahead and let you know up front that this is a sponsored post with 2-Minute Club featuring Pura D'or (pronounced pure uh dee or), but if you have a problem with thinning hair, keep reading! It might be of interest to you.
Hair is one of those God-given features that make us who we are.  So, let's talk about a few ways to improve our hair as we get older.  There are so many things that affect our hair, from diet and hormones, to what products we put on our hair, hair coloring, and to heat styling products. Just the environment we live in can take a toll on our hair and how healthy it is.
I've talked about hair before here on my blog and I know it's a subject that is very important and of great interest to all of you too.  So, let's talk about a few ways to get better hair, shall we?
Good healthy hair starts from the inside as well as the products we use on the outside.  
Eating healthy good foods filled with nutrients can definitely contribute to healthy vibrant hair, getting plenty of vitamins in our diet.  Taking Biotin and Niacin can also help make hair healthier from the inside out and those are good for our nails as well.  I've taken Biotin before and need to get on it again.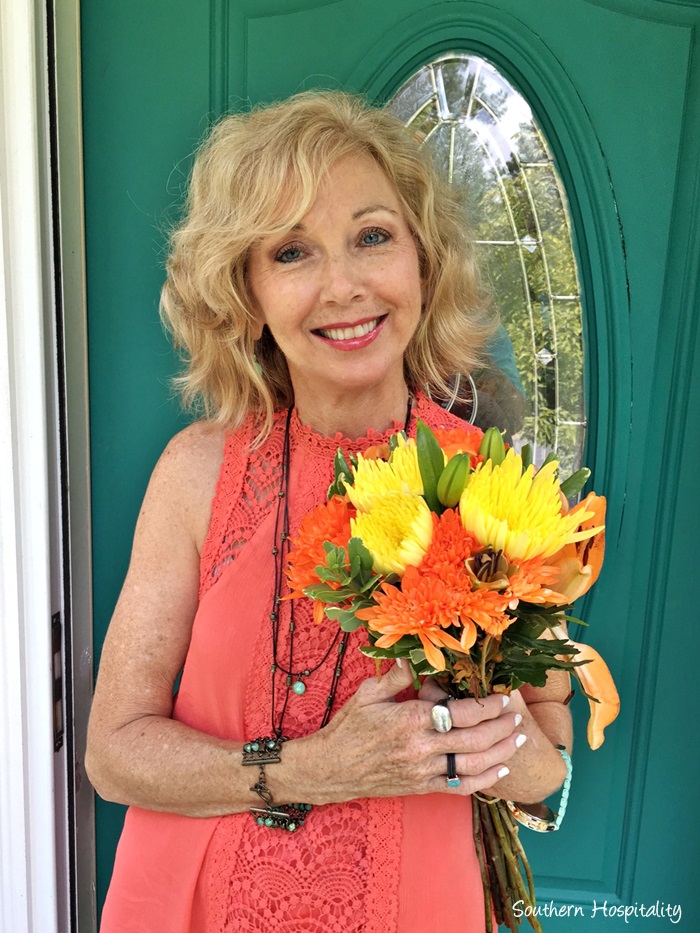 Use products that enhance and strengthen your hair and make it look and feel better.  
Today I'm highlighting a new product that I've recently tried called Pura D'or that I want to share with you.  Do you have thinning hair?  I don't have that problem, but I know many women who complain about their hair thinning.  Pura D'or  may help you with that if it's something you struggle with.  Hair changes with age and thinning hair is something that happens to a lot of women as we get older, due to loss of hormones especially.  From the reviews I'm reading about Pura D'or, it sounds like there are a lot of very happy customers, so it may be something you'd like to try. You don't know if you don't try it!  It's sulfate free, paraben free, which I've been using for awhile now, since it's less harsh on the hair.  The shampoo is plant based extracts, giving it a fresh botanical scent. And remember I mentioned Biotin above?  Pura D'or contains Biotin as well.
I never make huge sweeping claims here on my blog about how something may work, but I did read reviews on this product and it sounds like it's helping a lot of women with thinning hair.  I've been using it for the last 2 weeks and the products smell really good with a fresh botanical scent and the conditioner made my hair nice and soft and it felt more silky than normal.  With over 14K positive reviews, that says a lot about the products and it's where you'll find the lowest member only pricing, plus free shipping.
Keep a current hairstyle!  
I think this is something that a lot of women struggle with. We sometimes see ourselves as we were at a younger age, when we felt our best and thought we looked our best.  Staying in an out of date hairstyle will definitely age you fast, so be sure and look in the mirror with a keen eye and ask yourself the question, does this hairstyle still look flattering on me?  Your best friends will tell you that!  I have really thick, naturally curly coarse hair, so I have had to find styles along the way that work for my hair type. Hair type you can't change, but you can change styles and products.  Also, keeping ends trimmed regularly helps keep hair looking its best.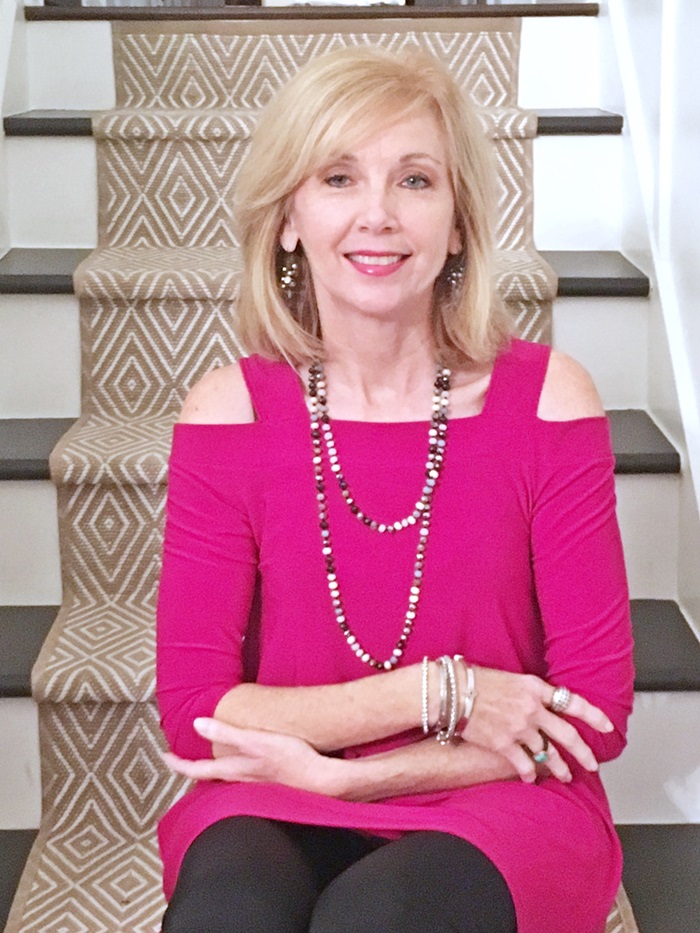 To Color or not to color?  
I think there's no one size fits all for this.  I do prefer to keep my hair colored blonde and not go gray, although it's going gray more rapidly than ever.  It's not so hard to keep my blonde color up to date, so I do that with my stylist about every 3 months, but as I get older I know that will be harder and harder to keep up with.  I have no plans in the near future to stop coloring my hair, but that's a decision we all have to make for ourselves.  I personally still love pretty colored hair on older women!  To me, it's a more youthful look.
Don't wash hair too often.  
I've heard that washing hair every day can definitely take a toll on the hair.  I used to do that myself, but now I only wash my hair no more than 2 or 3 times a week.  I used to have much oilier hair than I do now, but now if I go an extra day or so without washing it I use a dry shampoo spray to combat any oil that might look bad, combing it through and styling as usual.  It's only around my hairline that it gets oily anyway.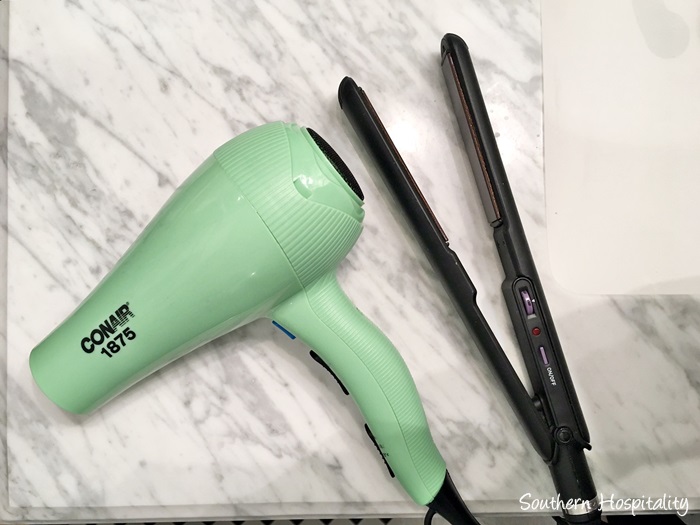 Heat styling products can also take a toll on hair, making it dry and brittle.
We all need to be careful with that.  I use my flat iron once or twice a week and in the summer months go with my natural curls about half the time which saves my hair from the heat process.  I use a blow dryer on warm and not hot and use my styling products, including Argan oil for shine and moisture while wet. Pura D'or helps with reducing breakage which contributes to thicker hair.
Using the right products definitely go a long way to shiny, vibrant and healthy hair so there are many things we can do to help our hair age as gracefully as the rest of us.  Are you doing anything special for your hair and is thinning hair one of your problems?
Consider trying Pura D'or and see if it works for you.  I know this is a sponsored post and again, I can't guarantee that it will work for everyone in increasing hair growth and volume, but their reviews say a lot.  Just to be upfront, this site is a membership site and the orders are set up to ship automatically, but you can customize the ordering to whatever timeline works for you.  If you decide for any reason to cancel, you can do that for FREE at anytime.  You can try out the product for the first order and then see how you like it.  If it doesn't perform for you the way you'd like it to, then there is no problem canceling your order subscription.
More information about Pur D'or:
A healthy scalp allows hair to grow more vital and Pura D'or shampoos fortify from the root to the ends to reduce hair loss and breakage.
Pura D'or fights thinning hair naturally without all the chemicals.  I do love the botanical scent of the shampoo and it's tingly on the scalp.
After an 8 week clinical study, 9 out of 10 users noticed increased volume to their hair.
A lot of women are talking about the product, so if hair thinning is a problem or you need more volume to your hair, why not give it a try?  I am using the Gold set now and enjoying the products a lot.   Is it the right one for you?  You'll have to try it and see!
The first 100 readers will receive $20 Off + Free Delivery off your first order of shampoo and conditioner. Go to 2-Minute Club and enter in the code HOSPITALITY.  Offer valid only on the shampoo/conditioner sets.  
Don't Miss a Post, join my list!