It's amazing the opportunities that come my way (I don't take these blessings for granted!) and I never know what's around the next corner. I recently got invited to attend an all expenses paid trip to New Orleans, to join a group of 14 bloggers/writers in the food industry to tour and appreciate the Gulf seafood industry. What better place to do that than New Orleans, known for delicious and tasty food.  It was a treat to be included in this event and we all learned a lot about how the seafood industry works.  I wasn't about to pass it up.  Eating seafood and getting to see my niece! Yes, please!
I had no idea that there was a Gulf seafood coalition that formed after the Gulf oil spill and these 5 states (Alabama, Louisiana, Texas, Mississippi, Florida) came together in union to encourage and educate all about the best natural resources that can be found in this region, seafood caught in the Gulf waters and cooked up fresh each day.  Growing up with a dad from Panama City, FL, I've loved seafood all my life.  We ate fish growing up and it was something that I grew to love, as well as all the other seafood that is available.  In other words, there's not a lot of seafood that I don't love.  Oysters might be my least favorite, but I even learned to appreciate those on this trip.  They were served up mighty fine.
We all got settled into the Royal Sonesta that first afternoon and I had time to visit with my niece, Lauren. I'll share that in another post.  The courtyard of the Royal Sonesta is pretty.
After drinks and appetizers at Bayona, we headed to Revolution (located inside the Royal Sonesta)  for another oyster appetizer.
A beautiful night in the French Quarter.
Revolution is a fantastic restaurant located in the Royal Sonesta.
We enjoyed appetizers here.
Delicious oyster appetizer. Not a great pic, but even though I don't love oysters, these were delish.
After appetizer at Revolution, we headed to dinner at GW Fins, another fantastic restaurant in the French Quarter.  Executive Chef Tenney Flynn, came out to greet us and I found out the menu philosophy is simple. Chef Flynn locates the most recently landed seafood from around the world, in addition to the plethora that is found in the Gulf, and prepares each variety of seafood in a way that simply pays respect to its natural flavors. And it showed in our dinner that night, even if my pic doesn't do it justice.  Delicious!
The next day we headed to Motivatit, one of the long standing and family owned local oyster companies, who ship oysters daily around the world.  It's an amazing operation and we found out all the details on how they harvest and ship oysters.
Oysters are harvested by local fishermen, and then brought inside in large bags, where they are pressurized (Gold Band oysters) to open and this high pressure of 40K psi also rids the oysters of any bacteria that might be found, making them totally safe to eat.  Motivatit has strict guidelines on how they prepare and ship their oysters.  This technique was developed by Ernie Voisin and his son Mike, a non-heat method that expands the shelf life of oysters, making them suitable for shipping around the world.
They ship to distributors all over the country and that's how fresh seafood ends up in a restaurant up North.
It was fascinating to watch how they work.
These oysters are the biggest I've ever seen.  I remember my dad bringing home oysters when I was a small child and he loved nothing better than to sit outside and shuck an oyster, eating it on a cracker.  I never learned to love the raw variety.
Lots of work behind the scenes to send out these oysters.
We then headed out in boats for a tour of the oyster harvesting.  Each company has leased land and they can only harvest in their certain area.
I met some wonderful people on the tour, including these 2 lovely ladies, Serena, and Sanura, both food bloggers and writers.
It really was amazing to see how the process works from start to finish.  There is even something called Gulf Seafood Trace, which literally tracks exactly where seafood comes from (from the bottom of the ocean, to your neighborhood restaurant or grocery), which was a cool process.
This region is ripe with history and families that have fished these waters for centuries.
Raking the oysters from the bottom of the sea, they then throw back the baby ones, leaving them to grow and mature.
These guys work day after day on their craft of fishing and oystering.
We saw a baby alligator sunning as we floated by in the boat.
We then took a tour of a shrimp and tuna seafood wholesaler.
Fresh tuna ready to process and ship out to a distributor, where it then ends up in your local restaurant.
These big machines process the shrimp for shipping.
We then headed to a late lunch at Deanies, a local family establishment market and restaurant in the Bucktown area of New Orleans.
We were starving by this time and they had a seafood boil all ready for us to sample:  crawfish, potatoes and corn on the cob.  It was amazingly delish!  I have had crawfish before in LA, but for the most part, I prefer shrimp.
And we got some incredible boiled shrimp, fresh from the Gulf.
This market has it all, fresh seafood and shrimp that the locals can take home and cook.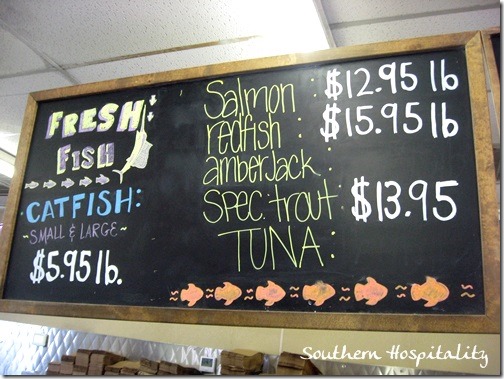 It was fun to see this locally owned restaurant and they treated us fine.
My first Barq's root beer was had in Louisiana year ago, so I had to sample one out of the bottle. It was good!
I sampled the fried catfish and shrimp and we were stuffed once again.
After an informative table discussion, with many from the Gulf area, including fishing companies, tourist boards, chefs, and others in the industry, we learned a lot of history and were educated on many topics around this region.
The Gulf oil spill affected many fisherman and their livelihood and it's just now starting to come back.  We learned so much about the history of this region and how the Gulf produces such an incredible bounty of seafood and that we all want that to continue.  These 4 talented chefs cooked up an amazing dinner for us later at Borgne at the Hyatt Regency.
Another wonderful restaurant in New Orleans, with Chef Brian Landry.
Loved this innovative wall of oyster shells inside the restaurant.
We had such incredible food while there and we were all stuffed to the gills (ha, I'm a punster!).  An amazing time and I'm so happy that I got to experience this time in New Orleans and to sample such incredible food.  As someone who's father grew up on the Gulf, fishing from those waters as a young boy, I love to see that history continue on with the assurance that Gulf seafood is safe to eat and the abundance is coming back again.
Thanks to the Gulf coalition for a very fun and informative trip!  So happy to be included.
Disclosure:   All accommodations for this trip were paid for and all opinions are completely my own.
Don't Miss a Post, join my list!