Once again, it's hot as it can be right now and going to yardsales have taken a back seat. I did hit 2 or 3 this weekend, but came up empty handed, but really that is quite OK, since I've scored on so many occasions.  So, today I'll share what I've done with some of my recent finds.
Hanging plates has been done all over blogland, so this is nothing new, but I finally collected enough vintage white and softly colored plates from the last 6 months or so, that I decided to hang them in the empty spot in my living room.  Right above the sofa.
First, I laid them out in a pattern on the floor, so I could see how I wanted to arrange them.  I used some Disc Hangers (from my fine sponsor over there to the right, free shipping too!) and these little yellow discs are great for hanging plates.  They are invisible and they really do work super.  The large ones are perfect for those platters.
And here they are on the wall.  I decided on a triangle shape and these worked out good for that. 
I love the creamy white and the soft aquas too, as well as a couple of light gray platters added in.  And if I find more later, I can always add a few more to the mix.
Aren't they pretty?
Just for fun, I added a monogram to just one plate.  You can find those over at my Open Sky shop, if you're interested.  She does custom sets of numbers and letters and it's a fun way to personalize your stuff.
And just because I have this new camera, you'll have to put up with more pics of the living room.  Just because!
This wide angle lets me get views to the kitchen and dining room.
And a new shot of the gallery wall.  I've moved my plants around again.  I got this cute little plant at Ikea when I was there a couple months ago.  It's some sort of BIG bean that has sprouted in a little pot.  I wish I had bought more of these.  I think it was only $3.
See the lamp there on the console table?  I changed that out for another yardsale lamp I found a few weeks ago.  The $5 one.  Actually, the black lamp above was also a yardsale find from a few years ago, again $5.  It may be time to retire this one, since I have more than enough lamps now.
I think the new pottery one looks pretty darn great in here.  I love the colors.
Me and the mister from our wedding day and the new lamp.  This might be a vintage lamp, I have no idea.  I'm even going to leave the gold base as is, since I still have plenty of gold accents around this house.
A tassle.
Hope you enjoyed seeing how I use my yardsale finds around my house.  If I love something, I can always make it work.  And I'm drawn to certain colors and styles, so it's nice to be able to move things around.
The winner of the Bauble Bath giveaway is lucky Lena Templin!  Congrats, Lena, I'll put you in touch with Sarah so you can get your prize.
Now it's YOUR turn!  What have YOU found lately? Add your link to the Linky list and remember our guidelines for the party:
Add your permalink to the link list, which is the actual post that you did for this party, NOT your general blog url. To get the actual post, after you publish the post, just click on the title and THAT will be your party post url.  PLEASE try to get the correct url in the first time! 🙂
Please add my button to your post or blog OR at least link back to this post in your post. That's all I ask. It's common courtesy to link back to the person having the party, so that all of your readers can find it too.
Please do NOT link to an Etsy shop or something similar (even if you think it's a fabulous deal) or I will delete the link. This party is for sharing thrifty finds from yardsales, thriftstores, or something along those lines. If I see that your post is not really on track with this theme AND you don't link back, I'll delete your link. Sorry, but I'd like to keep the party consistent! IF YOU SEE THAT YOUR LINK HAS BEEN DELETED, IT IS PROBABLY BECAUSE IT IS NOT IN LINE WITH THIS PARTY THEME.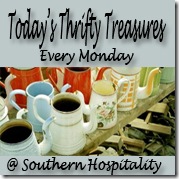 Let's have some fun this week with the Thrifty Treasure's party!
Don't Miss a Post, join my list!