I'm a little late getting Easter pics out this year, but since we are currently on the cruise, I thought I'd share these with you. Better late than never! We had a wonderful time with both our families this year. We ate with my family and then went over and visited with Mark's parents and extended family and it was a lovely day.
Parker came home with us from New Orleans and then Lauren flew home with Iris on the following Friday, so we were all together for a few days.
Colored eggs that Parker and mom did together. Mom has had this egg holder for a long time and it's always a part of Easter.
We all went to church together on Easter Sunday and Parker and Iris took a pic at church with the Easter backdrop. This is about as good as we got with their Easter dresses. Their Nae Nae gave them those bunnies.
At home and pictures with Lauren and the girls. So cute!
Mark and I on Easter, this is the only shot I got. He hates to pose.
Mark and Bailey.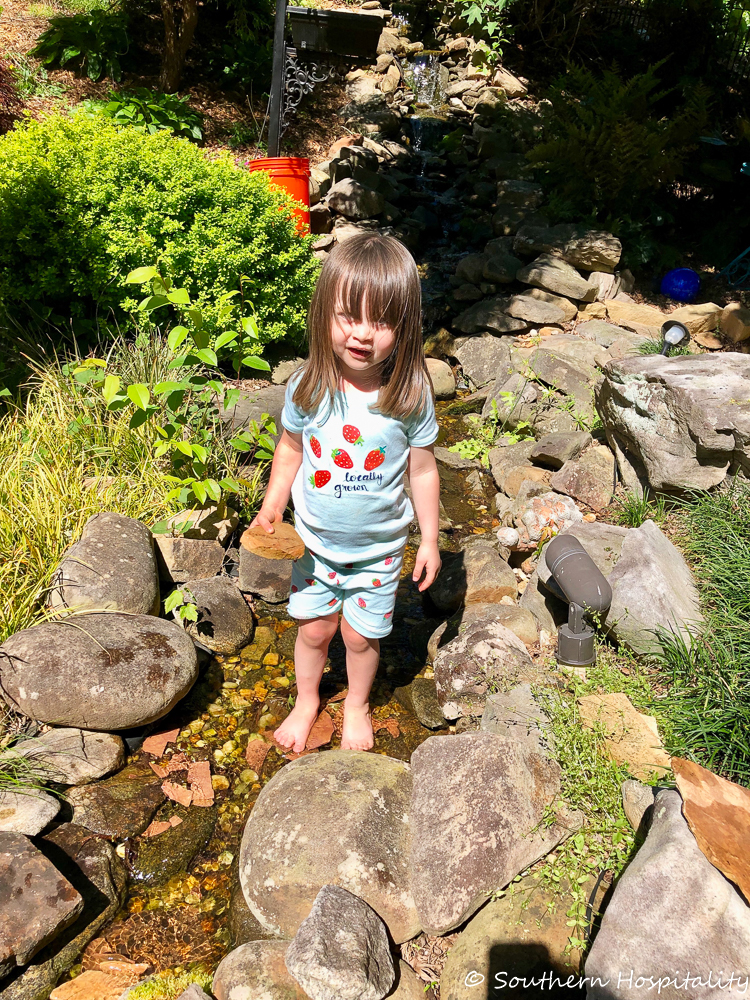 Iris in the backyard creek on Easter afternoon. Those girls love that manmade creek.
Now onto the good stuff! Easter dinner! We all gathered at my sister's house for lunch after church and my cousin, Brenda, and her family came too. It was a wonderful meal as you can see! We all brought something. When I shared this on Instagram and Facebook on Easter Sunday, several people commented on how they loved that we just serve right out of the pots. Yep, we try to keep it simple. We're not impressing anyone. It's all about the food!
We had so much food it was really ridiculous, but boy was it good! I made the broccoli salad and they all made the rest. We've got some good cooks in our family.
Mom, Dad and Bruce's mom, Doris, in line for the food.
We all helped our plates and then found a place to sit. It was delicious!
Iris insisted on sitting by her Nana and namesake.
The Bunny Cake made another appearance this year. Mom made this cake for Lauren since she was little all the way up to her last year in law school. Then it went away for a few years, Mom figured we wouldn't miss it.
Lauren and the bunny cake, her last year of law school. That's been a few years ago now, she's 36 now.
But when Parker was born and 3 years old, mom brought it back again and made it for her, so now the tradition is back.
Bunny cake 2019!
Mom and her pride and joys! Those girls sure make us laugh all the time, they have livened up our family so much. They both have their own personalities too.
That's it for Easter 2019! I hope you all enjoyed this little snapshot of our family and how we celebrate Easter. We try to get together as often as we can and celebrate those big holidays together. That's what life is all about!
Don't Miss a Post, join my list!