It's Mother's Day weekend and I didn't get out looking for anything, because you KNOW I don't need a thing.  I'm sure my sister and I will get out there again.  I'm helping our friend, Susan, redo her back deck and we are going to be shopping for some thrifty items for that project soon.  I'll be sure and blog about that process too.  It's going to be pretty!
So, last week several of you found some noteworthy items that I wanted to feature today.
Debra, from Bungalow, remade an old curbside find (for free!) with this cool sheet music decoupage. 
Caroline with Forever Vintage found a beautiful old bed for $40 and she is going to paint it white.  That will be gorgeous!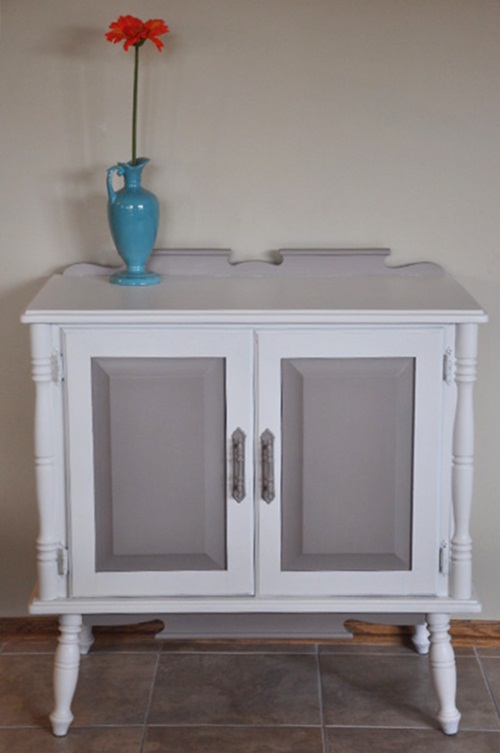 Allison with Fab Rehab Creations repurposed an old piece that she found thrifting for $12 and made this adorably cute side table.
Made by Meg scored two really cool lantern light fixtures for $15 at her local Habitat for Humanity that she was so excited about to add a beachy vibe in her home.
Carrie with Making Lemonade, found this great brass bamboo magazine rack for $3, which I think she intends to paint.  It will look great in a myriad of colors!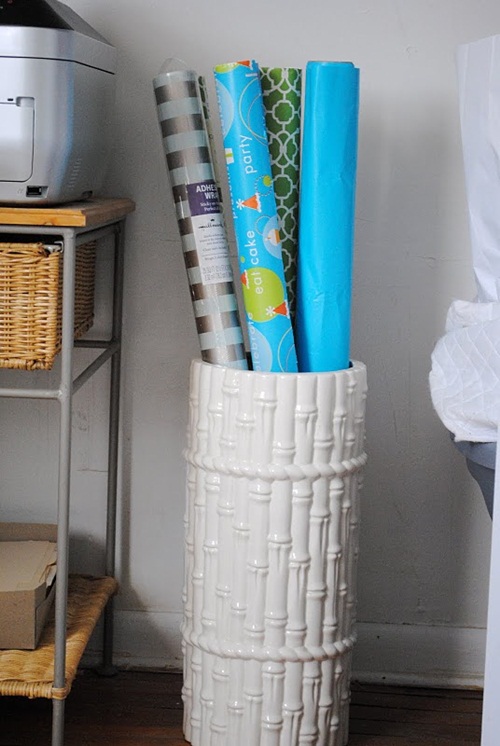 Carrie also found this pretty white bamboo umbrella stand that she promptly took home for $8 and repurposed into a wrapping paper holder.  That is brilliant!  There's never a great way to store those rolls of paper.
My Old Country House remade an old chest that she found for $25 into something that inspired her in Traditional Home.  Love black and white so I'm totally into this one!
What have YOU found lately? Add your link to the Linky list and remember our guidelines for the party.  I'm really trying not to be too controlling with this party, but please try to keep it in line with finding treasures at yardsales or thriftstores for the most part.  Great deals at regular stores are not really what I had in mind, so please be mindful of that.  And showing off a project you did when it really doesn't have anything to do with a thrifty find is NOT what this party is all about either.  There are a TON of parties out there to highlight all your projects, so please let's keep this one about thrifty finds that were bought 2nd hand!

Add your permalink to the link list, which is the actual post that you did for this party, NOT your general blog url. To get the actual post, after you publish the post, just click on the title and THAT will be your party post url. PLEASE try to get the correct url in the first time!
Please add my button to your post or blog OR at least link back to this post in your post. That's all I ask. It's common courtesy to link back to the person having the party, so that all of your readers can find it too.
Please do NOT link to an Etsy shop or something similar (even if you think it's a fabulous deal) or I will delete the link. This party is for sharing thrifty finds from yardsales, thriftstores, or something along those lines. If I see that your post is not really on track with this theme AND you don't link back, I'll delete your link. Sorry, but I'd like to keep the party consistent! IF YOU SEE THAT YOUR LINK HAS BEEN DELETED, IT IS PROBABLY BECAUSE IT IS NOT IN LINE WITH THIS PARTY THEME.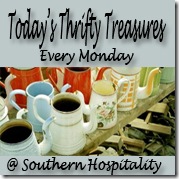 Don't Miss a Post, join my list!