I want to wish all of you, my dear readers, a very Happy Thanksgiving.  It's been such a fun week having Lauren and her family here with us and today we will celebrate Thanksgiving with our extended family here in the Atlanta area, with my cousin and her family.  It will be filled with family, food, love and memories.
Lauren and her family have been here all week and we have loved it.  Last Sunday night, we all went with my parents to their church Thanksgiving dinner, so it was fun for us all to be with them. I took Mark with me too and he enjoyed it as well.
Just for fun, I added some 15 second Instagram stories from our lunch this week.  Mom got Publix fried chicken and we all came over for lunch.  Here we are in our usual family mode, this is our normal table!

What we ate!

And I had to get a video of dad eating his dessert, his very favorite thing!

Here are a few snapshots of our family this week.  We went out one day to the China Mall in Chamblee for Chinese food.  Lauren and Philip knew about this place and it was fun to try out some different food.  I got Kung Pao Chicken, which is one of my faves and they got all sorts of Chinese dumplings.  It's a Chinese food court.
Parker playing outside.
One of Parker's favorite things to do is throw leaves outside, so she and I played chase with the leaves for a little bit that first day.  My parents have plenty of leaves in the yard to play with.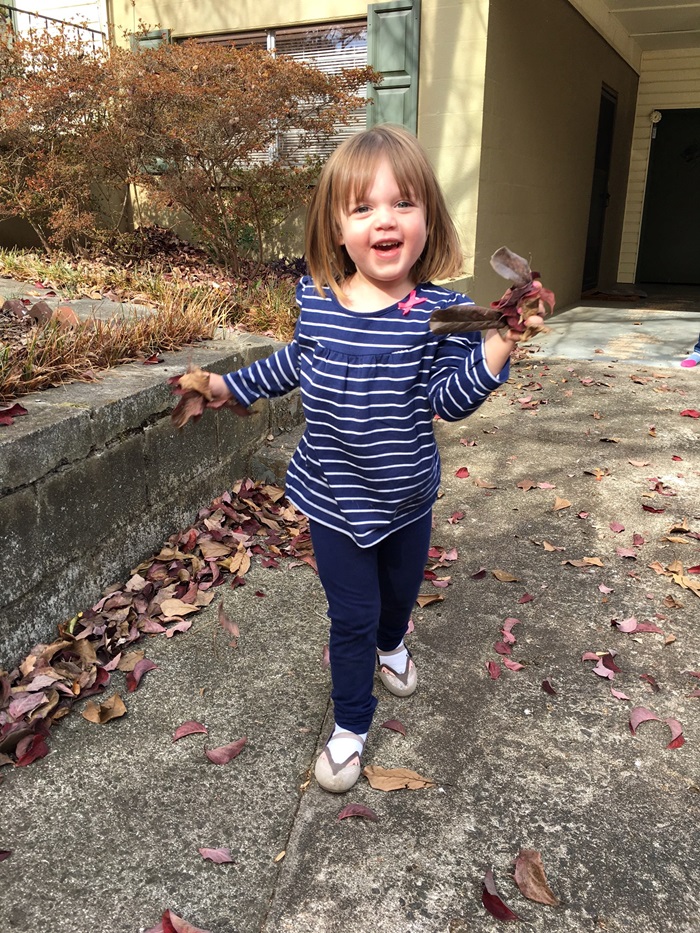 She just thinks it's so funny to  throw leaves on people, so we make a game of it, playing chase.
Iris is 7 months old now and getting bigger, but she's not as big as her sister was at this age. She is going to be more dainty than Parker was.  She's a snuggle bunny and gives us the cutest smiles.
Mom loves those babies and enjoys every minute with them.
Parker giving her great granddaddy a goodbye kiss as they were going back home.
We just enjoy hanging out together and watching those girls play.  Family time is the best!  Just wanted to wish you all a wonderful Thanksgiving and I hope you are with the people you love too.  We love having Lauren and family home with us and those 2 baby girls liven things up so much.  We don't know what we did without them!
Enjoy your day!
Don't Miss a Post, join my list!