We are planning our 6th Haven Conference this summer in July and are thrilled to have a whole new group of Mentors with us this year, who will be mentoring and sharing their expertise with other attendees during the Haven Conference.  Last year, it was very well received so we are doing it again and we think it's a great way to promote community and have our Haven attendees get to know others in a small group setting and outside their normal peer group. They will hopefully walk away with more inspiration than ever for blogging.
The Haven team will be mentors again this year too and this week we are all participating in a blog hop, so that you can get to know the other mentors who will be joining  us this year.
We will all be sharing our answers to the following questions….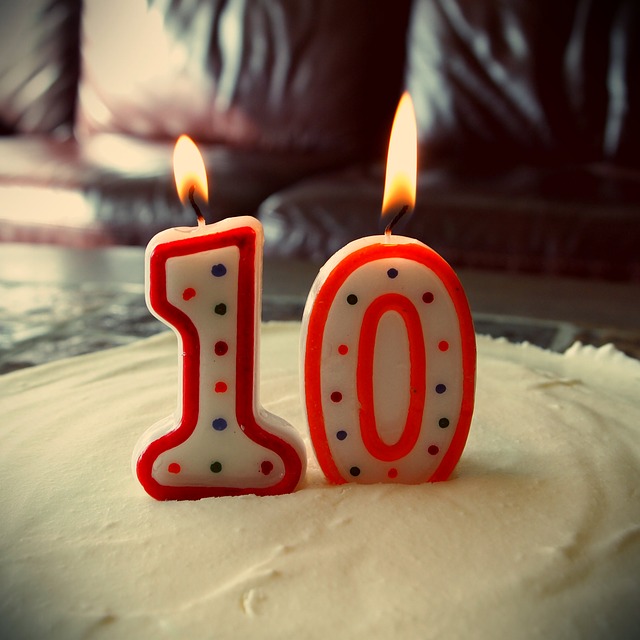 How many years have you been blogging?
Earlier this year marked 10 years of blogging for me.  I wrote a long post about my 10 year journey in blogging and all the changes I've seen since I started, so it's a good read for any blogger (or reader, for that matter) if you missed it a couple of months ago.  One thing is a given with blogging.  It's going to change and evolve over and over again.  I'm so grateful that I got in so early and was able to get my blog established in a time where blogging was just beginning.  It has truly changed my life in so many fantastic ways and I still can't believe I get to do this as my full-time job! What a blessing that has been!
What is your favorite DIY project that you have completed?
Can I say my entire house?  It truly has been a mostly DIY project with some help along the way from a few professionals.  Renovating a house is one of the most rewarding things you can do and it really does make you appreciate the outcome all the more, when your own two hands have been involved in so much of the work.  I certainly do appreciate this house and I'm more grateful for it more than any other house I've ever lived in before.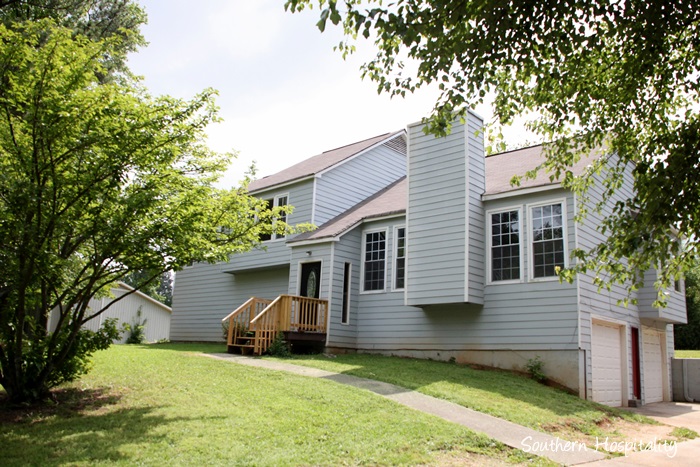 This is a really good look at how this house has completely changed for the better since I bought it 5 years ago.
Before and Afters don't lie, do they?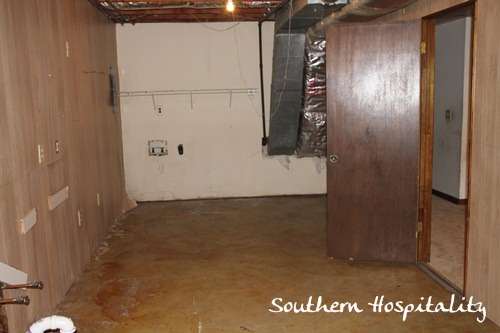 I do have several DIY projects around my house that really have made me proud. This laundry space for instance has to get the prize for most improved, or maybe that would be the kitchen.  This space, however was completely DIY so we'll talk about it today.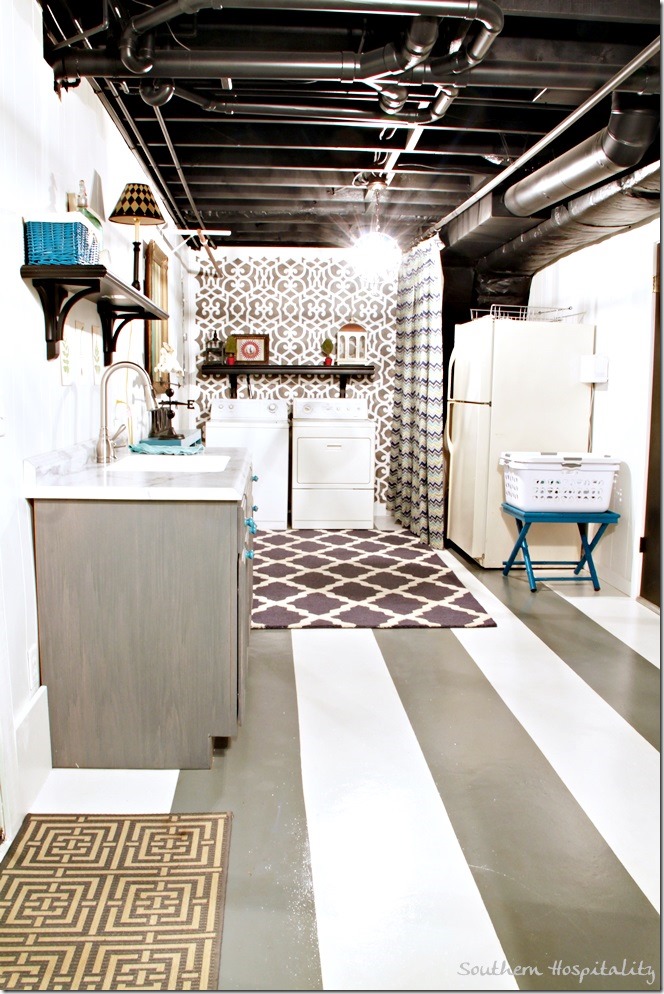 The laundry room space continues to shine as most improved area in my house and that was all DIY using mostly paint to improve it.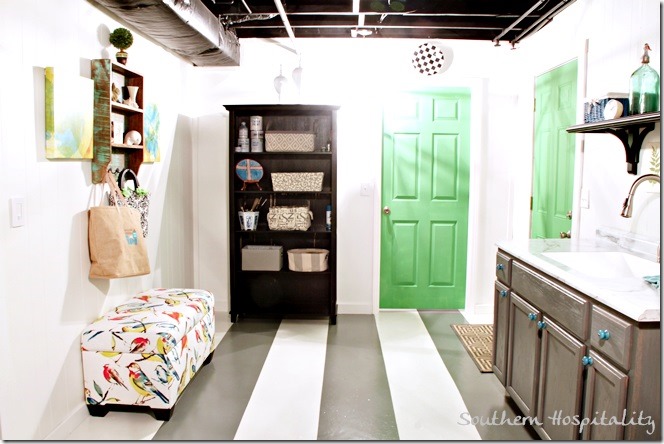 What is something useful you have learned from a blog conference?
For me, the biggest takeaway from a blog conference like Haven is that we are all in this together.  The more we work as a community to improve the craft of blogging and keep our integrity intact, the more that all of us benefit who are blogging for a profession.  The more encouragement we show each other, the better we all are as a group.  Blogging as a career barely existed 10 years ago and to have it grow so far and fast has been mind-blowing for all of us.  Conferences like Haven pull the community together more than any other avenue and we can look back and see how much Haven has impacted the Home/DIY community in such powerful and positive ways.  For that, I'm very proud and grateful!

What is something you love about blogging and what is something you wish you could change?
What I love most about blogging is that anyone who wants to blog can start a blog and just do it!  It's amazing that this online world is wide open for entrepreneurs to jump in and do their thing and that any person who sets their mind and will towards creating a successful blog can do it. It does take hard work, determination and perseverance, but it is a viable way to make a living while also doing something you love.  And I can say I still love blogging so much and still have the same deep feelings about sharing online that I did in the beginning.  It's totally changed my life as I have mentioned so many times and I'm so grateful that I am able to do this as a viable job at my stage and age in life.  That in itself is mind boggling!
The part that I really dislike is the feelings of comparison and competition that are out there.  That part is real too.  Social media has become a rat race of never ending chores that can never be completed and that sucks the life and joy right out of it some days.  I combat those feelings by continuing to blog my own way and I simply don't pay that much attention to what everyone else is doing.  That's the way I keep my sanity and my head above water. It's a huge world out there now that started out very small, but it's still possible to keep the same mindset of sharing honestly and inspiring others that we all started with if we strive for that.  I don't aim to grow bigger and bigger, I just want to make an impact right where I am in this little corner of blog world that I've been blessed to land in.

What is one piece of advice you would offer a blogger–new or otherwise–who is going to Haven?
I'd say to come to Haven and be prepared to be inspired, meet lots of new friends and also to learn more than you could imagine.  We try so hard every year to continue to offer informative classes that inspire everyone to get more comfortable with DIY projects as well as a real learning experience on the business side of blogging which is ever changing and evolving.  A new person may be a little nervous to come to Haven for the first time, but I really think once they show up, they will be so glad they did it.  We try to make Haven a friendly and welcoming place for all!
With that being said, I hope you'll visit the rest of the ladies in today's lineup, as well as the rest of the week. We've got a great group of bloggers this year as Mentors, seasoned and newer who are taking the time out of their busy schedules to be with us to help encourage and inspire the entire group of Haven attendees.  We can't wait to see you all!
I'll be sending you on to the sweet blogger, Danielle with Finding Silver Pennies, so please stop by and see her beautiful blog!
Monday:   Jennifer Rizzo / Chaotically Creative 
Tuesday:  Life on Virginia Street / Just A Girl / French Country Cottage / Maison de Pax 
Wednesday:  Thistlewood Farms / The Handmade Home / Beneath My Heart / That's My Letter /
Thursday:  Centsational Girl / Mom4Real / Cedar Hill Farmhouse / The Lettered Cottage / Shades of Blue Interiors
Friday:  The Inspired Room / Beauty and Bedlam / The Kim Six Fix / Shabbyfufu
Don't Miss a Post, join my list!