I know it's Wednesday, but I don't have a fashion post for you today. It's just been way too busy for me this past week, so I'm skipping it for today. Fashion will have to take a back seat this week!
If you've been reading my blog for the past few years, you have heard about the Haven Conference that myself and 5 others started 4 years ago.  It really is a very inspiring story of how it came to be, a dream really, and now after 4 years of hosting this conference in Atlanta, we are so incredibly proud of how it was started and the impact it has made on the DIY/Home design niche group of bloggers.  I'm so thrilled that what began as just casual talk in early 2011 about starting our own blog conference really turned into something amazing.
So, today I'm showing what the Haven Conference is all about, in case you haven't seen it before.  It just seems to be getting better and better every single year.
The Haven Team:  me, Traci, Beth, Sarah, Chris and Kristin, our Haven Events Planner.  We couldn't do this without Kristin and her planning expertise.  Meeting Kristin back in 2011 was truly a God thing for both of us, it totally changed our lives in such a positive way and pulling together this Haven team was the result.
She works directly with the sponsors and the hotel and keeps all those balls flying in the air.  The rest of us are bloggers and plan the speakers, sessions, and all other things that go with planning a conference, which is no small feat.  We all really had no idea what we were doing that first year and thankfully, after 4 years, we finally do sort of know what we are doing and the conference looks great!
It's been such a blessing to work closely with these blog friends of mine, like Traci from Beneath my Heart.  My life after blogging is so full of blessings and friendships are a huge part of that.  Traci and I got in first and couldn't help but take a look around the suite we were in, which had a beautiful balcony on the 22nd floor, overlooking Buckhead.
Buckhead is a great area of Atlanta and you can see downtown from here.  We hosted the conference at the Grand Hyatt Buckhead and love working with them. This is our 2nd year in this hotel and they are wonderful to work with. The hotel is beautiful too!
We had one evening before everyone got in to enjoy this terrace right as the sun was going down after dinner.
It's a gorgeous view from the top.
And looking down, these are the terraces that we had our opening cocktail party on the first night of Haven, welcoming in the attendees.  Those square gray tiled spaces are the patios with a garden walkway in between. It's beautiful down there!  You can see the pool to the left.
What a blessing it is to plan and execute this conference and have it received so well.  We are beyond thrilled with how it went.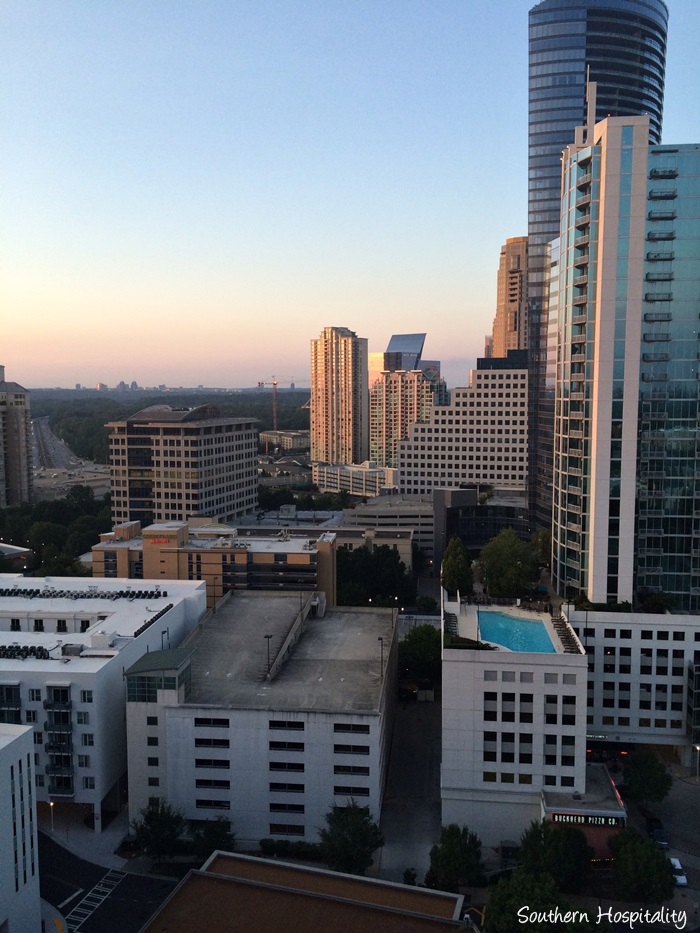 Views from the Grand Hyatt are spectacular.
We did one shot on auto to capture the team on top of the roof, before all the festivities and craziness began the next day.
Bright and early the next morning, we began swag bag assembling.  We had some great volunteers who helped us get this done in about 2 hours.  Swag bags are always a huge part of a conference and our sponsors give out some great items.
Filled swag bags, ready to hand out at registration.
We also had to get ready for our opening party that night, so the team was hustling to get it all done.  We even blow up our own balloons, as you can see here.
We decorated the patio terrace with colorful tablecloths and balloons.  That banner says "Haven in the Garden".
We kept things pretty simple, but wanted a little bit of Haven flavor out there.
After the guests arrived, it was full out here with lots of talking and happy people.
Kristin made up these cute sparkly paint cans for the table centerpieces.
Party favors.
Our opening keynote speaker this year was Jon Acuff, a dynamic and hilarious motivational speaker who has written New York Times best selling books.  He was fabulous and everyone loved hearing him speak!  If you haven't heard of him, check out his website!
Setting up for the keynote speaker.
The entire ballroom is filled with sponsors and they all have some really innovative booths.
Haven!
We have the greatest sponsors at Haven, from PureBond…
To Rustolem, who had charging stations going this year.  Brilliant idea, they were used all the time!
The Home Depot is our main sponsor of Haven and have been with us since year 1. We are very grateful to this Atlanta based company for partnering with us on Haven.  They do a wonderful job and this year, pulled out all the stops and built some amazing set designs in the ballroom.  Their DIY Hall of Fame is very popular among bloggers who works and do projects with Home Depot.
Breakfast was set up in the common areas for breakfast that first morning.
GMC is another one of our sponsors and they drove a real SUV inside the hotel, to show off.  See that Hidden Treasure adventure sign above?  I'm one of the bloggers going on this fun trip on the Longest Yardsale, in about 2 weeks and I can't wait!
I watched as they drove in this SUV right through the big double doors of the hotel.  Whew, it actually fit and worked!
Rockler tools were representing this year.
Kirklands, the home decor store, did too.
Osborne Wood Products have been with us for a few years.
Easy Closets was back this year as well.
These are pictures on the fly, so please excuse the blurry photo, but Homeright is a wonderful sponsor of Haven.
Cree lightbulbs is a great sponsor with LED lightbulbs that we all love.
Izea was there.
And Modern Masters, the paint company.
This year we had LazBoy sponsoring Haven and we were so happy to have them set up some of their furniture in the Living Room (ballroom).
Amy Howard paints were there and Amy herself (the blonde lady on the left) taught a paint class. Happy to have them there for the first time this year.
This new to us company, Tainted to Repainted, is a really neat product.  Paper countertops that get sealed for a beautiful look.  You can see one of the countertops in the middle of the picture and this product was really amazing to see in person.  It's a DIY product.
Thompson's Water Seal was back with us again.
Ryobi Nation was back too, they have been a big Haven sponsor over the years and are sold at Home Depot.
We love having these big DIY companies working with us. They do a very popular tool class  at Haven.
This year, The Home Depot set up blogger spaces in the main ballroom, representing several bloggers they have worked with and their spaces were duplicated here.  That was fun to see!
Rheem was with us.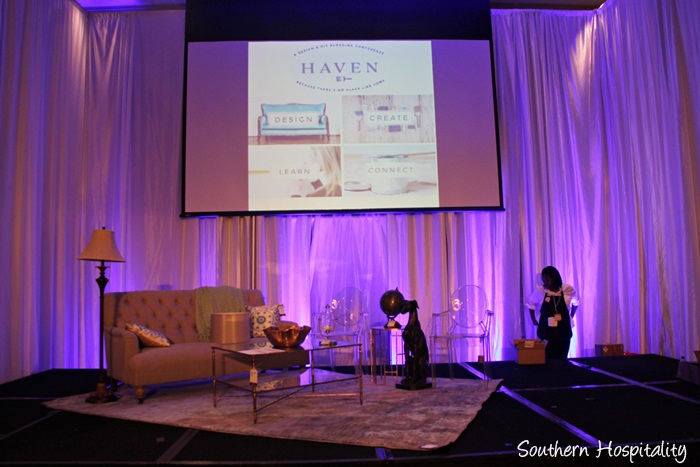 Getting the stage finalized for set up.  That's our new Haven logo on the screen, that we just had designed this year.
Behr, the paint company was there for the first time this year.  Yay!
Moen has come through for us all 4 years and we are always glad to have them. They set up a real shower set to use for photos during the conference.
Bloggers and sponsors have plenty of time to interact during Haven and many new relationships are formed at our conference.
Kreg Tools are great folks to work with.
Another outdoor set design by The Home Depot.
Love these outdoor spaces.
Shaw Floors has been with us from the beginning too and we love them.
New sponsor, Everything But the House, came this year and we loved their booth space.
They are an online estate sale site that I've shared on here before and had so many great items in their booth, which were for sale online during the conference.
We have some super classes going for 2 days at Haven and Ana White, who is a very popular DIY blogger, was there doing classes for Home Depot.
This Do It Herself workshop was very popular among the Haven crowd.
Everyone got to make a tray and take it home with them.
And they could decorate it any way they chose.
One more blogger space was duplicated with Home Decorators Collection furniture, which is owned by The Home Depot.
This year, my entire family came down on Friday for lunch.  My sister and niece (and baby Parker) brought our parents down to see it in person for the first time. It was so fun to have people stop my mom and dad and talk to them like they knew them.  I think they got a kick out of that!
So, you can see that Haven is a busy and fun conference to attend.  We have really enjoyed the last 4 years of doing Haven and every year we say it was our best, but I do believe this year really might be the peak.  Everything went smoothly and we saw so many happy, smiling faces the whole weekend.  It's a time for bloggers to connect with each other and a way to meet many other bloggers that they would never get the chance to meet, if not for an event like this. It's also a way for bloggers and brands to connect in a really special way.
I'm so grateful for my 8 years of blogging and the path it has led me down.  I wouldn't trade it for anything else that I could be doing.  I feel like that I'm doing exactly what I was meant to do and I love my job so much. I do tell folks that I have a dream job and it truly is that to me. Getting to plan Haven with the team is a wonderful experience and we are all grateful for how it has turned out, 4 years later.
Thanks for following along on my journey and this will give you all a little glimpse into what Haven is all about.  It's definitely a fun event.  We don't have a date set yet for the next Haven, but we'll be brainstorming on what is next!
Don't Miss a Post, join my list!