I'm back today with an exciting tour of the HGTV Dream Home 2020 in Hilton Head, SC. What a treat it was to get invited to tour behind the scenes of this stunning coastal low-country home on the marshy waters of the SC coast. I love Hilton Head anyway and it was fun to go back. I hadn't been there in 20 years and it's really grown, but still retains the charm I remember when I went there so many times in the 80's and 90's.
This coastal style home sits on an absolutely beautiful piece of property and the backyard views are enviable. I can't wait to show you more. There are a lot of beautiful pro pictures online too, if you are dying to see more. I tried to capture it from a birds eye perspective, so I hope you enjoy. There's a page for shopping the home here if you see anything that catches your eye. I don't have all the sources or colors though.
Be sure to click this link to sign up to win the HGTV Dream Home 2020! You can sign up twice a day and win the house, plus all the furnishings from Wayfair, plus $250K from Quicken Loans, plus a Honda Passport, which makes a prize pack worth over $2 million! Now that would be an amazing package to win! 
For more information on the home, go to this HGTV page.
Builder: Shoreline Construction
Architect: Court Atkins Group
Designer: Brian Patrick Flynn
Build Manager: Scott Branscom
I loved this house so much. In fact, it's my favorite of the Dream Homes I've visited and I've seen 3 in person. This one is just perfect for a coastal getaway home and the floor plan flows effortlessly. In fact, my sister and brother-in-law are going to build a dream home on a lake in LA in a couple of years for retirement down there and this house is now at the top of her list for wanting to build. She wanted me to take lots of pics and I did. I hope they can build it so we can go visit them!
It's just gorgeous and there's the Honda Passport that comes with the house. Oh the very lucky person who is going to win this house! Don't miss signing up. I've already done it myself.
The two car garage is tucked to the side.
It's not a big grand house, but has a wonderful entry and just feels so welcoming with the front porch and stately wood door.
Just beautiful.
The interior designer of the house is once again Brian Patrick Flynn, a super talented designer from Atlanta. I've seen Brian several times now at different homes and around Atlanta and he's such a fun and witty guy, not to mention talented in interior design. He adds lots of layers of colors and it really fits this house.
Most of the furnishings and accessories came from Wayfair, I hear.
Entry coming in the front door and yes, that's a canoe hanging over the door. Fitting considering the location.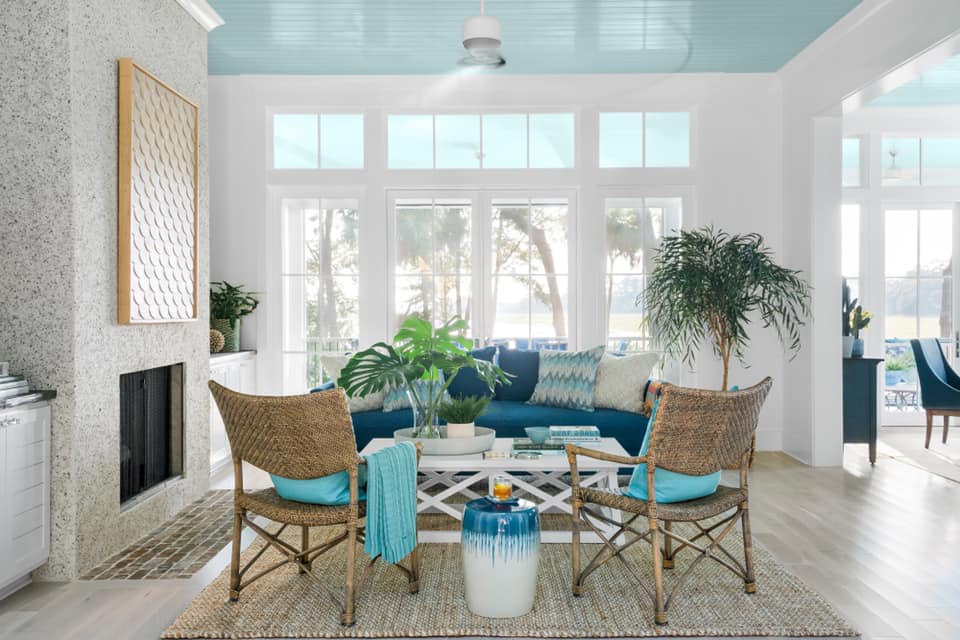 The living room is beautiful in shades of blue. Of course, I love this and the colors!
Those planked ceilings immediately caught my eye and I asked Brian what color they are and they are Mint to Be by Sherwin Williams. It might be an HGTV color with Sherwin Williams, but it sure is beautiful. Perfect for a coastal ceiling. I'm taking notes for my next blue painted ceiling.
I just love the neutrals mixed with all these shades of blues. Just my style!
That's a tabby fireplace, which is very low country coastal, a mixture of concrete and oyster shells.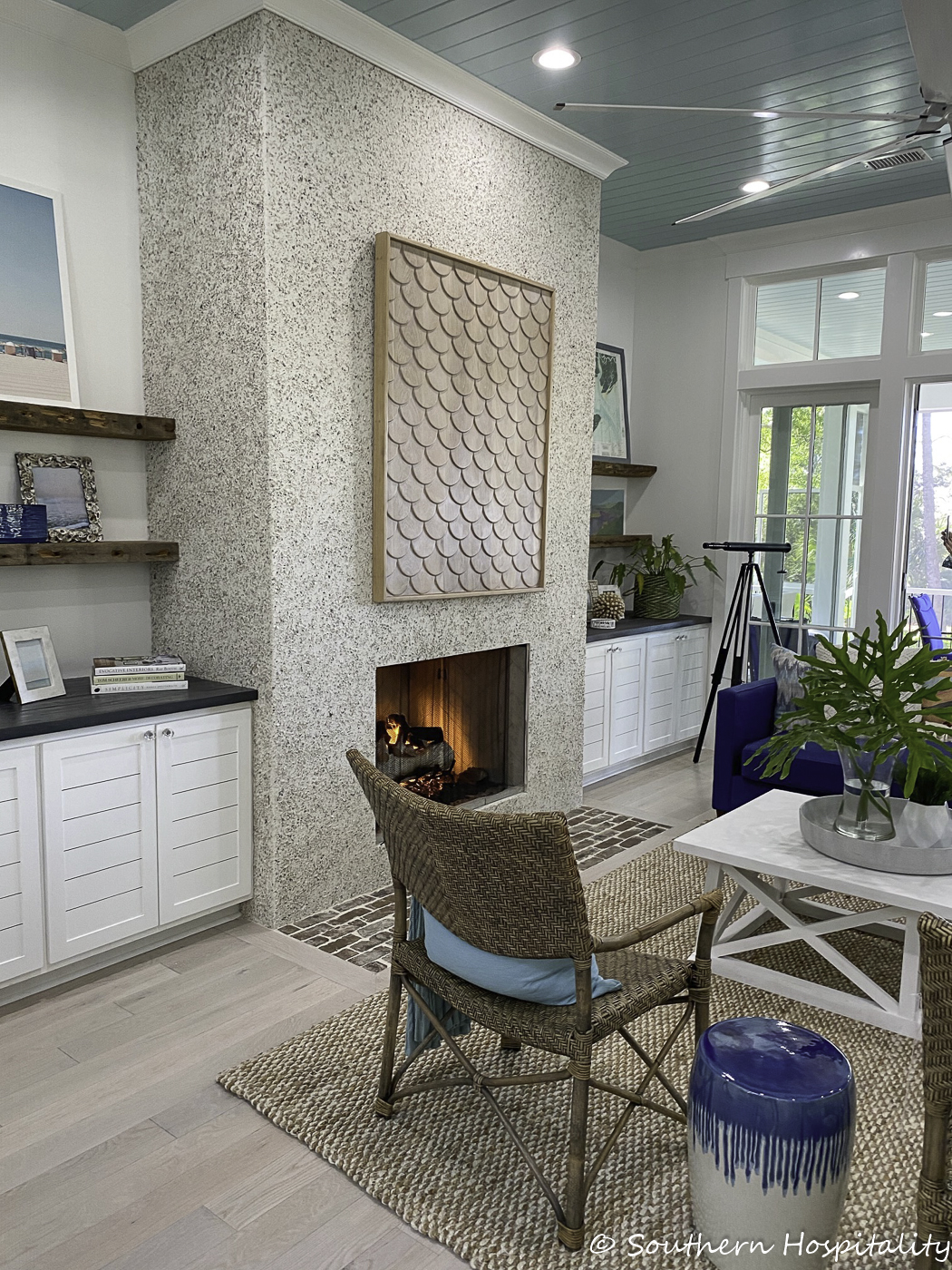 I don't have all the info on the artwork, but it's pretty throughout the house.
We were treated to a delicious brunch at the house with an in-house chef making sure things were hot and ready to eat. It was wonderful!
Fresh flowers in the house made it feel so cozy and inviting. I could move right in this house and love it.
Cabinets to Go was the sponsor of all the cabinets in the house and it all looks great. The mix of textures and materials was very pretty.
Love the open kitchen with the dining room and great  room.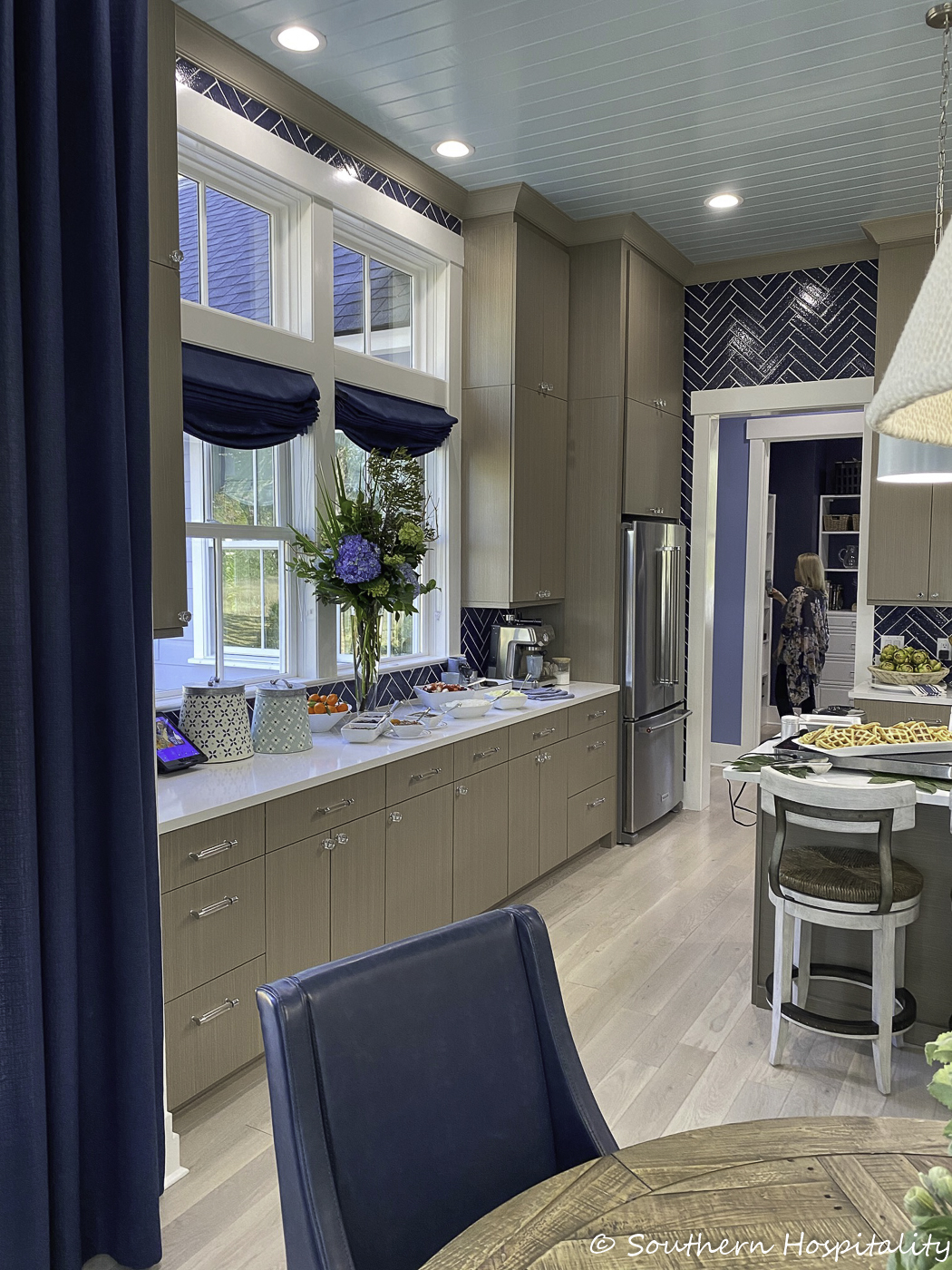 Built in cabinetry around the windows are perfect for storage and serving. I really hope my sister and brother-in-law can build this floor plan, it's gorgeous.
What  makes this house so special is all the windows and doors. Light just floods the house even with a porch all across the back. Those big transoms let in a ton of light too.
Loved the nautical rope mirrors used throughout.
Here's the pantry right off the hallway outside the kitchen.
This is a small powder room on one side of the house.
And another one on the kitchen side of the house.
This  mudroom/laundry room was just stunning. So much room with doors leading to the garage and backyard. Perfect space for whatever extra you'd want besides doing laundry. Our brunch was set up in here too.
Washer and dryer tucked in one corner.
And a big dog crate was housed in here too.
Now on to the master bedroom. This room was so beautiful with the French doors leading out to the porch. Again the expanse of windows and doors was just stunning.
The coral tones of this space was gorgeous with the blues and of course, I fell in love with this bed.
If I ever changed out our guest room, it would be this bed! Love it!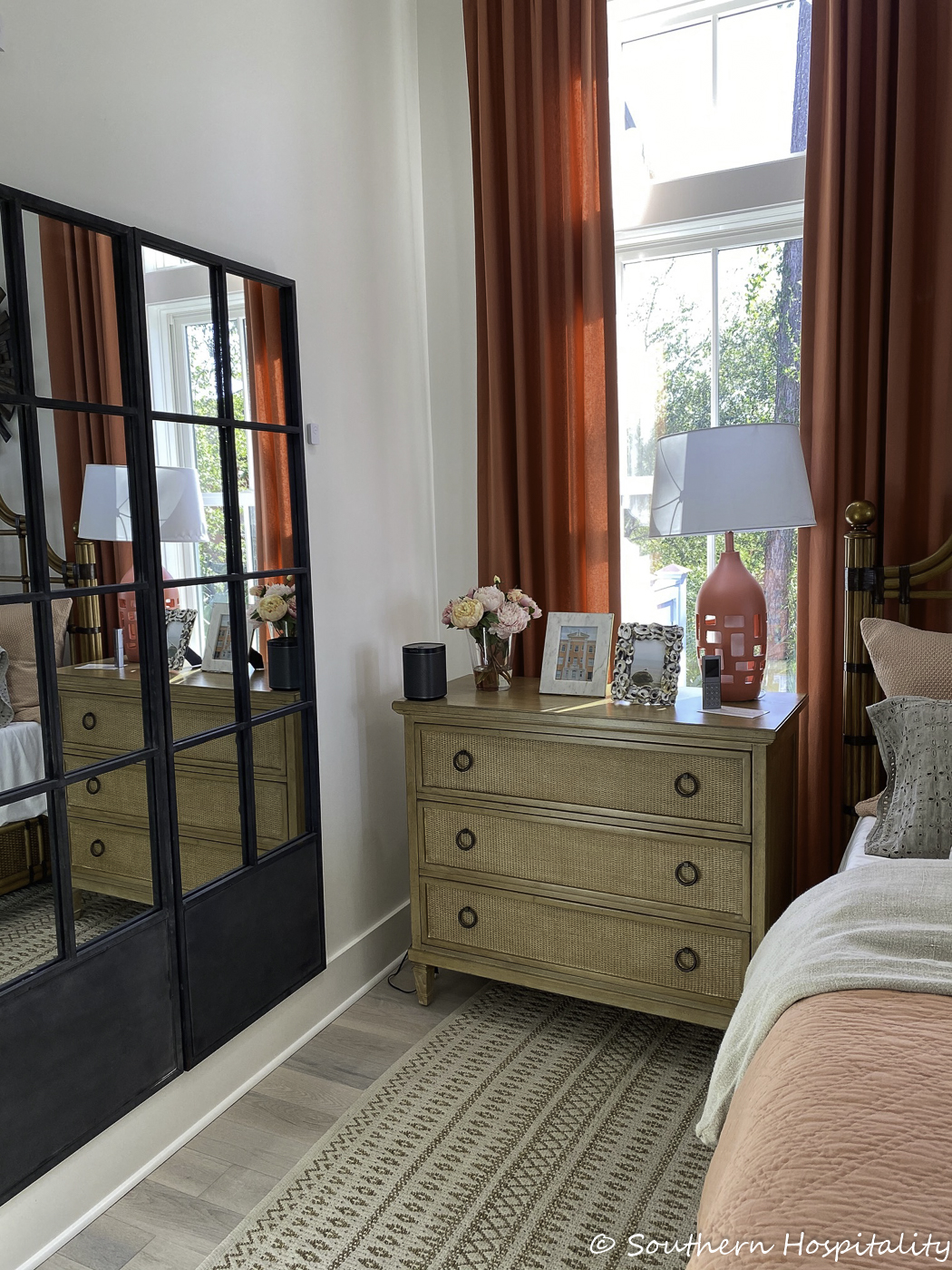 I thought these were closet doors, but I think they are just mirrors. The walk in closet is right on the other side.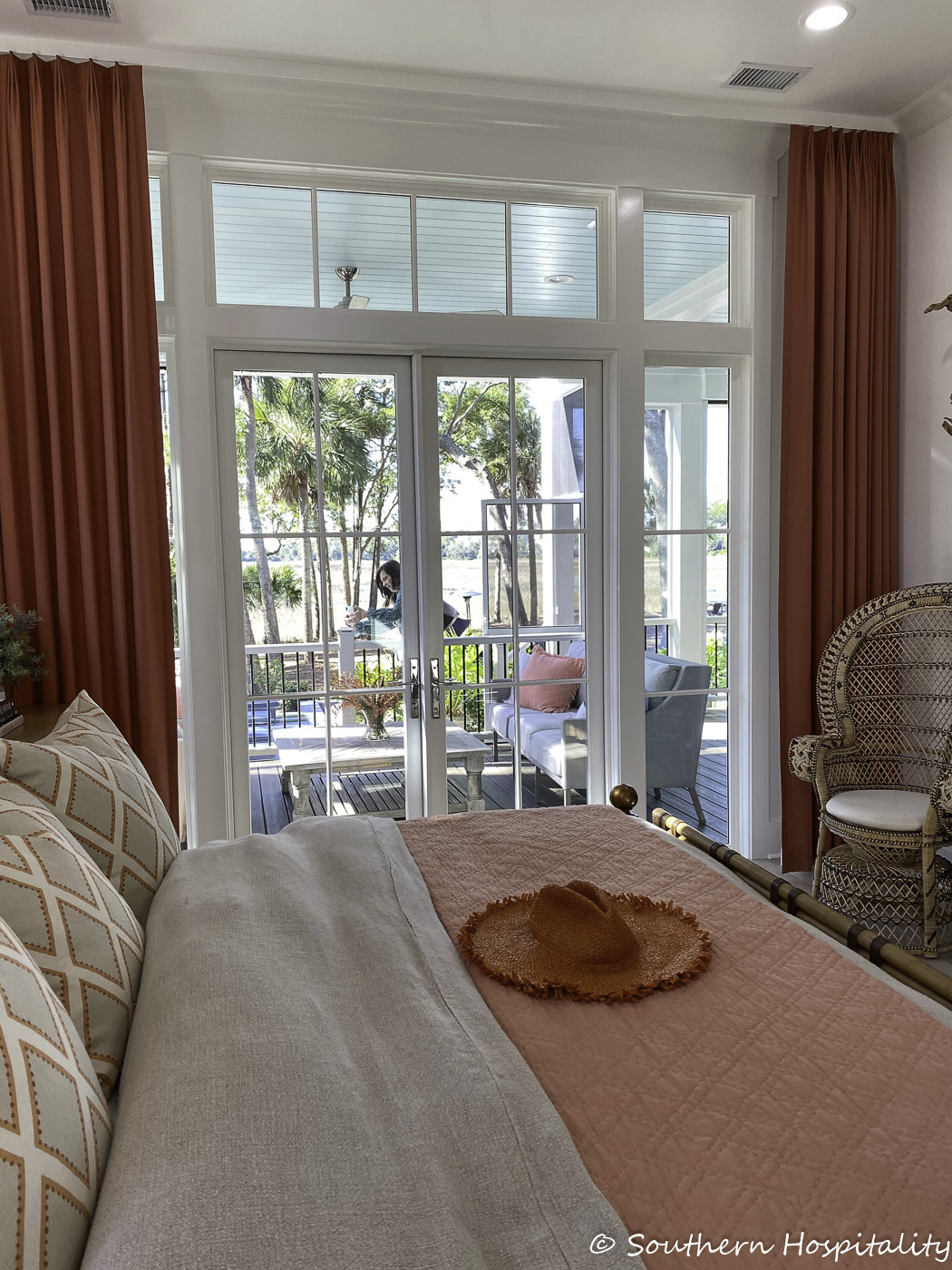 One more look at the dreamy French doors and porch. Ahh, this is so nice!
Here's the master closet off the little hallway next door to the master. It has its own hallway and bathroom.
Spacious master bathroom with some stunning tilework.
With walls a blush color and the tile black and white, it's a statement maker.
Now let's look at that porch that extends the whole back of the house. What a porch it is. Hi Mark! I was so happy Mark got to go with me on this fun trip. He enjoyed it too. I wanted to show a good shot of the ceiling. Those ceilings just make the house too.
The master sitting area is on this end of the porch.
A large table for eating is in the middle and what a porch this is.
Another view of the master porch area.
And the opposite side of the porch has another seating area. This porch is huge and all of it is screened in too. There were motorized screens on at least part of it.
Me on the porch!
Now let's go upstairs. There are 2 bedrooms and a huge media room upstairs.
The landing is plenty big enough to hold whatever you would want with the 2 story foyer below. It feels so open and airy.
Mark and my friend, Beth played a little foosball. It was fun to catch up with some of my blog friends while on this trip.
One of the bathrooms upstairs was really pretty. Loved this dark tile.
One bedroom upstairs with a gorgeous view of the backyard and marsh.
Very much a coastal feel.
Again with the large windows and views. There is nothing not to like about this Dream Home.
Right in the middle off the landing is this large media room. Great space to enjoy relaxing and watching TV or lounging on the upstairs porch.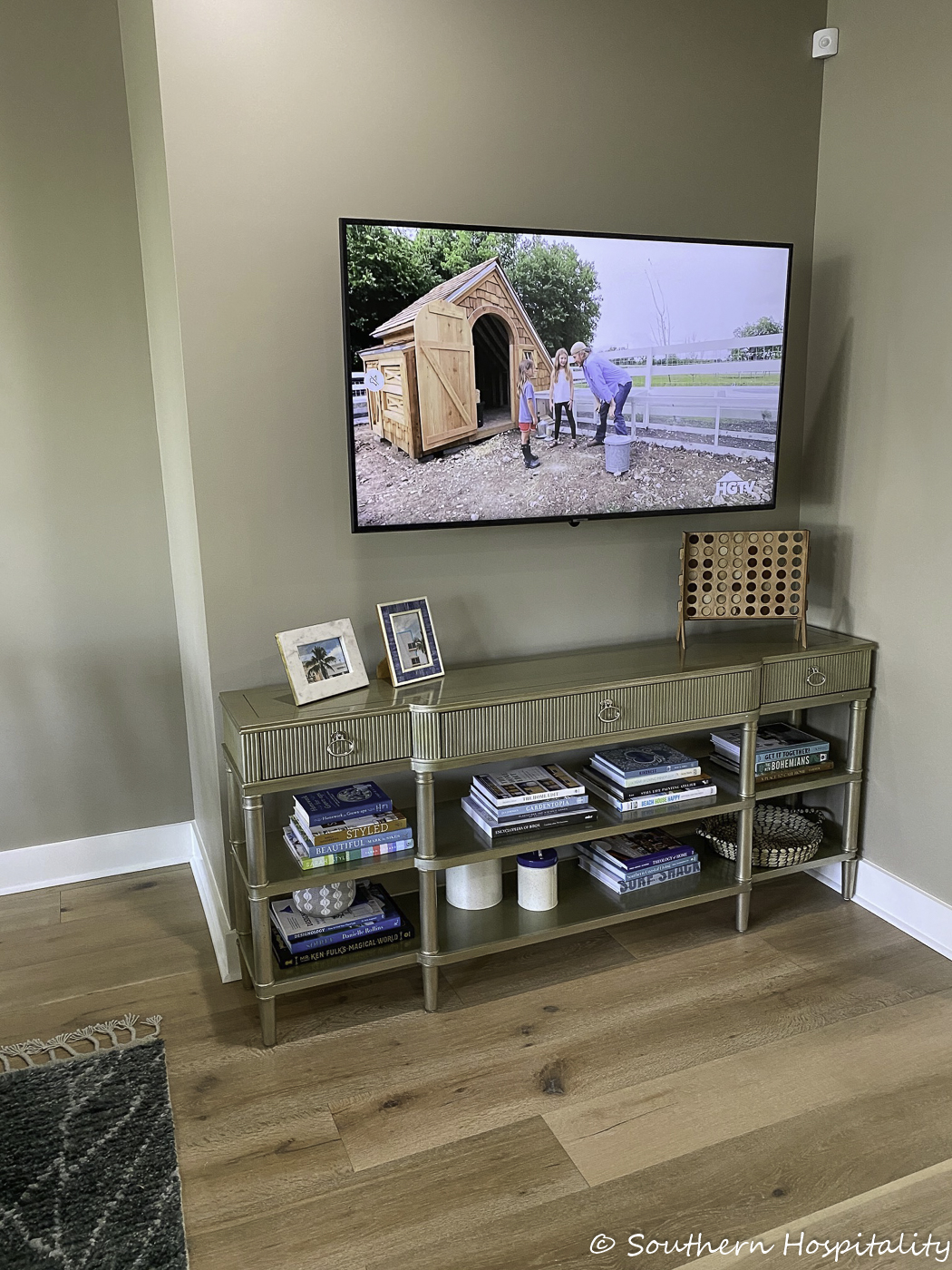 It was set up with two TV's on either side.
Such a nice space.
And of course, another porch. I loved this porch too, tucked way up in the trees with a big expansive view of the marsh.
Below the pool and backyard. What a view, what a house!
I could just live on the porches.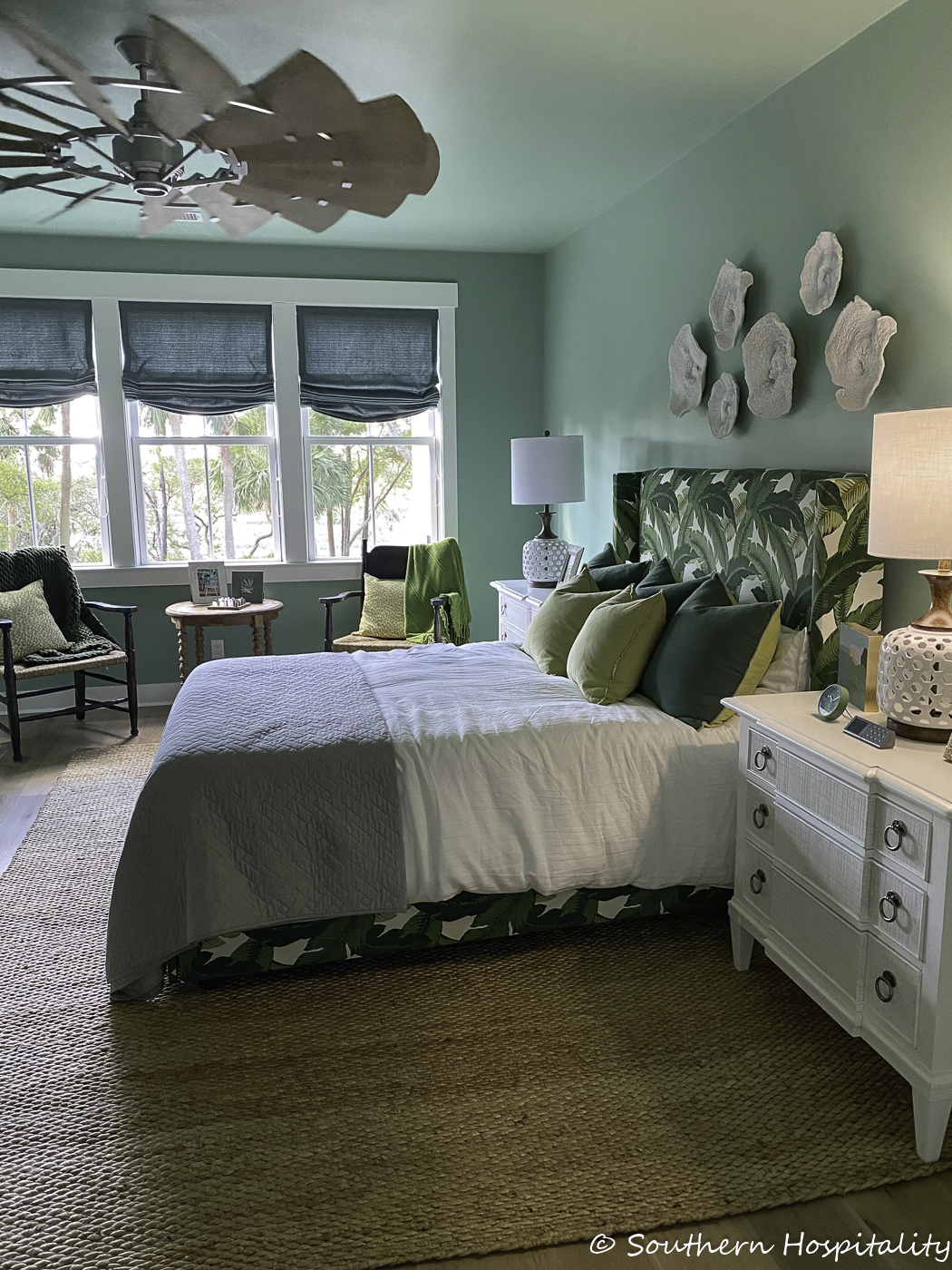 The 3rd bedroom upstairs on the other side of the media room.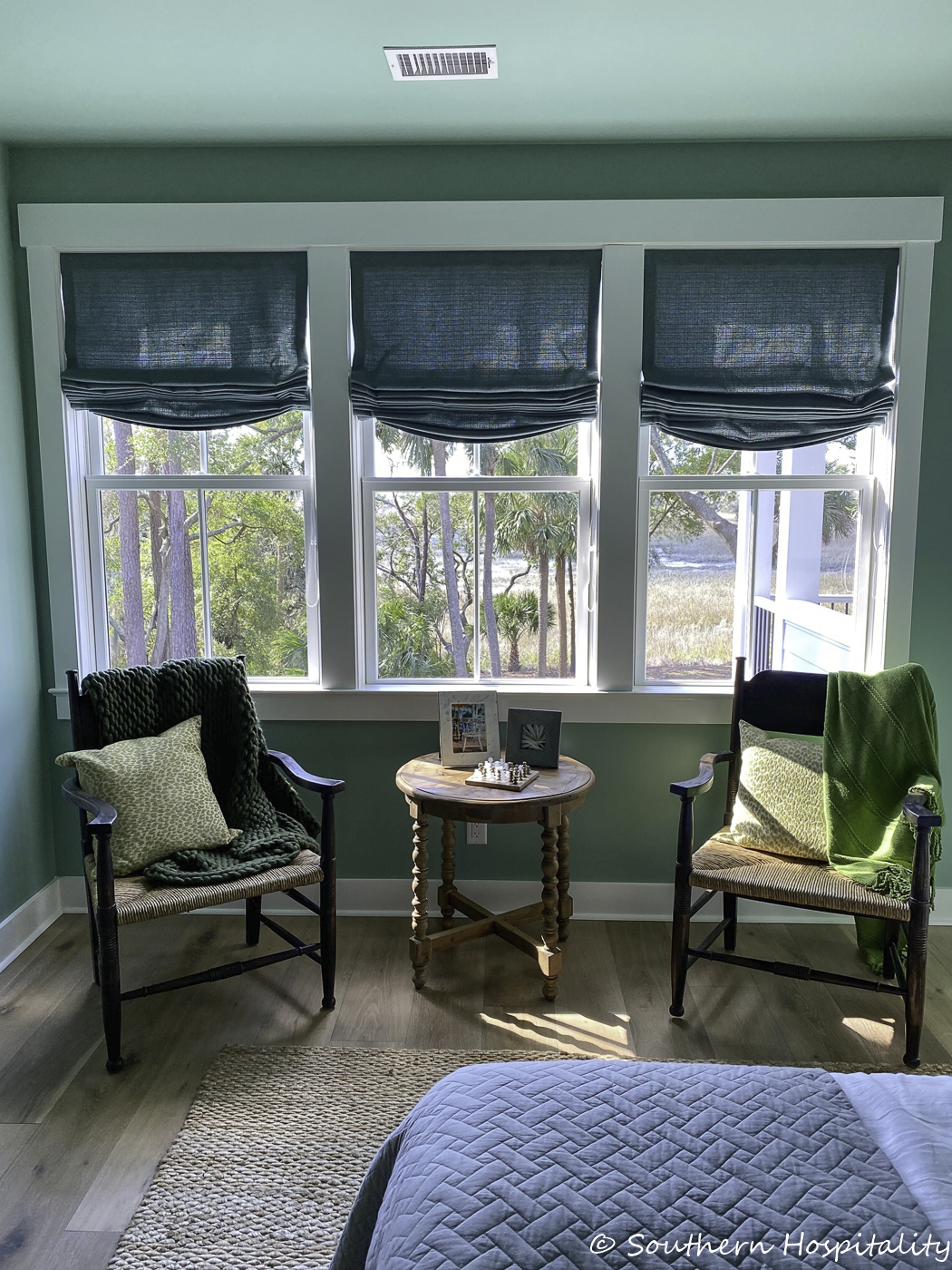 Cute, cute space and love these windows and simple treatments.
Outdoor flower arrangement. Now let's look outside! Oh my goodness, these outdoor spaces are the bomb!
Mark took a few panorama shots for me and this gives you an idea of the expansive backyard and marsh views, looking back towards the house. They had all these hammocks set up but it was really windy that day.
Gorgeous, isn't it?
Imagine the parties you could have in this backyard.
It was great to be outside and enjoying the sunshine.
Lots of folks ate outside.
This house is just magnificent. I adored the backyard and pool and porches. A true Southern dream home.
The pool is a natural lagoon type pool, so pretty and a wonderful addition to the backyard. It gets hot in Hilton Head.
I loved this retaining wall too with all the plants.
There were many blog friends there and it was fun to see them: Rosemary, Lucy, and Michael.
Melissa, Carrie, and Beth. Most of us have been blogging 10 years or more and what fun it's been. There were many more friends there that I didn't get pics with, but it was a fast trip.
I hope you enjoyed this behind the scenes look at the HGTV Dream Home 2020. One lucky person will win this house, so don't miss out on signing up. It just takes your email to sign up to win. I feel very fortunate that I was invited to tour it in person, it truly is a dream home in every sense of the word!
Be sure to click this link to sign up to win the HGTV Dream Home 2020! You can sign up twice a day and win the house, plus all the furnishings from Wayfair, plus $250K from Quicken Loans, plus a Honda Passport, which makes a prize pack worth over $2 million!
Who's ready to win? 
Note: I was invited by HGTV to tour the home as part of a blogger/influencer lunch. I was not paid to write this post. 
Don't Miss a Post, join my list!