Last weekend, I spent a couple of days scouring the High Point Spring market for all sorts of inspiration, in and out of showrooms with the Design Bloggers Tour and it was so inspiring and fun.  It's tiring to see and take in that much in a short period of time, but we all made it through to the end.  I took in so much it was practically design overload, although what a way to go!  If there's anything that is more fun than looking at all the latest and greatest in design, fabrics, accessories, and more, I'm not sure what it would be. High Point Furniture Market is the mecca for good furniture design and innovations in home furnishings.
It's huge and spread out all over the city and since furniture is the main industry in this area, it takes over the whole town. There's a Spring market and a Fall market.
The first time I went to High Point 4 years ago, I had no idea what to expect, but after getting a good dose of the market that trip, I sort of knew what to expect this time around. There are multiple designer parties, cocktail parties, open houses showcasing new furniture lines and so much more. Market is about 5 straight days of non-stop inspiration and it's almost impossible to see everything you want to see.  You definitely have to have an agenda and I think most designers that go to market have a set schedule in mind already of who and what showrooms they want to visit.  High Point Furniture Market is for retailers and designers to come and see the latest furniture that is about to be released to the public this year.  The latest and greatest in design inspiration!
The weather didn't cooperate this time and it was in the 50's with chilly and blustery rain and winds, but we all just dressed as best we could and persevered through the crazy spring weather that we are known to have in the South at times.
Today, I'm going to share some recaps with you of all the showrooms we visited and I'll circle back around later to some of my favorite things I saw and do a little more in depth look at some of the showrooms that really caught my eye out of the ones that we saw. This is a sponsored trip and we are all compensated for our time and effort in sharing the sponsors of the trip, just to let you know how that works.  We weren't told what to write or how to share it so we were all on our own for taking in the sights and then giving our readers a glimpse of the High Point Market and all we saw during our very fast 2 day trip.  I was familiar with a few of the brands we visited, but some of them are new to me.
Our first stop was Bernhardt Furniture, one of my favorite personal brands. I have a couple of Bernhardt pieces in my home now and it was fun to see the latest in their line of furnishings.
Their new furniture was really pretty with lots of eye candy.  They have a range of furniture from traditional, which I've known them for and also a much more stream lined contemporary line.  There is definitely something for every taste in Bernhardt Furniture. I saw lots of things I loved, like this black and white chest.
This beautiful agate light fixture was also an eye catcher.
Bernhardt is known for leather furniture and they have some very stylish pieces in this collection. I still like leather too in certain rooms.
This chair was a real stunner, with the metal backing of what looks like silver leaves. Bernhardt is classic and contemporary all under one roof.
Bunny Williams Home did not disappoint either and she is a designer I can definitely relate to, with her Southern sensibilities and classic style.  I've always admired her as a designer.
Southern traditional speaks to my design heart in big ways and her showroom felt like a warm hug with all the cozy furniture and accessories.
Fashion icons Badgley Mischka were at High Point also in a showroom showcasing their latest design offerings.  Hailed by Vogue as one of the Top 10 American designers, they have ventured out of the fashion world into furniture, so we got a look at their latest. After clicking over to their fashion website, I was pleasantly surprised that while they are high-end design, they are not as over the top price wise as I thought they might be.  As you probably know, I don't stay up on the latest high design fashion trends as that is not in my budget, but it is fun to look.
If these gold gilded furniture and accessory pieces are just what you've been looking for, you can find the Badgley Mischka Home collection and take a browse.
They introduced their new collection and we got a chance to get our pictures taken with the style icons themselves, Mark Badgley and James Mischka.  That's not something I get to do everyday!

A stop at Nathan Anthony wowed us with it's graphic punchiness with a feel of 60's mod, at least that was my impression of this showroom.  Very mid century modern.
This tufted headboard feels a little glam and mid century.
More mod chair frames and fabric patterns accent the showroom.  There are so many who love modern and contemporary and you can find every design style at High Point.
Huntington House is known for their hand crafted upholstery and showcased a classic selection of furnishings.  I loved these soft muted hues. There are definitely plenty of gold accents going on now and gold has made a big comeback over the last few years.  I'm liking gold again too, in smallish doses.  Mixed metallics have their place in every home.
A fabric line that we all got to see up close was Crypton Home Fabrics, a stain, moisture and odor resistant performance fabric that will no doubt change the way fabric performs in our homes.  We saw a demonstration of this in another showroom that I'll share with you down below.  It's amazing how fabrics have improved so much so keep an eye out for Crypton Home Fabrics for your home needs.
Color is also around in this showroom with neutral furniture and color making it's way to the accents.
Chairs always catch my eye and I love seeing different styles and shapes in the Huntington showroom.
Under the Theodore Alexander umbrella are several designers who debuted new collections at High Point.  This burnished gold table caught my eye.
It was very inspiring to see all the different furniture styles offered by this company, from very beautiful traditional reproduction pieces to fine high-end more contemporary lines.
Each designer had his own area of the showroom and Jamie Drake came out and greeted us, showing his new collection offered.
Designer Steve Leung also has an impressive part of the showroom, with his newest collections.
Another designer under the TA flagship is Michael Berman, who also greeted us and shared his latest design styles.  It was very inspiring to see these designers in person and hear about their thought processes.
Citron seemed to be a popular color at the market, as seen in this Michael Berman sofa.
The Century showroom was one of my faves as well and getting to see all of their fine designs was a treat.  Even though many of these furniture manufacturers might be out of my range, it's definitely inspiring to see it in person, to touch and feel the shapes and textures of the pieces.
I've seen Windsor Smith's line with Century at ADAC here in Atlanta before, but it was nice to see it all set up and in a large showroom setting. Her designs are classical, yet very fresh and modern.  With soft hued tones of lavender, gray and cream, it was beautiful to see.
Another look at the Century showroom, a very classical piece which caught my eye.
A stop at Eastern Accents gave us a peek inside the fine linen and bedding showroom, featuring some well known designers who have designed a collection of bedding, like Celerie Kemble. This one's called Pineapple Bobble.
These bright Palm Beach shades caught my color loving eye as well.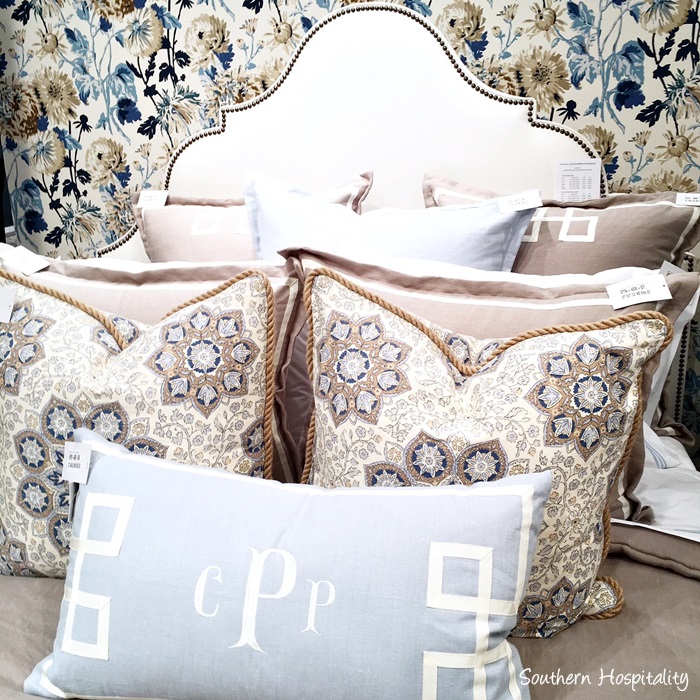 Subdued and beautiful shades of hues in this bedding collection at Eastern Accents. I'm finding I like to use neutral bedding and accent with colors in the pillows and shams.  I'm not one to have a big colorful comforter on the bed anymore.
Another very inspiring stop was with style icon, Rachel Ashwell, of the Shabby Chic collection. You might remember her from many years ago, 1989 in fact was when she got started with her shabby chic style influence and she did indeed sway so many with her soft fabrics and chippy white furniture that became so popular.  She's reinvented her style and it's still available today with white painted furniture, soft washed fabrics of linen blends that are so nice to the touch.  It was great to get to meet her in person and hear of her evolving business. We started off with tea, scones, and fruit in her showroom and it was delightful to partake of breakfast and hear Rachel's lilting English accent.
A beautiful array of Shabby Chic Collection fabrics.
Furniture and accessories available through Shabby Chic.
Joybird showroom was where we saw a full blown demo of the wonder that is Crypton.  This spilled red wine demonstration had all of us with our mouths hanging open, as the red wine just rolled off with nothing soaking in the fabric. After the wine dripped off the cushion, he took a water bottle and further removed the remaining wine droplets, then just used a towel to blot off the moisture and the cushion was good as new.  Love seeing these innovations in person!  Look for Crypton Fabrics and you'll know you are getting a hard working fabric that's impervious to spills.
Joybird showroom shared how they customize furniture and you can choose how you want it built, then they build it and ship it out to you, removing the middle man from the furniture buying process.  I definitely think that has a place in furniture buying these days, since so many of us shop online.
Their vibe is mostly contemporary but they had a few traditional styles too.
A stop at Universal Furniture had me all inspired with several furniture designers showcased under the Universal umbrella, like Paula Deen and Alexander Julian.  We also had a delicious lunch here that was quite impressive. They have a huge showroom and so much to see, I'll share more of this later.
Universal has something for everyone, from kid's spaces, to modern, traditional and more.  It was a very fun showroom to tour.  There were so many fun bunk beds and kid's storage solutions that we saw.
A peek at some of Paula Deen's furniture collection.
Fashion icon, Alexander Julian also has a furniture line out with Universal, which is brand new for the first time in many years.  I don't even see this on the website yet, but stay tuned for this debut.  I really loved what I saw of his collections.
Classic, but fresh and some nice finishes with attention to details on the hardware.
We were introduced to some new furniture lines that I wasn't familiar with, like Artefama Furniturefounded in 1945 and with a balance between social and environmental concerns, the line is influenced by Spanish, Italian and German craftsmanship.
Solid wood table and chairs at Artefama.
They offer some beautiful wood finishes in an array of colors and finishes.
I hope you enjoyed this quick browse through all the showrooms that we visited on the Design Bloggers Tour at High Point Spring Market!  It was a fast and furious look at some of the latest things out there today in the furniture industry and not only was it inspiring, I learned a few things too, like how far fabric has come in the home furniture industry.  I'll be back later with more posts and more inspiration from my time in High Point. I took a lot of pics and have much more to share!
Furniture shopping can be a daunting task, but if you do your homework ahead of time, you can know the quality and workmanship that goes into those furniture pieces that make their way into our homes.  Furniture makes a home special and one of a kind and that's why it's so fun to see what catches my eye out there. We all have favorite styles and ways of decorating a house and that's the beauty of the furniture industry. There's something for everyone!
Note:  This trip was sponsored by and I am compensated for sharing by High Point Market and Esteem Media and I was invited to be a part of the Design Bloggers Tour for Spring 2017.
Don't Miss a Post, join my list!