There was a lot to share from my time at High Point Furniture Market in NC this year during the furniture show, so I wanted to share a few more pictures with you from some of my personal favorite showrooms.  The Design Bloggers tour is sponsored by the High Point Furniture Market and we were compensated for our time. There's so much beauty out there in furnishings these days and finding inspiration is important when we start to put our homes together. It's amazing how furniture styles change over the years.  There is so much out there now and it can be quite difficult to narrow down choices and furnish a home.  I always try to look for classic and timeless lines.  I hope these are inspiring for you too!
While in High Point, it was such a pleasure to meet Alexander Julian in person. You know, the fashion designer turned furniture designer?  I've always admired his fashion lines and he has also been designing furniture for a few years and I had no idea.  I loved his designs to much and think that they are classic and traditional in feel.  Under the Universal Furniture line, Alexander had his own showroom space and gave us a tour.
This console table caught mighty and the hardware was really pretty.  The color of this is between gray and brown and could mix in with so many styles.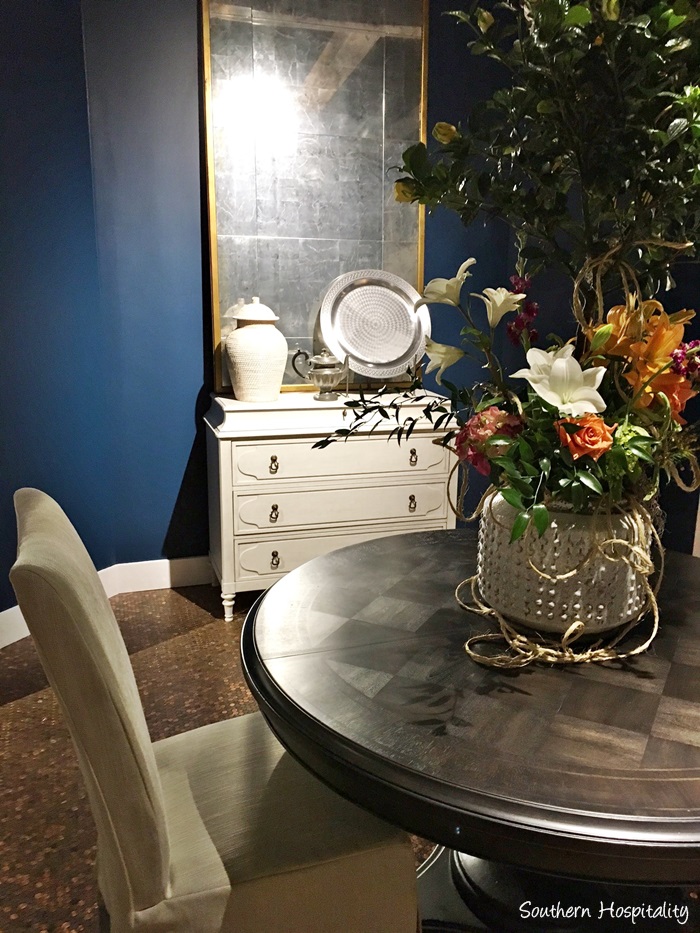 Dining room collection. That small server caught my eye.  I do like a mix of stained woods and some painted pieces in a house to give it interest and break up the sameness of all wood.
Another beautiful piece in that pretty gray toned wood finish. I think this was a lingerie chest maybe, but it has all those interior pull out drawers for organization.  Note the classic hardware too.
This closet was a really neat feature from Alexander Julian that they said is selling quite well to folks with large homes. It's the entrance to a closet, sort of like a Narnia armoire.  Open the doors and see inside….
It's a wardrobe!  From the outside it looks like a big armoire and the closest is recessed into the wall.
There's that pretty serving piece again. Love the lines and finish on this one.
Close up of some of the details on a linen upholstered bed with tufting and metal buttons.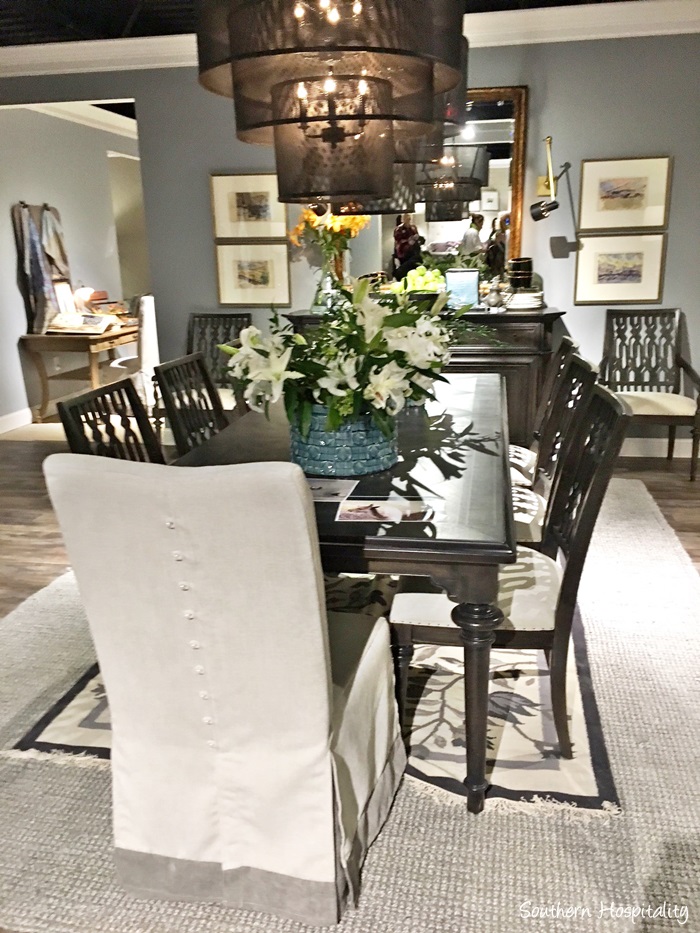 Dining room with a mix of wood chairs and upholstered chairs at the head of the table.  I loved this look for a traditional look.  The fretwork on those chairs are gorgeous!
Another area of the Universal showroom was called Curated and I loved some of these pieces.  I still like distressed leather in some spots.
This gorgeous leather tufted ottoman was really pretty too. Put your feet up comfortable!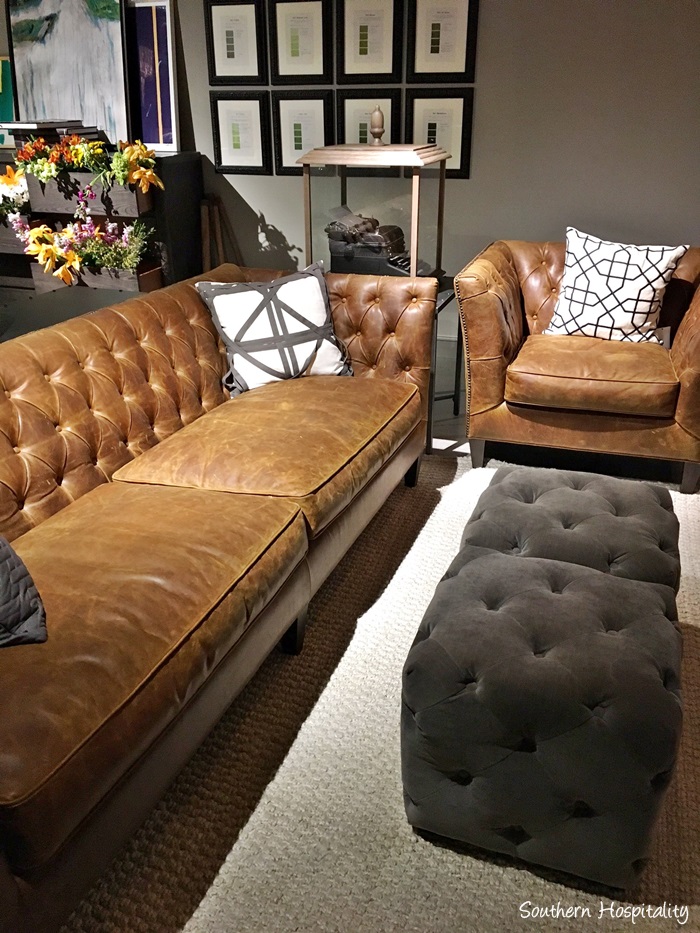 Another distressed leather sofa and chair from Universal's Curated line.
And a beautiful tufted upholstered bed.
Another piece (I think) in the Curated collection, this china cabinet was a winner to me.
More distressed leather.  I can see this in a comfy family room.
Another stop on the tour was to Century Furniture, which is a well known line of fine furniture.  I found out Century is a family owned business that began in 1947 and has evolved into a strong and sophisticated furniture line.
There was plenty of eye candy in this showroom.
One area of the showroom that we all loved was the designs of Windsor Smith for Century. I had seen her showroom here in Atlanta at ADAC before, but this collection was a large one.  Note the color choices she uses, soft creams and lavenders were the hues in her collection, creating  a very feminine yet elegant vibe.
Her furniture designs are modern, yet classical too.
Theater seats in the Windsor Smith collection.  Very old Hollywood feel to me!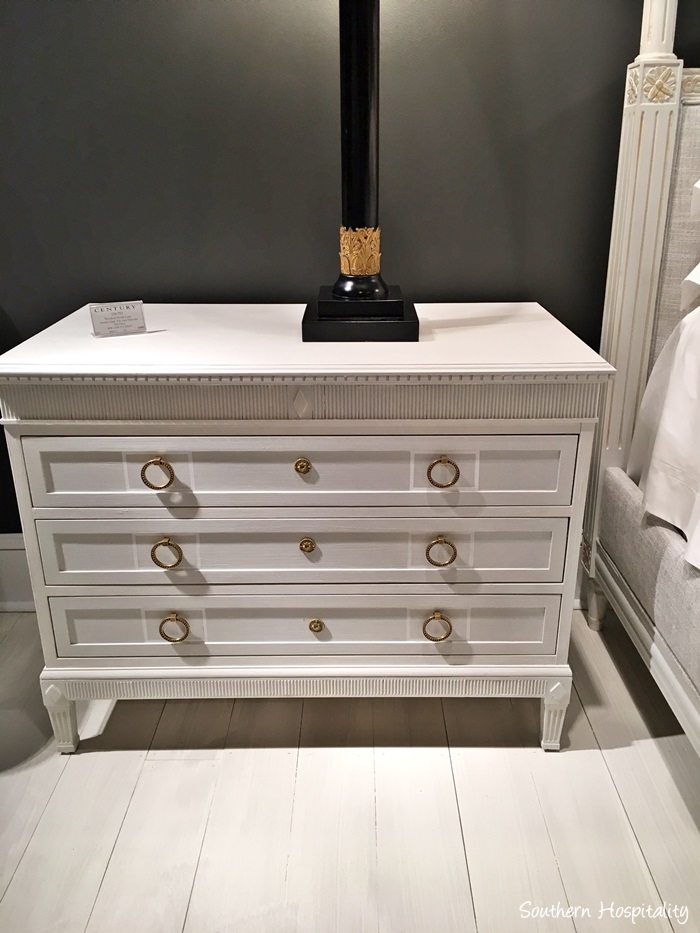 Loved this chest with its classic feel, yet strong lines and modern hardware that could fit in any room.
That soft hue of lavender again.
Gray, soft lavender/pink and cream make for a restful color palette.
More Hollywood elegance in this sofa.  Love that marble topped metal table too.
Details of pleating and buttons on a sofa from Windsor Smith.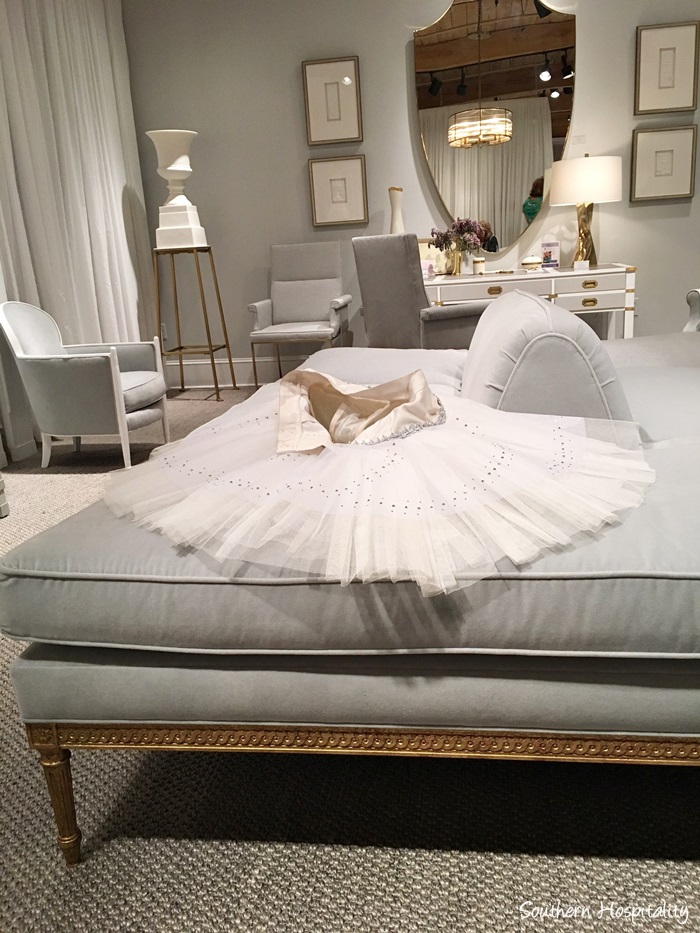 This was a large square seating bench with reclining cushion in the middle. Very elegant!  Maybe for a very large walk in closet.
The timeless and classical designs of Windsor Smith for Century.  Loved seeing all of this in person and touching the soft velvets and linens in the fabrics.
I hope you enjoyed this tour through more of the showrooms at High Point.  These two showrooms, Universal Furniture and Century were definitely a couple of my personal faves!
Note:  This post is sponsored by High Point Furniture Market.
Don't Miss a Post, join my list!