Our little town of Acworth, GA is a treasure chest of Southern beauty so I thought I'd take a break from Christmas today to share some scenes of this charming town from a bike ride perspective. Mark and I are still riding bikes as often as we can and with the gorgeous Fall weather we had this year, there were many bike worthy days. I hope you enjoy these pictures of Fall in Acworth, moving into the Christmas season.
There's a nice trail that goes around on part of Lake Acworth, through the woods and back to a neighborhood  and that's one of our normal routes when we go out on our bikes.
There's something so peaceful and serene about being near water.
It's such a treat to live near all of this.
You can see here that we still had lots of Fall color going on. We truly had a beautiful Fall season this year.
All through this trail are glimpses of the lake and the pretty Fall leaves made it all such a picturesque scene.
Some of these are similar pics, since they were taken on different days of riding.
Lots of sunshine in this one.
I love this framed shot of the two trees in the distance.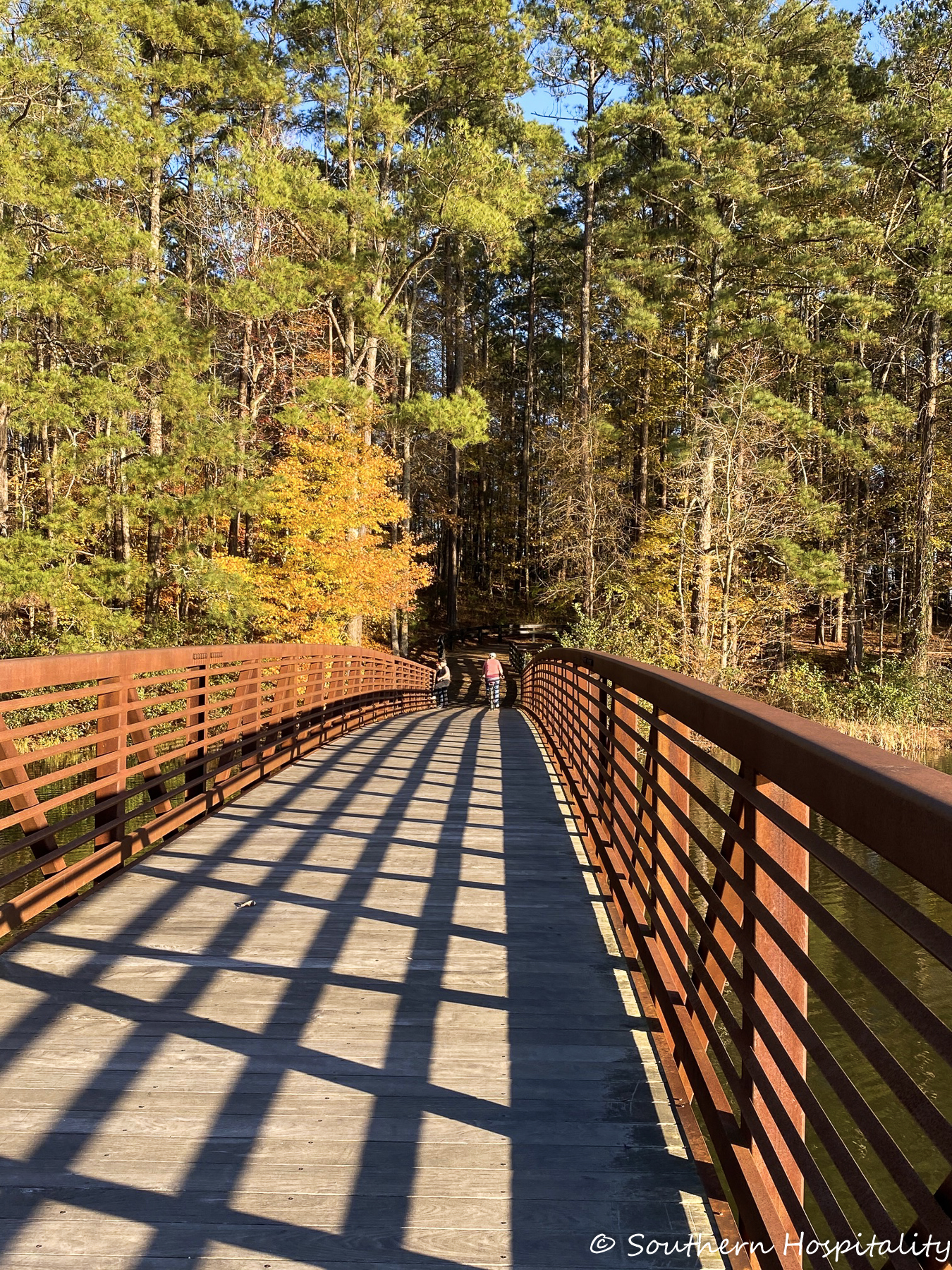 That's Mark ahead of me.
Beautiful Fall leaves.
This is a peek at Main Street, it's the heart of charming Acworth. Our Main Street with historic buildings isn't that big, but it sure is pretty. The over the railroad tracks pedestrian bridge was completed just over a year ago. The Acworth train is historic as well and that white building is the History Center of Acworth with interactive displays. I love how it's all decorated for the seasons.
I captured this picture riding through town at dusk.
Wreaths are up on the History center for the Christmas season.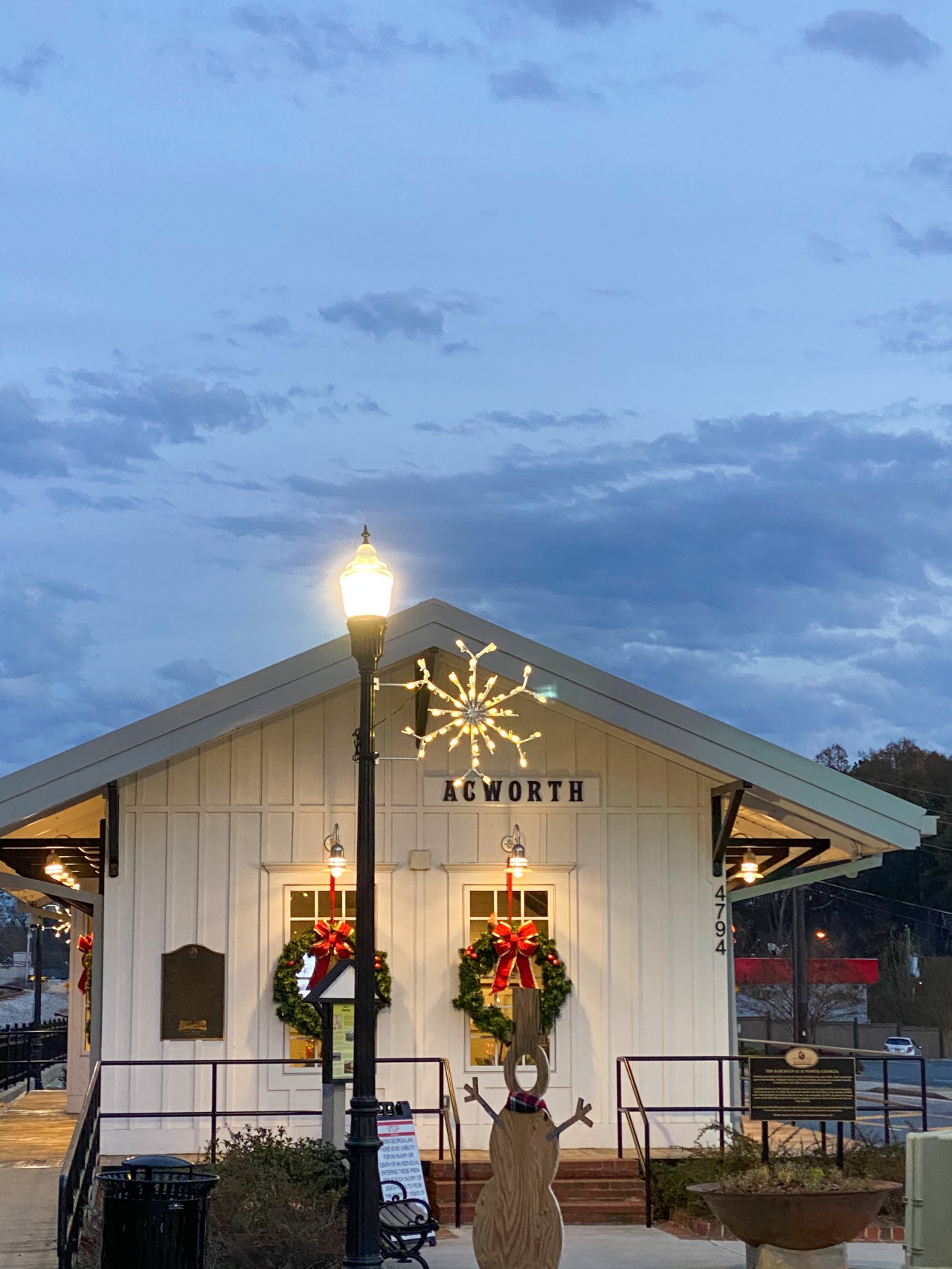 Here's another shot of the History center.
More wreaths and lighted snowflakes. It looks so pretty at night. Hi Mark!
And another angle of the same bridge at dusk. There was a pretty sunset going on. They add those cute vintage lighted ornaments on part of the downtown area that is so cute.
One of our favorite restaurants in Acworth is Henry's and after dinner there recently, I couldn't help but take a picture of how pretty downtown looked in the night sky. Those scarecrows are part of the Fall display in downtown Acworth.
There are several trees around town too, which makes for a festive season. I love this tucked into the historical buildings.
This one is in the park at Logan Farm Park.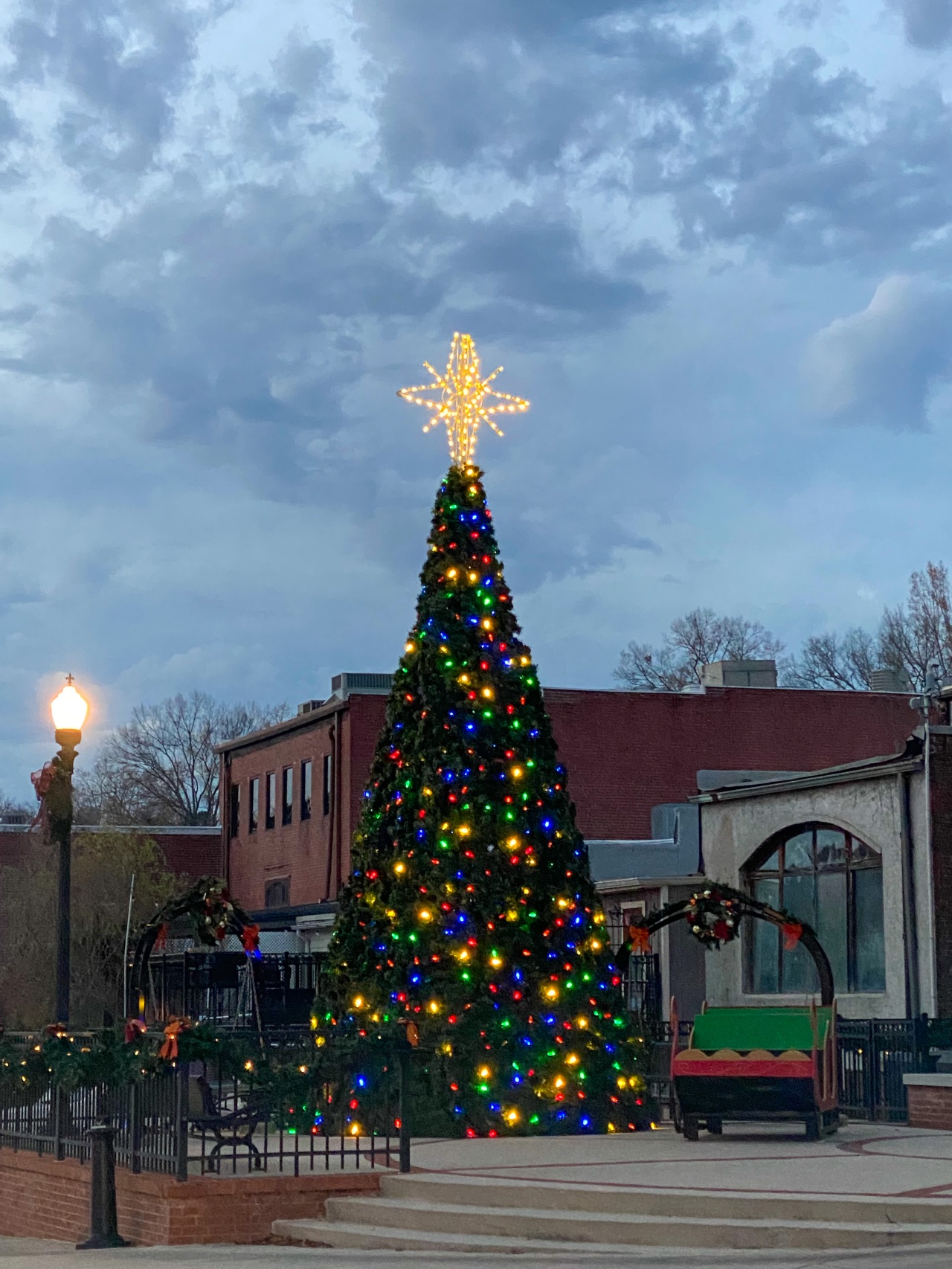 And this one is right behind Main Street near City Hall. We didn't have the big celebration this year with Santa's arrival and the big crowds, but I'm so glad to see the trees are up and shining bright.
We love small town charm and small town living and are so thankful for where we live. We love it even more than we ever dreamed when we bought our house. Acworth is a little hidden gem of metro Atlanta with so much heart and wonderful people are part of this community. We so enjoy our small town atmosphere. We're close to everything we need as well as close to our families and we can jump on our bikes and be here on Main Street in 5 minutes or 5 minutes to the lake. You sure can't beat that!
I hope you enjoyed this Fall into Holiday peek at our little town of Acworth!
Don't Miss a Post, join my list!