Even though I've never lived in an old home, I really love to tour them and have done my fair share over the years.  All the way from Charleston to Savannah, the old plantations and homes of yesteryear have caught my eye for many years.  It's so dreamy to walk through these homes and wonder how it used to be.  I definitely have a fascination for old homes. 
Eutaw, AL is in Greene County, named for Revolutionary War Hero, Gen. Nathanial Greene, who drove the British from the Southeast.  I had never been down there before. It's about 30 miles from Tuscaloosa and they've been hosting this Historic Home tour for many years.
From the Greene County brochure:  Take a step back in time and experience some of the elegance and grandeur of this historic town.  At the height of the South's "Golden Era" 1840-1860, Eutaw was known across the nation as a cultured, elegant community.  The fact that the county is bordered by two rivers spared Eutaw the fiery fate of nearby Tuscaloosa as Union troops marched south.
And let me tell you, there are plenty of beautiful antebellum homes in Eutaw.  Everywhere I looked on the streets of this small town, there were beautiful homes with history.
Eutaw has over 25 structures listed on the National Register of Historic Places and many more eligible for nomination.  The town is filled with many types of architecture:  Greek Revival, Victorian, Creole Cottages and many others. 
Some quaint and cottagey and some quite large and mansion-like.  Plantation style.  Gorgeous!
Walking to my first home tour, this one was nearby.  Gorgeous, huh?
So, come along with me to Eutaw.  I took a LOT of pics of some of the homes that I got to tour, so I'll be sharing them a post at a time. A special thanks to Ellen Banks who invited me to come to the Eutaw Tour of homes.  I had a blast!
First stop was the Presbyterian Church in Eutaw.
This building dates back to 1851.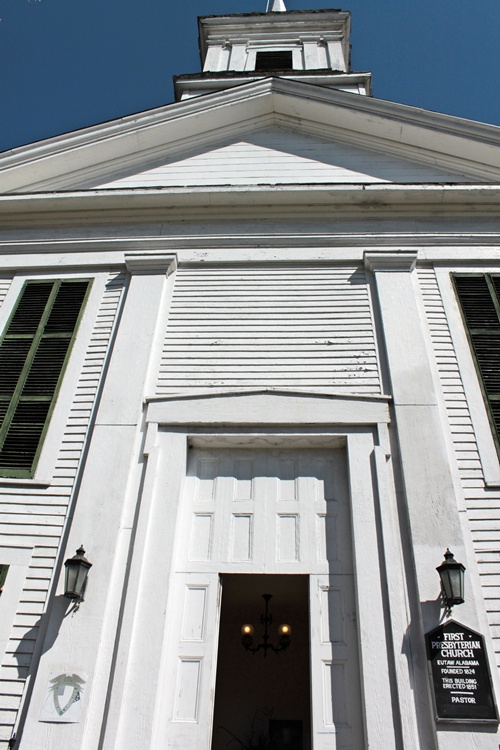 A beautiful and majestic structure.
Come in side and see the sanctuary.
Flowers greet us in the foyer.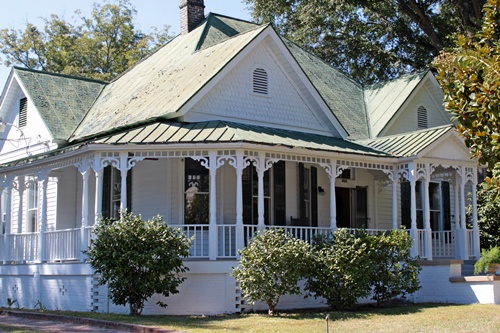 Down the street to the first home, this is a one-story Victorian owned by Jimmy and Carole Fleming.  It's a beautiful home with extensive renovations in the kitchen and master bedroom and bath.  Wait til you see the kitchen!
This porch is just wonderful and I've always dreamed of a big porch like this.
With beautiful fretwork to show off, it's a beauty of a home.
Inside the foyer, this pretty piece welcomes with a beautiful flower arrangement.  One of my readers mentioned this in the comments, but see those pretty red flowers above?  Those were growing all over town in clumps.  I did ask about them, but now can't remember what they are called, so I will find out and add it later.  Never seen them either, but they were everywhere all over town.
Not afraid of adding color, Carole has used lots of different colors in several rooms.  From the living room to the dining room, there's plenty of room here.  They are just getting moved in, so do not have everything in place yet.
Dining room is very spacious.  Beautiful room!
Peeking through to the newly added and renovated kitchen.  Wait til you see that space.  A kitchen to envy for sure.
To the right coming in the front door is this pretty red room, which can be an extra guestroom.
With its separate bath along with clawfoot tub, gorgeous space.  Don't you love those floors?
Moving on to the kitchen, this is a huge built-in butler's pantry.  What a grand piece and perfect for holding all those dishes and collectibles.
Office space to the left and then this huge, gorgeous newly done kitchen. 
I adore this kitchen.  It's just perfect in my book.
Couldn't you cook up a storm in this space??
Beautifully detailed cabinets.  Love those handles and pulls. 
Gas range with pot filler and beautiful subway tile.
You can see from the smiling homeowner, Carole, that she loves her new kitchen and I can definitely see why.  She showed me all the special features and pull-out drawers that were incorporated into her cabinets.  Perfection!
Carole wanted me to be sure and mention that her contractor for the renovations, including the kitchen is Gary Wilson, with helper Jammie Jones.  They did a fabulous job.  She said that the kitchen and breakfast area were added on and incorporated into the house from an older part and it all certainly works now.
Looking out the back door to the backyard, more fretwork and a beautiful ceiling.
They even have a guesthouse in the backyard.  How nice is that?
Her hubby has been collecting old tools and had some of them displayed.  They have several outbuildings in the back too.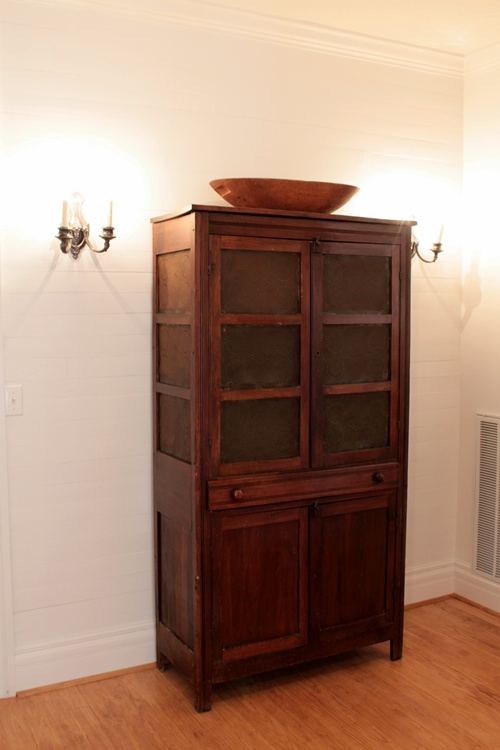 Back inside.  Love these plank walls.
This is the master bedroom with a newly renovated bath.  And you are looking into a huge room that is now a closet.
How would you like to have a closet this big?  There are built-ins and lots of cubbies for storage that you can't see in the pic, but WOW. How great is that?
Master bath is now plenty big and beautiful.
Nicely tiled shower.
Spacious his and hers sinks.
I hope you enjoyed tagging along with me on this wonderful home tour. I have several other homes I'll be sharing too, so stay tuned for those in the coming weeks.
Thanks so much to my new friends in Eutaw, Ellen Banks and her daughter, Sarah, as well as Thom Smith, whose home I also got to tour.  They invited me for a really special lunch, so I can't wait to share that with you too. I've got a ton of photos to edit and several MORE beautiful homes to share from this pretty little town.  Talk about Southern hospitality, they have it down there!
Don't Miss a Post, join my list!