It's been awhile since I shared some fashion ideas, but I'm back today with some holiday ready party wear! The holidays will be here soon and it's always fun to plan ahead. I love red plaid this time of year and J. Crew has some cute things. Just adding one piece with black pants is a great way to get a holiday outfit, something a little more elevated. Black is always a nice choice for parties and events and you can dress it up or down. I love wearing a pretty blouse or top with black pants so I've added some really cute tops that can easily be worn for an outing this year. Most of these are from Chico's, they do a great job with dressy blouses. I bought that one with the colored chiffon floral sleeves, it's so adorable on! See below. Embellished pants and jeans are also a trendy look and they look great dressed up as well. Enjoy these shares!
I've got some health supplement updates at the bottom of the post too, so scroll down for that!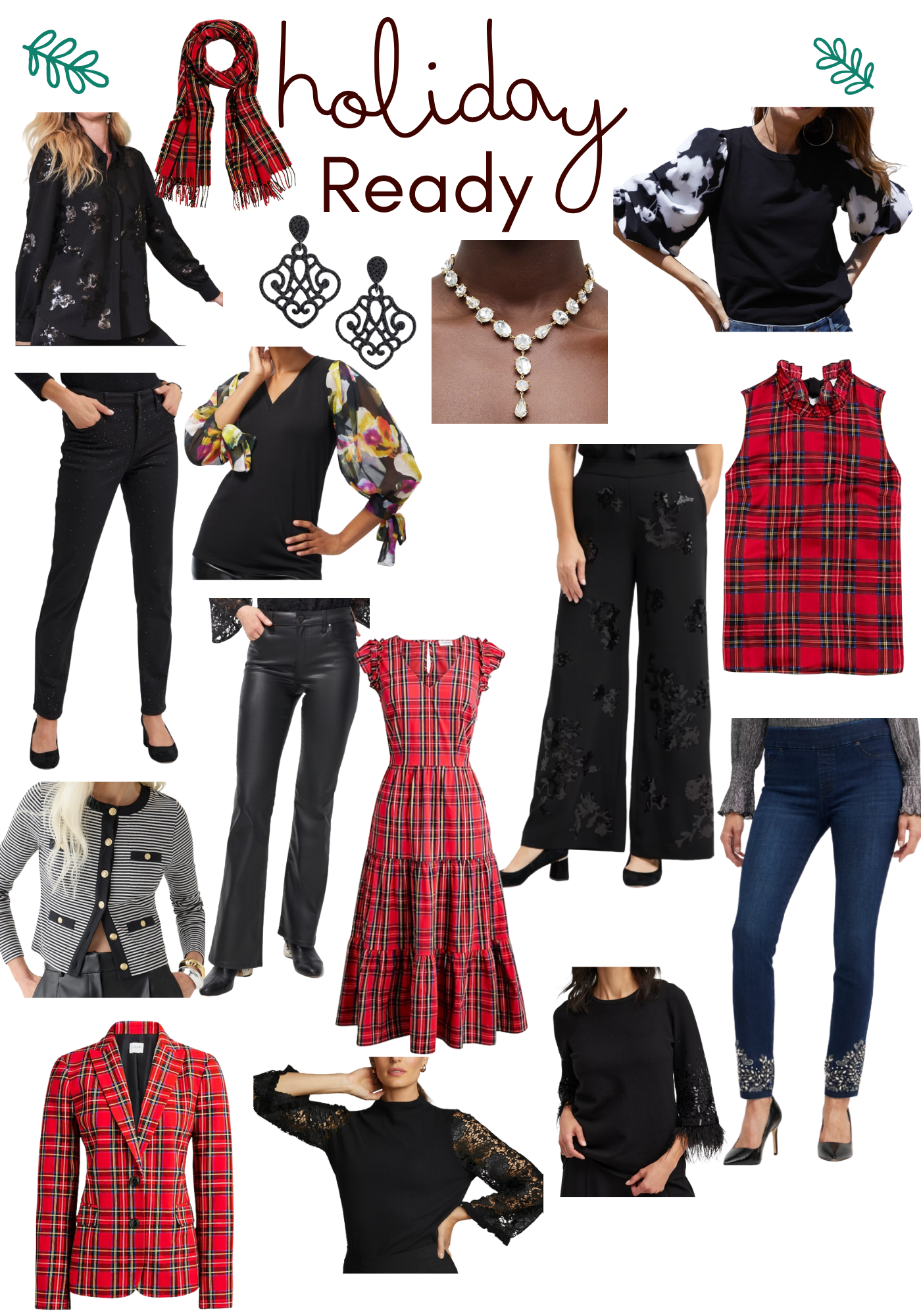 You can find all these links below in the shopping widget, just click through the pictures and open the ones you're interested in seeing. (Affiliate links used below). These are some great holiday party outfits and it's not too early to go ahead and order while sizes and availability are still in stock. The holidays will be here before we know it.
As I mentioned, I couldn't resist this black floral chiffon sleeve top from Chicio's. One of my new Instagram friends wore this in Las Vegas and I had to have it too. I'm really going to enjoy this one. I buy size 0 in tops and most dresses and some things .5 (size 6). Sometimes in Chico's clothing you just have to try it on, but that usually works for me.
I also wanted to share this faux sherpa coat jacket with you that I bought to go on our trip. I'll definitely enjoy it during the colder months we have. It's from Gap Factory and very comfy and cozy and a perfect fall color. I got a Medium so I could wear sweaters under it. It has deep pockets and it's on sale now for even less than what I paid.
One more thing I wanted to share with you today. After my cataract surgery on my right eye, I quickly found that I was even more dependent on reading glasses for close up work and even reading my phone. I have had reading glasses for years for fine print, but since I wasn't a candidate for the multifocal lenses in cataract surgery, I knew readers would be even more a part of my future. And they are…so if you're in the same boat keep reading. When I finish with surgery on my second eye at the end of this month, I'll do a post about my cataract surgery experience. It sure helped me to hear from others who had been through it already!
I found this set of 3 sunglasses with built in readers on Amazon and really like how they work. They aren't expensive at $16.99 for the set and they do the trick for me. They are oversized too, so are fashionable as well. My next eye will have surgery done at the end of this month, right after Thanksgiving, so I'll be so glad to get it all behind me. I love the outcome with my first eye and will be so happy to have to wear contacts anymore for the first time in 50 years! Woohoo! Reading glasses are a small price to pay to get rid of contacts once and for all. And these reader/sunglasses are going to be so valuable. Check them out! I like all 3 colors they come in. Now I won't look like a crazy person wearing readers on top of my sunglasses! Mark will be so glad!
Keep reading for a health update on my cholesterol. Some of you were interested in what I've been taking so I'll share below.
I mentioned briefly in a previous post that I had been dealing with high cholesterol for the last couple of years. My PC doctor has been trying to get me on statins and I keep saying no. So I've been working on getting my numbers down. Diet is iffy on lowering them for me, because mine is hereditary and I read that it's hard to lower sometimes just with diet. Two years ago I got on red yeast rice (from several people on Instagram who said it worked for them). I was on Cholesterice for a whole year and my numbers went from 258 to 257 last year (womp womp). So after that I wasn't sure what I was going to do to lower them. I sort of just didn't worry too much about it, but I've been going to a supplement store in my town and talking to a gal there who seems very knowledgeable about natural medications. I told her my concerns and she put me on these 3 things above: Curamed, French Grape Seed, and Artery Strong. All of these are supposed to help high blood pressure and cholesterol. I wasn't sure it would help mine, but I have been taking this trio for a year now. I went back to get my bloodwork done at my annual physical a month ago and lo and behold, my cholesterol went down 40 points! I was shocked actually and figured it would not go down that much. So now I'm at 216 and I'm very happy about that. Over 200 is still considered high in the medical world, but I'm still not getting on a statin. I'm willing to take my chances and from what I've read, they do not necessarily extend life anyway. So that's an update on my health situation and I figured I'd pass on what has worked for me! I always appreciate when people share with me, so I'm doing the same. All of those are available on Amazon and I'm linking them below (affiliate links). Of course, you may want to check with your own doctor for guidance as well (I didn't do that, I just did it on my own):
Don't Miss a Post, join my list!