Every year, I am always happy to get the invitation to visit the new Atlanta Homes & Lifestyles magazine sponsored showhouse, Home for the Holidays every year at this time. It's usually in the Buckhead area of Atlanta, known for its beautiful lush trees and large elegant homes inside the perimeter. This one is in the Chastain Park neighborhood, which is a beautiful area of the city. I love driving through and looking at all these stately homes, none of them cookie cutter at all. The home is open to the public from now until December 10th, so don't miss out if you're in the Atlanta area. It's a holiday treat to behold!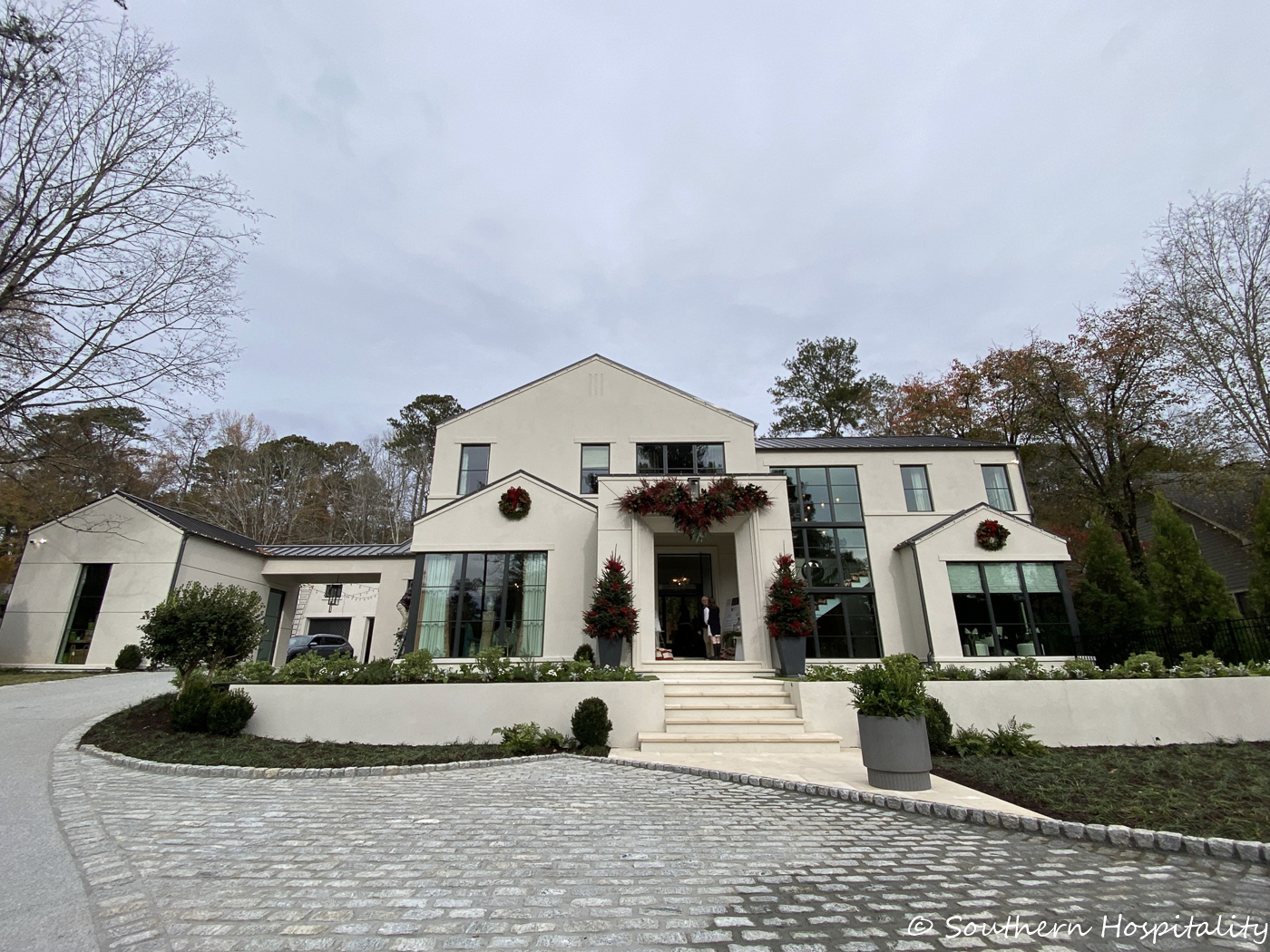 The house was built by Castro Design Studio in their first Atlanta Homes & Lifestyles showhouse, partnering with builder Pradera Group and Kit Castaldo Designs on a soft modern home with impeccable detail and lofty spaces throughout. Clean lines, geometric shapes, top-of-the-line fixtures and a sleek exterior offer the ultimate in luxury living. At 12,500 s.f., this California contemporary home is perfect for showcasing the talents of the Southeast's top interior designers. It's a holiday treasured holiday tradition for many in Atlanta, myself included.
The covered stucco entryway features a twist on the traditional front porch, leading guests inside past the oversized steel pivot door and reveals the stairwell and grand family room.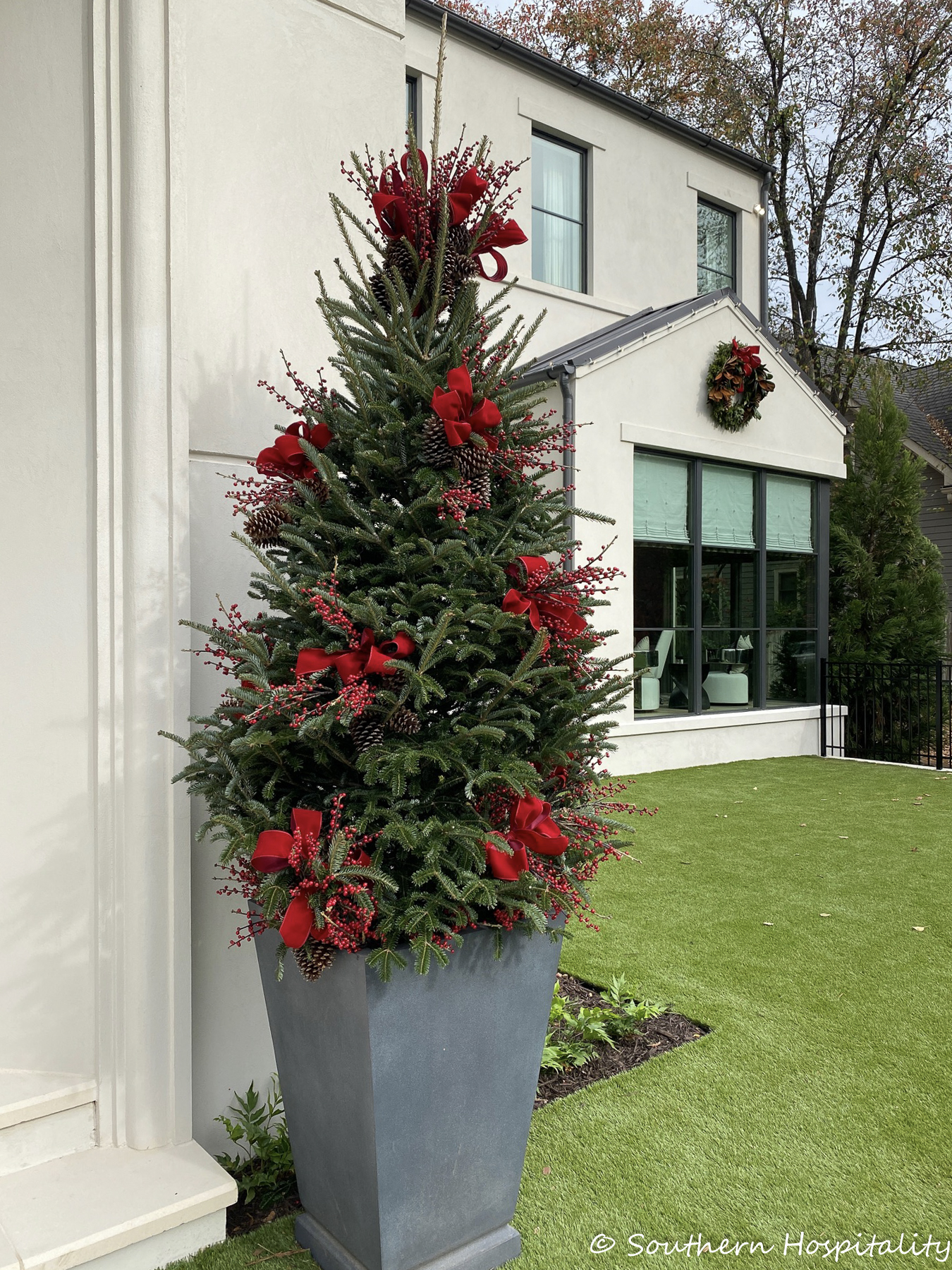 The house is decorated for Christmas, so enjoy the tour! I'll not narrate to overly much, but will share each space and the designer who designed the spaces. Make a note to look at the home itself and past the interior design, since that is subjective for all of us. The finishes in the house are jaw-dropping gorgeous, so definitely don't miss those as you browse the interior design choices. This is one magnificent house!
Enjoy the house tour! As always, I took a ton of photos capturing most every vignette and designed space in the house. It takes a lot of pictures to show it off, so it's hard to be minimal in covering the house. If you get a chance though, go in person it's always better in person!
A look at that black steel pivot front door, truly stunning.
Main Level
Barbara Westbrook of Westbrook Interiors is the honorary chair this year and you'll see her talent in the family room of the home. The charity beneficiary this year is Children's Healthcare of Atlanta.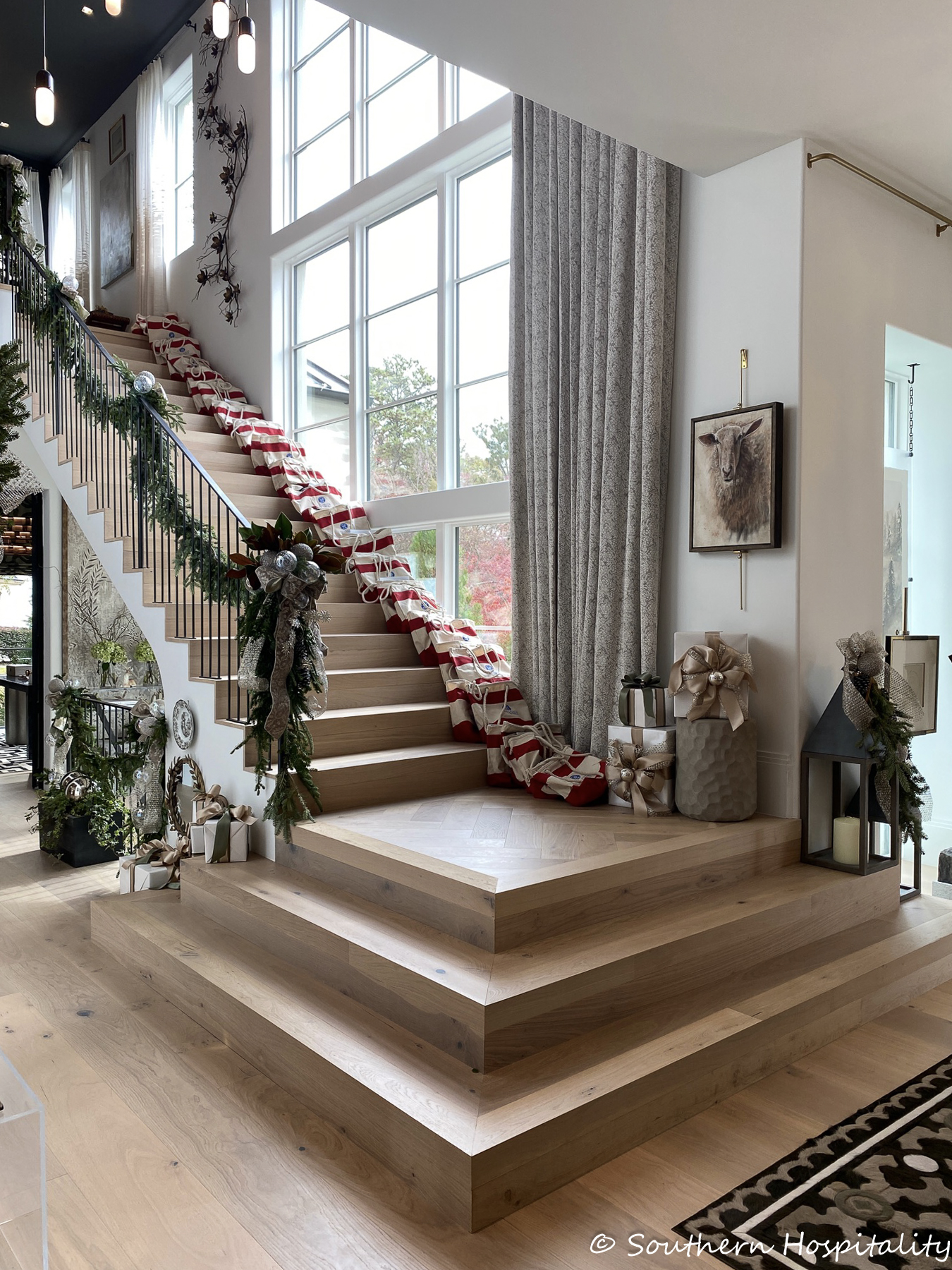 The grand stairwell. I had several people ask what those bags were on the stairs. Those are bags for us (the media) who came to cover the house. They send us home with goodie bags with a magazine that tells us all the details on the house and designers as well as a couple other things.
Dining Room: Brittany Cason Johnston, Brittany Cason Interior Design
Foyer, Stair Hall, and Powder Room: Kim Regas, Regas Interiors
Kitchen, Breakfast Room, Scullery, Butler's Pantry, & Vestibule: Kit Castaldo, Kit Castaldo Design
It's very hard to take pics of the kitchen, since they have delectable treats for us on the countertops.
Breakfast Room
Mudroom, Pool Bath, & Laundry room: Erika Hollinshead Ward, Erika Ward Interior
Side note: Erika is a sweet friend who I've known for over 10 years and she's super talented. It was great to see her featured.
Back Staircase
Porch & Outdoor Living Spaces: Anne-Louise Wolfe with Universal Furniture, Anne-Louise Wolfe, Ltd. 
Family Room Barbara Westbrook, Westbrook Interiors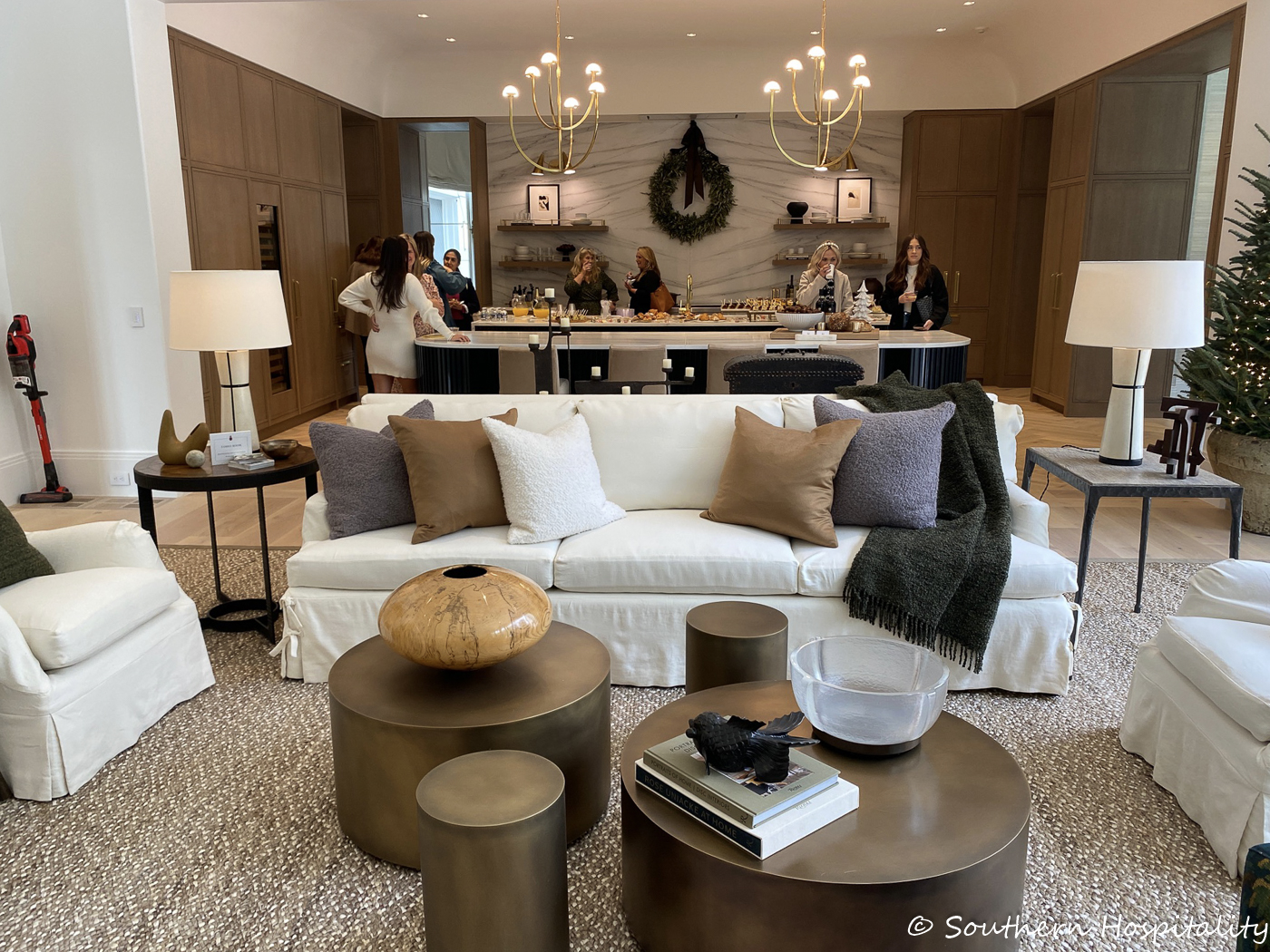 Scullery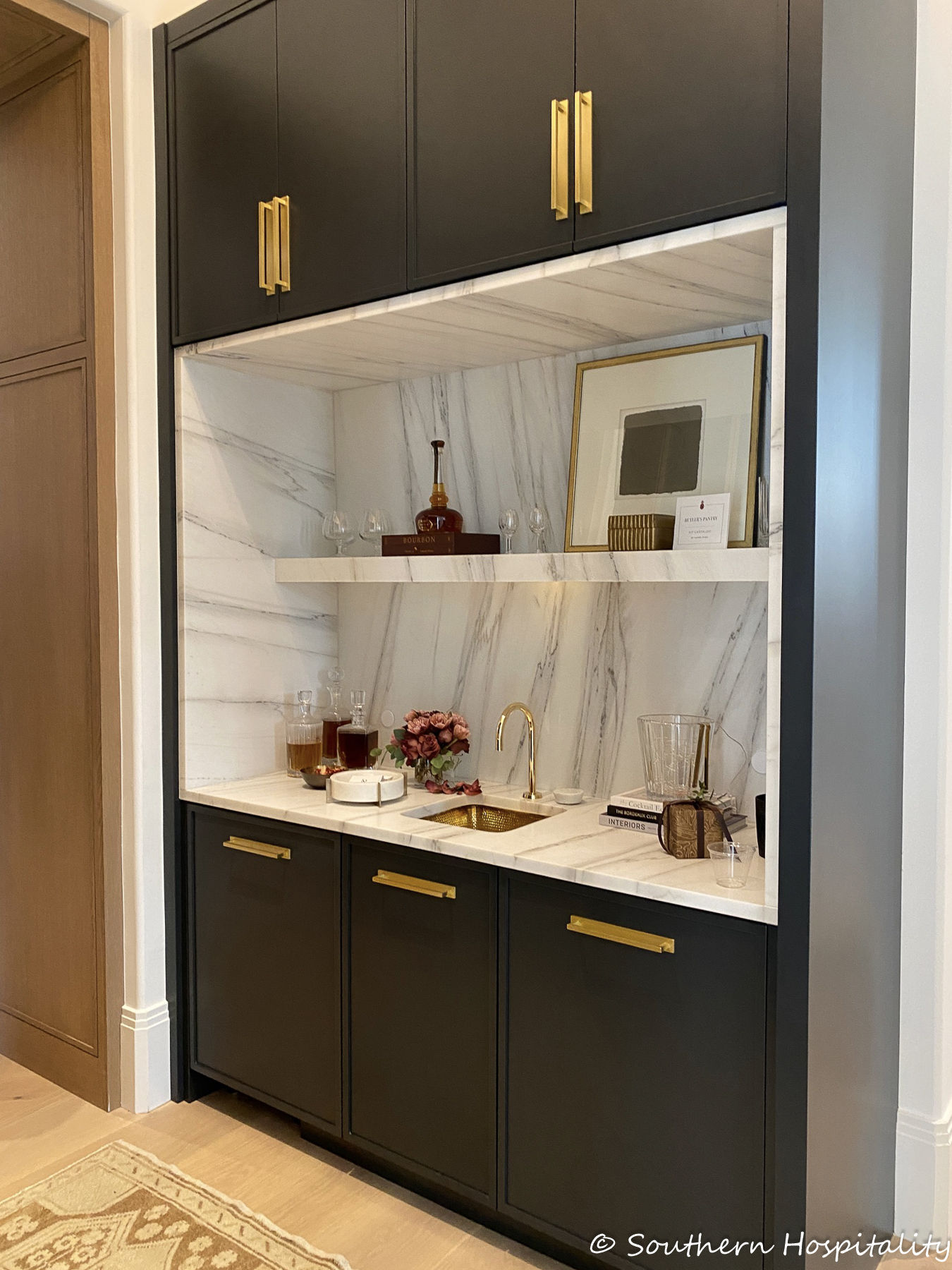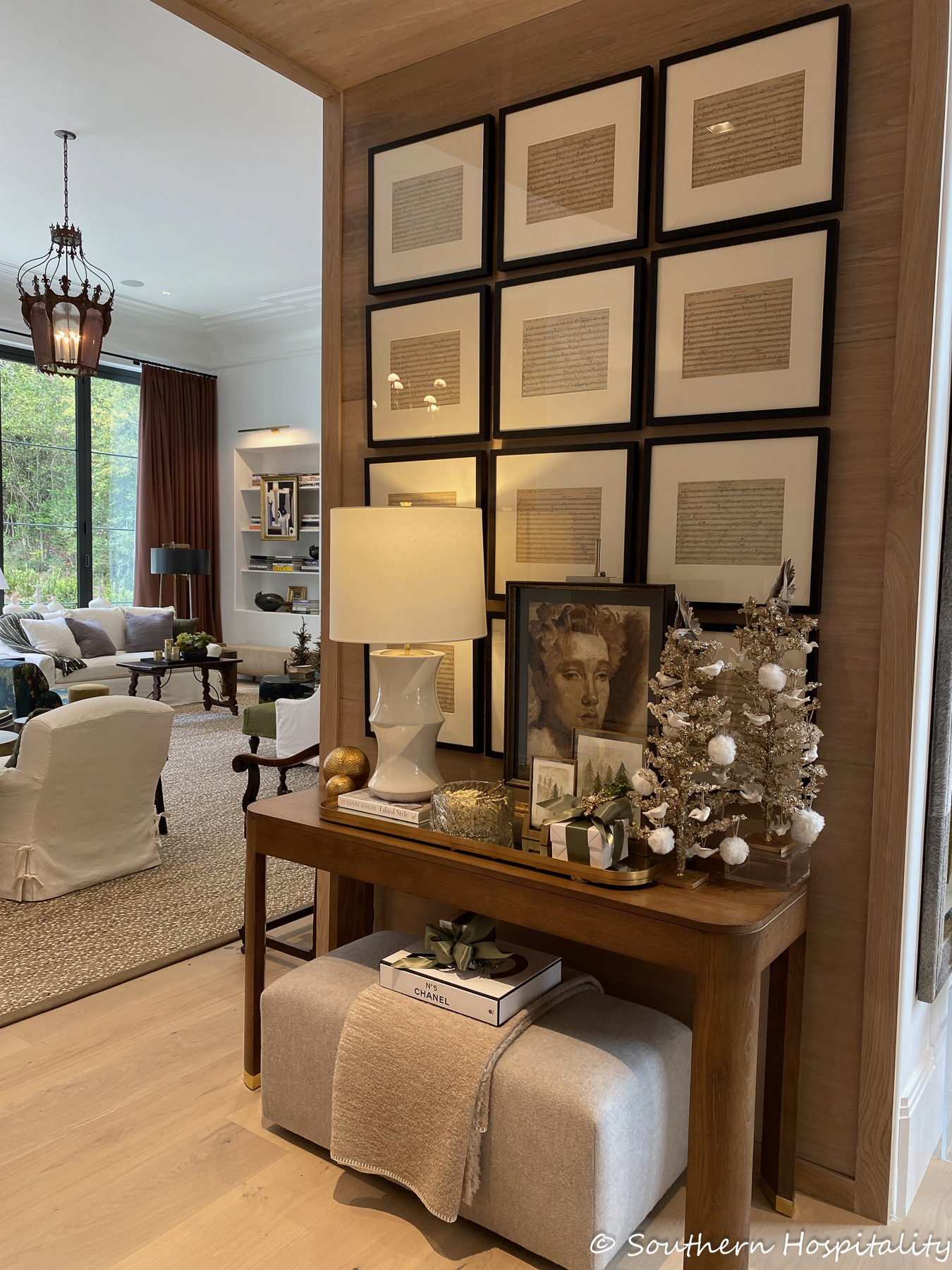 Study: Justin Q. Williams, Trademark Design Co.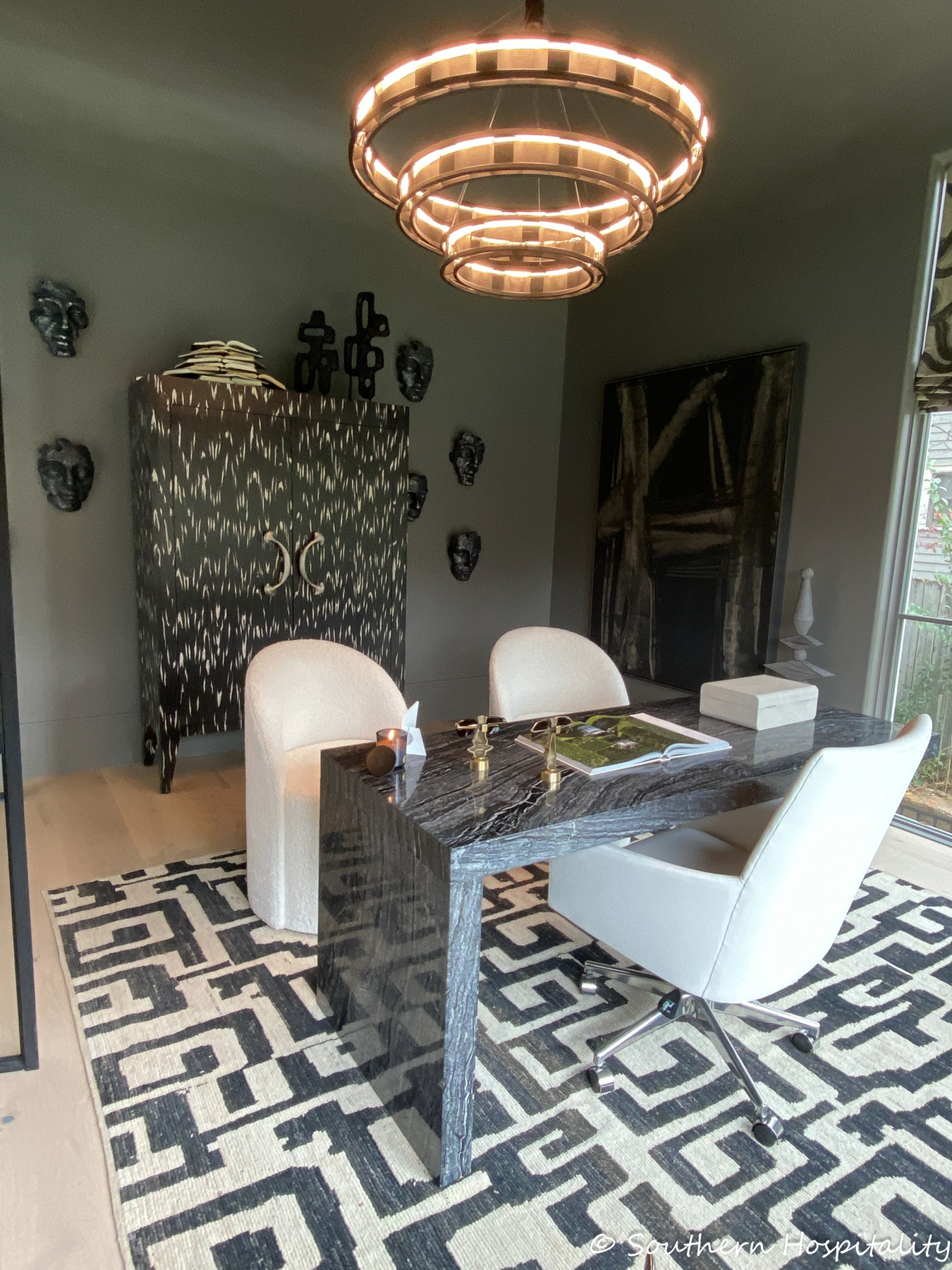 Guest Bedroom Suite: Jessica Bradley, Jessica Bradley Interiors 
This was my favorite bedroom in the house! The soothing neutrals are beautiful.
2nd Level
Sitting Room & Adjacent Hallway: Christy Dillard Kratzer, CDK Interior Design
Bedroom & Bath 2: Shane Evans & Deena Levine, Ansley Interiors Furniture & Design
Bedroom & Bathroom #4: Kristan Moore, Kristan & Co. Interior Design
Bedroom & Bath #3: Lorraine Enwright, Intuitive Dwellings by Enright Design Inc.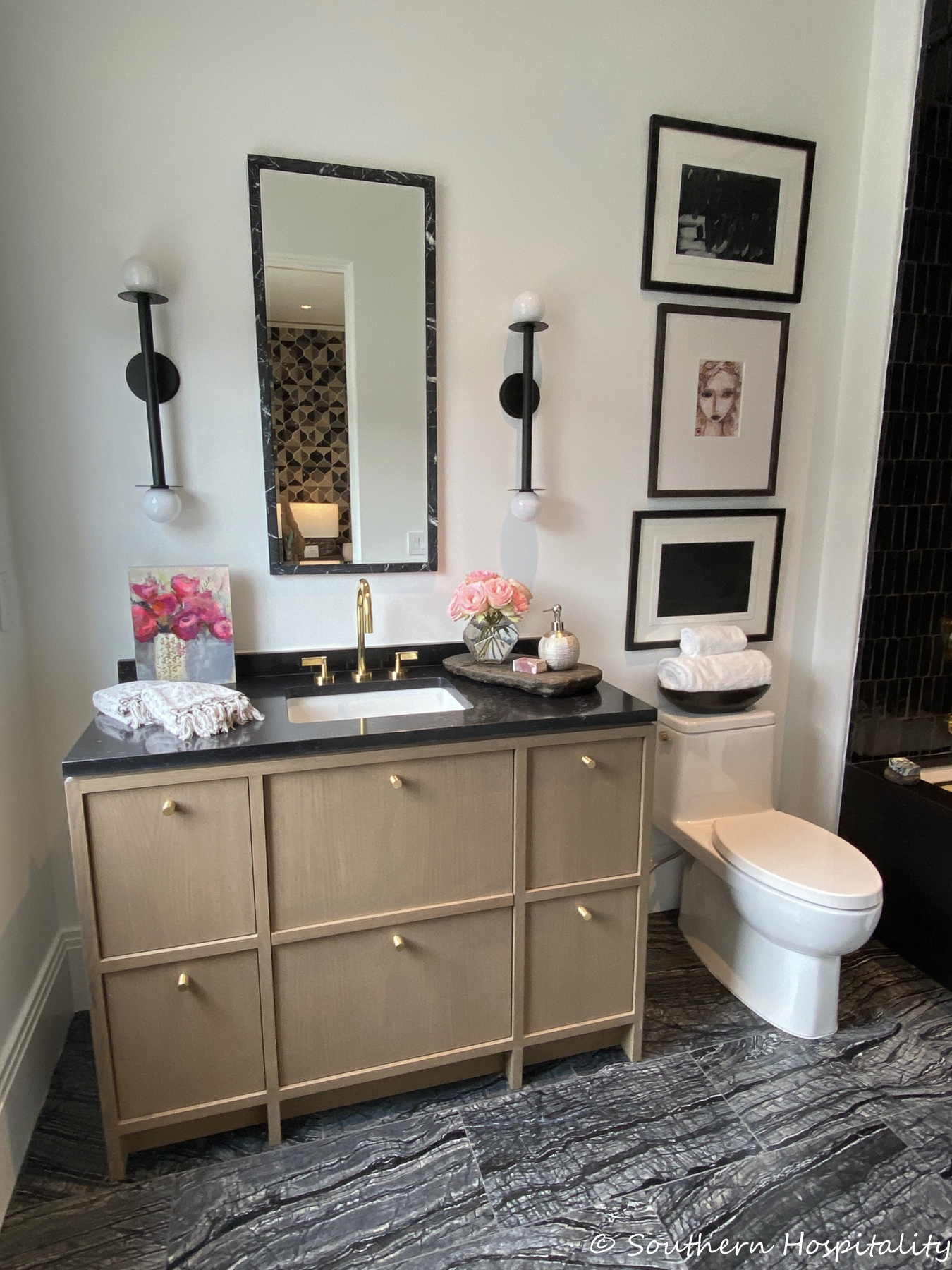 Upstairs Laundry & Facing Hallway: Eryn Houck, Bellwether Design & Interiors
Bedroom & Bathroom #5: Michele Gratch, Michele Gratch Interiors
Library & Stair Wall: Whitney Durham, Whitney Durham Interiors
Primary Bedroom, Bathroom & Hallway: Chris Holt, Holt Interiors
Primary His & Hers Closets: Bailey Ward, Bailey Ward Interiors
Top of stairs on Main Level
Lower Level
Lounge & Wine Room: Ashley Potts & Emi Mason, Potts Mason Interiors
Game Room, Public Powder, & Hallway: Valerie Garrett with Millieu, Valerie Garrett Interiors
Golf Lounge: Kristin Wadsworth, Kristin Wadsworth Design
Thanks for stopping by! It was a lot to see, but I hope you enjoyed this beautiful home all decked out with stunning furnishings and also decorated for the Holidays!
Don't Miss a Post, join my list!