Did that title make you click over to see what this might be about? 🙂
No, silly people, not MY honeymoon, it's those cute newlyweds, Lauren and Philip's place in the sun.  They headed to Costa Rica for a week after they got married in March and when I saw their beautiful pics, I just thought you all would love to see them too.  Am I right?
Lauren and Philip opted for an adventurous honeymoon and they were not disappointed.  They absolutely loved it!
This is one of the lodges they stayed during their visit. I think they moved to another place too, later on in the week. 
Gorgeous, tropical setting.
A little massage outdoors, how fun is that?
I'm not quite sure how that bathtub worked, it sure looks like it was open for all to see in, but what a dreamy setting.  Oh, I guess you close those curtains on each side. 
A little relaxing was in order.
Lauren loves to read, so always has a book with her.
Hammock swinging for two!
A tropical bed with netting, doesn't this look like something out of a movie scene?
More relaxing from Lauren.
Check out the bananas, how fun would that be to pick your own each morning?
Ahh, a hammock is so fun.
So, now comes the adventures!
They hiked.
Saw tons of beautiful waterfalls.
They took plenty of waterproof cameras with them, as well as videos and got some great pics and videos from their amazing trip.
They played in the waterfalls. 
Climbed on rocks in and out.
More waterfalls and beautiful views.
So, I have never been to Costa Rica, but these pics give me a great idea of what it is like.
Lauren loved it!
She was in her element. 
How pretty is this blue water?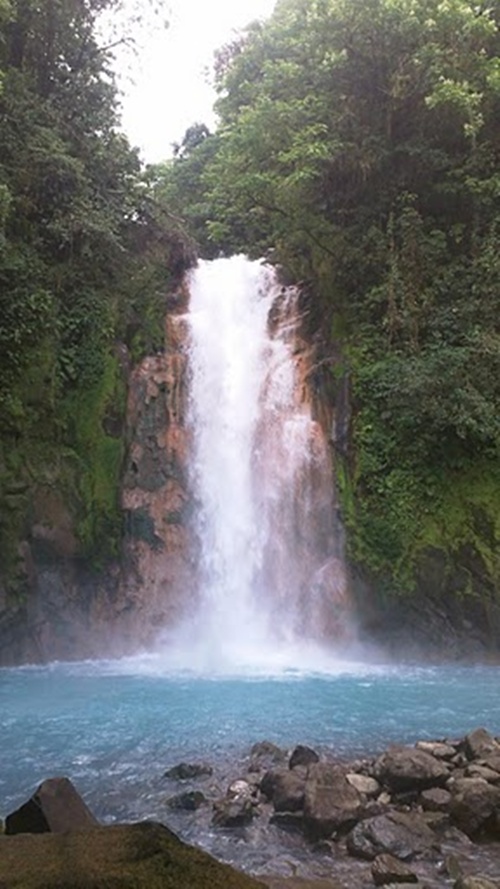 Gorgeous!
Mountain vistas too.
The cute couple and their first week of husband and wife.
Beautiful foilage.
I'm sure there was some history here too.
I used to love walking on these hanging bridges in NC as a kid. Plenty of them there too.
Cutie-pies!
Awww!
Checking out the water.  I think the water was really cold.
But that didn't stop them from enjoying it all.
That's a glimpse into Costa Rica!  Have any of you been before?  If so, tell me about it.
I've never been, but it looks very intriguing!
Don't Miss a Post, join my list!