As I've mentioned before, I am involved in House for Hope, a wonderful charity showhouse up in Franklin, TN and this weekend is the grand opening.  If you're in the area, I'd love to say hi and meet you and will be there this Saturday for a couple of hours (around 11 to 1 pm)  and all the designers/bloggers will be in our rooms to meet and greet everyone who comes in.  I would love to see you there and am thrilled to be a part of this fantastic endeavor.
The house was built by Carbine and Associates, a talented group in Nashville.  I had the pleasure of visiting the house a couple of weeks ago as it was being finished up and we were able to get in our spaces and get them decorated and ready for the show house to open this coming weekend.   Tickets are $15 and you can purchase them here.  All proceeds go to a very worthy cause, children's charities in Nashville, so a win-win for all of us!
The front yard was just being finished and sod went in shortly after this, but isn't this house gorgeous?  It truly is a dream home for sure.
Thrilled that my blog name is on the board under designers.  I don't really feel like a designer, but it's sure fun playing one on my blog.
I got to see my longtime blog friends, Karianne and Ashley while I was there too and it was great catching up with them. We all don't get to see each other often enough and we talk like crazy when we do.  Blogging has brought friendships with so many wonderful women across the country.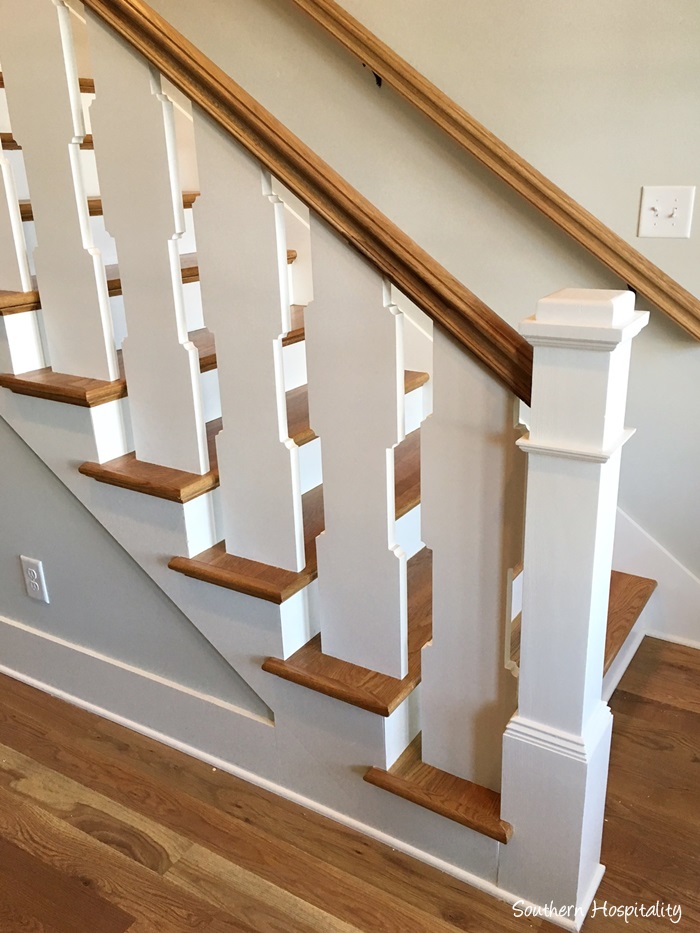 I took a few snapshots of the house before it was all furnished so you can get an idea of the craftsmanship of this beautiful newly built modern farmhouse.
The kitchen adjoins the family room and is so spacious and beautiful.
Truly a dream kitchen for sure.  I can't wait to see it all decorated by my friend, Lucy, who has this space.
Ashley and Jamin have the kids bunkroom/bonus room and it's so cute with these built-in bunks. Not to mention that gorgeous ceiling.
One thing that I really, really love is beautiful millwork and this house has it going on with style.  Love these doors too, these seem to be super popular door styles, as I'm seeing them in many newly built homes now.  They look old fashioned with so much charm.
It really was so fun to see my design come to life, from drawings on a floor plan, to the space being built out to the way I specified it, down to the tiled floor and backsplash and all the other elements that make up the mudroom and laundry space.  This was my first time doing anything like this and it was really fun and rewarding.   We did have to change out the black light fixture at the last minute as this one hung down too far, but the replacement is very pretty too.
We were so fortunate to get artwork loaned to us by York & Friends Fine Art in Nashville.  I chose what I wanted for my space and the owner, Ron York, came out and delivered our art pieces for our rooms. What a difference artwork makes!
I had a custom cushion made for the bench at my local place here in town, Fringe Benefits.  They did a great job on sewing this pretty cushion and it adds a lot of color to my space.  A huge shout out to Homegoods for donating a gift card for me to use to buy accessories for the spaces.  That made a big difference too for me to be able to go there and find all the rugs, pillows, baskets, and small accessories to cozy up this area.
Rugs are both from Homegoods.
I love the addition of this large original artwork in the laundry room.  I'd love to add more original art to my own home. The builder built in the washer and dryer with a nifty top that swings up in case they need to remove the appliances and it makes for a nice work space too.
I specified a small sink with cabinets up and below be added along with this farmhouse sink that was donated for the project.  It's a perfect fit in here.
So nice to see my hardware choices in place and I love how they turned out.
You can see how small this space is coming in off the garage out that left door. Those stairs go up to the huge bonus room that KariAnne decorated, so I can't wait to show you all the spaces when I get back from my trip.
I chose this pretty tile and had them lay it in a herringbone pattern and I'm in love with this too.  Herringbone is always a good design choice.
The hummingbird art work looks so good in this small mudroom space and adds a lot of color and texture.
Light fixtures I chose above, just simple but elegant lighting.
The mudroom bench with custom cushion and pillows add lots of texture in here.
Above the bench are two cubbies perfect for storage baskets and I added pretty potted faux green grass in a copper and galvanized bucket to the top of the cubbies.  All of this from Homegoods.
And one last shot at the light in the mudroom area.  All in all I'm so pleased with how my space turned out and I'm very happy to see it come to fruition and all for a good cause.
I really hope to see some of my readers in Franklin this weekend and if you see me, please say hello!  Again, the house is open to the public this Saturday, March 4th, I think at 10 a.m. so buy your tickets and stop by and see me  if you are in the area. I'd love to see a nice turnout for this charity event!  I'll share the entire house when I get back.
Don't Miss a Post, join my list!