If you have read my blog for long, you know that I adore house plants of all kinds.  They add so much life and energy to a home, not to mention the texture and greenery that they bring to a room.  Add a plant and just see what happens in your room.  It truly does make a difference.
The day before my Open House, I received a new box of plants from Costa Farms.  I'm working with them this year and they are sending me various plants to use around my house.  The last ones were outside and these are all indoor plants.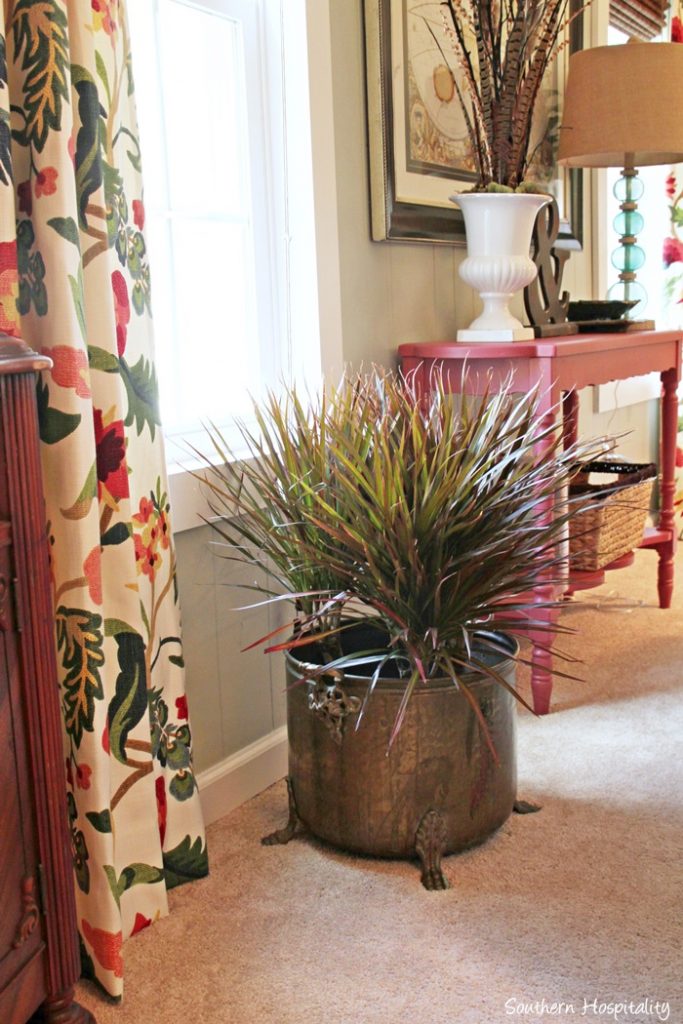 I was thrilled to open the big box of beautiful house plants and find all these goodies inside.  This Madagascar Dragon Tree is just gorgeous, with the little bit of burgundy on the leaves and the textural quality it has.  There are 3 of these and I grouped them together inside my thrifted brass planter, which was just waiting for a live plant to go inside.  Perfect timing!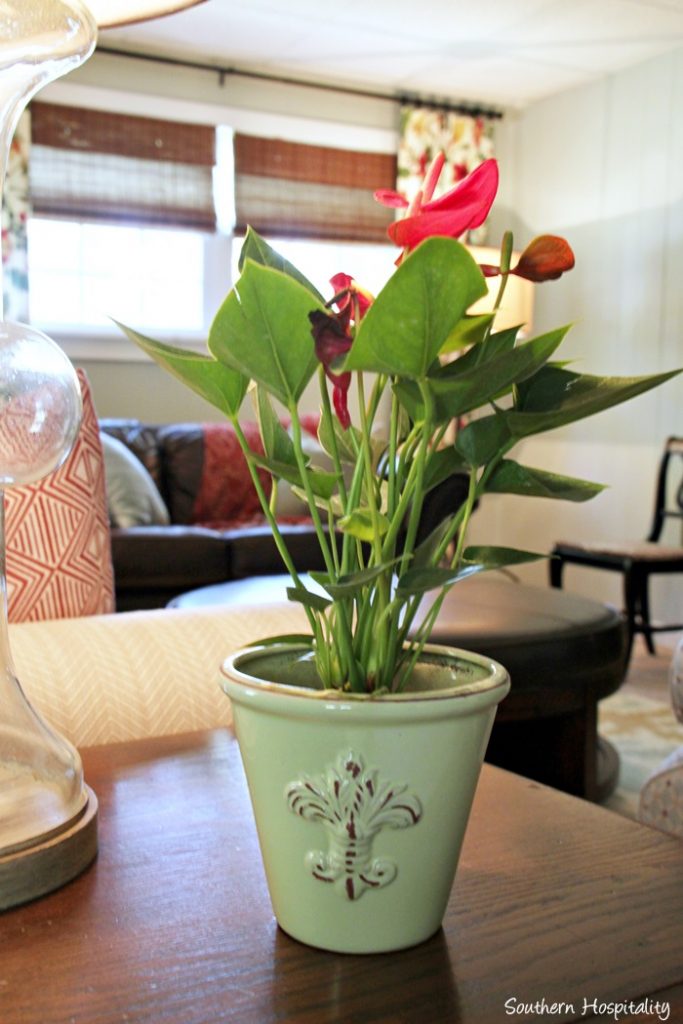 These Anthurium plants are exotic and colorful with red flowers on top.  I was running around my house finding containers to put all these in.  Luckily I have plenty and found spots for all of them.  They really do add a lot of color and texture on a tabletop.  You can find out all the details on these plants by clicking the links to Costa Farms.
The Peace Lily is one of the most common houseplants around, but it is a trooper and lasts and lasts. I have had many of these over the years and as long as you water them, they will reward you will green growth and pretty white flowers.   Two of these fit nicely inside my brass thrifted planter that I found at the beach for $3.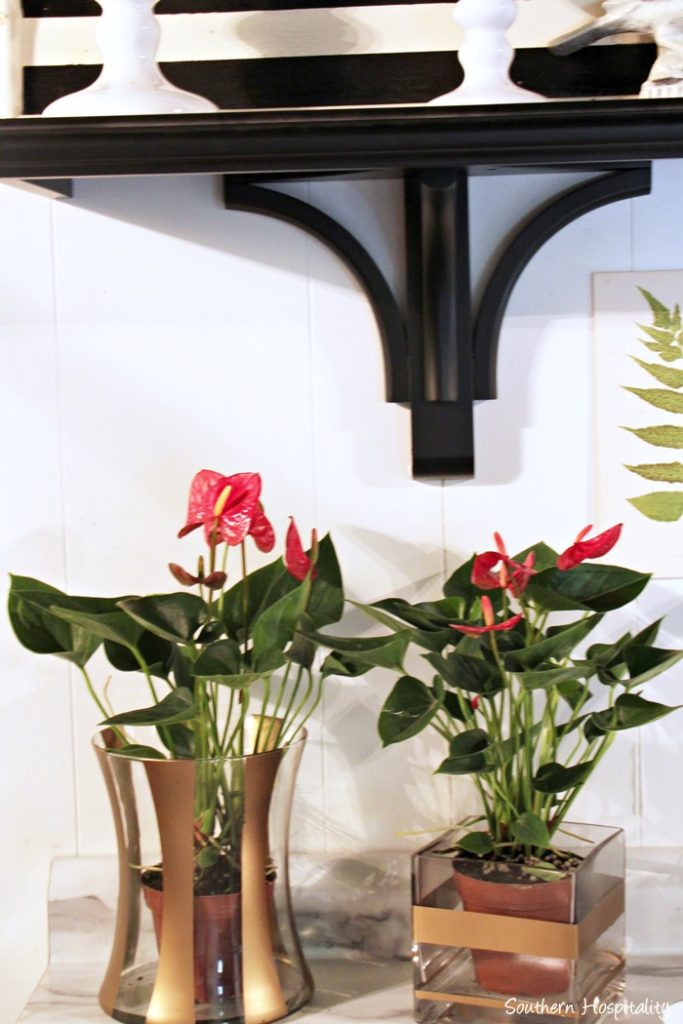 More beautiful Anthuriums that I added to painted gold striped vases that were a DIY project.  I love that you can plop plants in so many containers and dress them up.
They sure do add a lot of color to my laundry room counter, but I may have to move them to the window sill to get them more light.
It's great to have a window in here now!
Upstairs in the guest bath, I took this Peace Lily out of the container and it just fit inside this pretty vintage white planter I had on hand.  My roommate took this one to her bedroom so it will get some natural light from the window.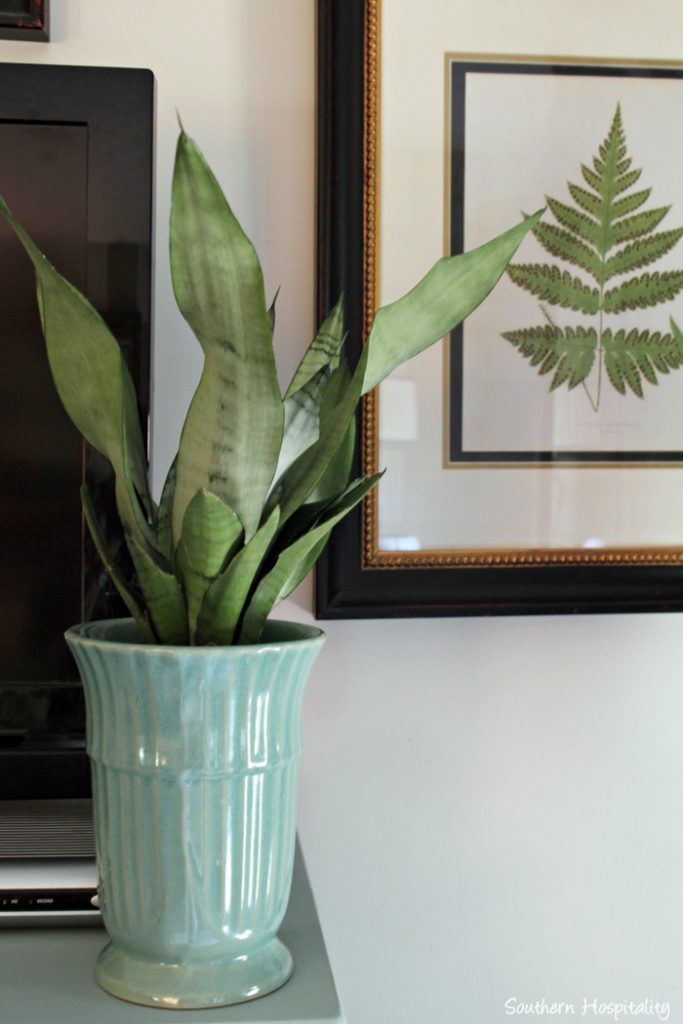 Snake plants are so easy to grow and don't require a lot of care.  I have grown these before, but didn't have any in my house recently until now. I'll definitely try to winter all of these over in the house and enjoy the color they bring to every room.
Another Snake plant inside an Ikea planter I had on the porch.  I love having plants all over my house and usually I'm pretty good with keeping most of them alive. I have lost my fair share, but I do believe these from Costa Farms will be hardy and I should be able to keep them going.
If you're looking for some easy care plants, these are good choices.  You can find Costa Farm plants at most of the big home stores like Lowes, Home Depot and Walmart.
Have you tried any of these at home? 
Note: This is a sponsored post from Costa Farms.  
Don't Miss a Post, join my list!